While Athens' musical legacy is well known, Georgia towns of all sizes have rich creative histories of their own. Unfortunately, many of them no longer have venues where musicians can perform. Over time, due to financial and other issues, small auditoriums and clubs across the state have become vacant spaces that no longer host crowds of people dancing and singing along to their favorite bands.
Until recently, one such venue was the Winterville Auditorium. Dodd Ferrelle, mayor of nearby Winterville and a longtime Athens-area musician, has been a leading force in resurrecting the auditorium. Ferrelle, who has been mayor since 2016 and lives in one of the town's earliest private homes, has made restoring the venue one of his priorities.
Luckily for Georgians, reviving performance spaces in small communities has become less challenging. Atlanta's Fox Theatre is home to the Fox Theatre Institute, a program that helps support struggling arts venues around the state, with the goal of putting the arts back into rural areas. Thus far, the FTI has helped support nearly 100 projects across Georgia.
"We've given out more than $1.8 million in grants," says Leigh Burns, director of the FTI. "Most of our grants go towards preservation—we invest in communities that really need to focus on rehabilitating their theaters, and we also work with education programs and school tours."
Winterville has applied for two separate grants from the FTI, and has received enough money to equip the auditorium with heat and air, a new roof, lighting and sound equipment. "We would not be renovating our auditorium without the help of the FTI," Ferrelle says.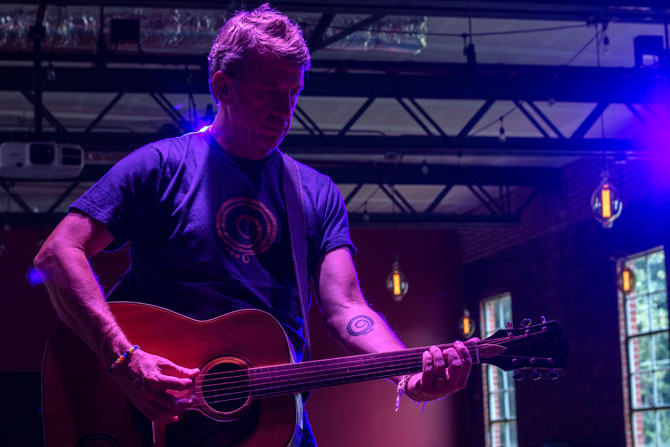 Photo Credit: Whitley Carpenter
On Sept. 13, the FTI will present its annual Revival concert, which raises money for the program. The concert, which is normally held in theaters across the state, will take its home stage at the Fox this year to celebrate its 10-year anniversary. Performers include Drive-By Truckers, Drivin' N Cryin' and Dodd and the Councilmen, a band led by Ferrelle and featuring Bill Berry of R.E.M.
In addition, the city of Winterville is holding a raffle for the chance to win two tickets with VIP passes to the concert, a hotel room at the Georgian hotel and $250 in cash. The raffle will raise money for the Winterville Arts Council, which assists artists in need and hopes to give back to the FTI. Raffle tickets can be purchased at cityofwinterville.com through Aug. 31.
Along with being under the spotlight at the Fox show, Ferrelle is working behind the scenes, as he was also asked to work on the committee charged with planning the event.
"I'm excited to be able to give back," Ferrelle says. "It's an incredible opportunity, because we have been so fortunate to enjoy their generosity over the years, and now I'm able to give back to other communities that will hopefully do the same with their old buildings."
The FTI was founded after the Fox Theatre nearly saw its own demise. "The Save the Fox campaign was initiated when the theater was going to be demolished," Burns says. "We had a grassroots movement… Since we were able to save ourselves, we thought it was really important that we help other theaters reinvigorate their own cities through the arts and through their theaters. The Fox has maintained a strong presence in the community, and that's what we want it to do for others."
As a College Park native, Burns has a personal attachment to one of the spaces that the program has supported, Hapeville's Academy Theatre. "Seeing the south side [of Atlanta] reinvigorated with the arts through FTI's investment… has been really exciting. It's very special to me," Burns says.
Through the efforts of the FTI, small towns across Georgia have begun to see a change in their communities through the addition of music and the arts. Locally, Winterville has become a hub for artists due to the efforts of Ferrelle and others.
"It has really injected energy into our community, and people are moving into the city because of what the arts are doing," Ferrelle says. "These buildings enable a small town and a small community to reach out to more rural parts of Georgia with the arts."
Like what you just read? Support Flagpole by making a donation today. Every dollar you give helps fund our ongoing mission to provide Athens with quality, independent journalism.