Since 2009, the Wild Rumpus Parade and Spectacle has brought a burst of costumed energy to downtown Athens the weekend before Halloween. But while the event has historically taken place during UGA students' fall break, rendering it a raucous townie gathering largely free of college kids, this year, students will be in town.
To add to the madness, the Wild Rumpus isn't the only high-profile annual event happening in Athens this weekend. The morning after Athens' Halloween parade, the AthHalf half marathon celebrates its own 10th anniversary with 13.1 miles of fun and fundraising.
Here's what you can expect during what's shaping up to be a busy non-football fall weekend.
Wild Rumpus
Wild Rumpus director Timi Conley, whom you can find kicking off Saturday's 11th annual parade dressed as Max from Where the Wild Things Are, has a love for Halloween that dates back to his own school days.
"I've always done Halloween events since college, and when I moved to Athens in 1991, I immediately started booking Halloween events for my band, and I don't think I've missed a year," Conley says. "In 2009, we decided to try to put on a Halloween parade, and it took off. People just embraced it, and it's gotten bigger every year."
Conley expects turnout for the event to be higher this year due to UGA students sticking around.
"I'd say there were probably 10,000 people last year, and I think we may see a huge increase this year because of students being here," Conley says.
Starting on Friday with a kickoff party at The Foundry featuring vampire rocker Unknown Hinson, the festivities last all day Saturday, with a 5K and fun run that morning beginning at Creature Comforts and a packed schedule of parties and concerts.
Events you can expect to encounter over the weekend include the Royal Rumpus Ball and rooftop concert at the Georgia Theatre, the Rumpus Rally at Creature Comforts, a drag show and dance party at 40 Watt with The Kourtesans, and several other concerts at the Caledonia Lounge, Flicker Theatre and Bar and Nowhere Bar. (For a full listing of events, see the Flagpole Calendar or wildrumpus.org.)
David Lynn, director of planning and outreach for the Athens Downtown Development Authority (ADDA), explains how Conley has made the Wild Rumpus one of Athens' most popular events. Not only does it bring together thousands of Athenians and out-of-towners who are able to connect through their crazy costumes, but the event is also a boon to local businesses.
"Typically, Wild Rumpus is during a 'down' weekend [for] downtown, so it's a big economic shot in the arm during a period that typically folks are gone for the Florida game or out of town," Lynn says. "The nice thing about the Wild Rumpus being at night is that it doesn't disrupt our daytime businesses—it only enhances our hospitality industry."
Downtown events such as Wild Rumpus are made possible through the Community Enhancement Program, a partnership between the ACC government and ADDA. The amount allocated annually to this program has been increased from $60,000 to $90,000, allowing for the addition of new events and enhancements to existing parades, concerts and festivals.
"We're very proud of what [Timi] has been able to do," says Lynn. "He elevated Wild Rumpus up into the top tier of downtown events, along with AthFest and Twilight, and our sponsorship is reflective of that."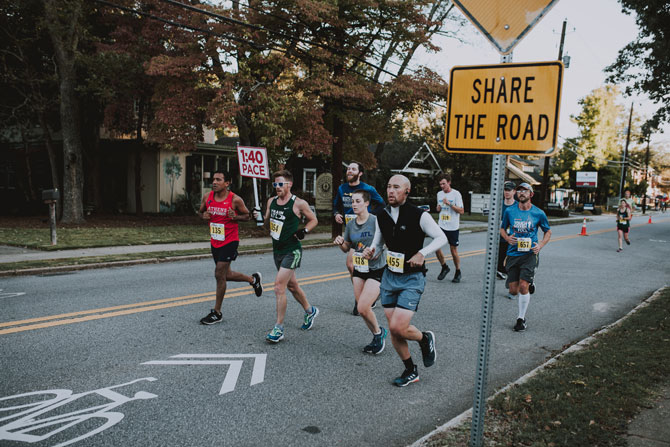 AthHalf
The AthHalf is more than just a race—it's the main fundraising event for AthFest Educates, which awards grants to local schools, nonprofits and government agencies that operate music and arts education programs for young students. While folks may be participating in the race to achieve personal goals or run with a team, every step they take will go towards helping students become more acquainted with the arts.
Planning for the AthHalf is an effort that lasts throughout the year. Jill Helme, director of AthFest Educates, explains the long process of preparing for the predicted 2,300–2,400 runners.
"We start preparing for the AthHalf in January of every year, and the week of the race we are down to the final details," Helme says. "We are in coordination with the 225 volunteers and picking up thousands of gallons of water and bananas."
AthHalf activities kick off Saturday with a health and fitness expo and 5K run, while the main event takes place Sunday morning. The half-marathon course, a map of which can be found at athhalf.com, takes runners through the streets and neighborhoods of Athens, providing them with some of the beautiful scenery the city has to offer. The race will start downtown, then head through Boulevard, Normaltown and Cobbham before continuing up Milledge Avenue and through Five Points. The last leg of the course goes through the UGA campus, with the finish line placed in Sanford Stadium.
Thirteen miles is a long way to run, but the AthHalf supports runners of all levels by organizing training groups prior to and pace groups during the race. AthHalf also provides live music throughout the course to keep the energy level high.
With this year's half marathon taking place the morning after the booze-soaked Wild Rumpus festivities, one question begs to be answered: Will any Athenians attempt to participate in both?
Abigail Herndon, a UGA student running in the AthHalf for the first time this year, has been training for several months for the big race and says there is no way she will be attending both events.
"You have got to be really brave and confident in your running abilities to be able to do that," Herndon says.
For her part, Helme says she "would not advise it," but Timi Conley, director of Wild Rumpus, says, "I'm sure there will be [people doing both]."
In any case, you can expect to see thousands of Athens residents and visitors this weekend wearing Halloween costumes or running shoes… or maybe both.
Like what you just read? Support Flagpole by making a donation today. Every dollar you give helps fund our ongoing mission to provide Athens with quality, independent journalism.