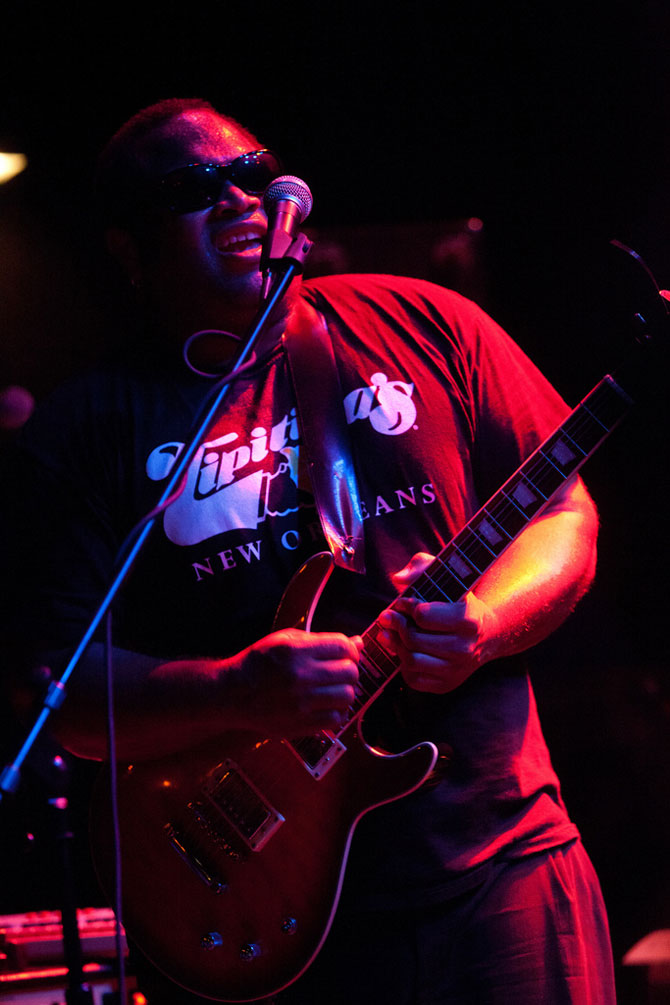 Bernard Pearce once served as occasional manager, full-time driver and Vomit Laser (that's a horn player, for the uninitiated) in Athens' rock and roll roman candle Dark Meat. But who didn't? In fact, the Louisiana-based multi-instrumentalist and improvisational specialist, who brings his project One Man Machine & The Powers That Be to Flicker this Saturday, has maintained at least a part-time presence in our town for some years.
"Athens lacks nothing," he says. "New Orleans could use more bands from Athens coming to town. Oh yeah, and JB the Polish sausage man—we want him."
Television portrays Louisiana as an untamed, swamp-filled wilderness populated by vampires and men that make their living trapping alligators all day long. Pearce confirms this to be true—almost.
"I've harvested plenty of [gators] myself, and other exotic Louisiana game… ["True Blood" soundtrack contributor] C.C. Adcock, I've known him for about 20 years." Obviously, Pearce has absorbed the deep cultural and musical marinades, paranormal oddities and uncontested paradises offered to sports-loving (or just hungry) men in the mysterious bayous of his homeland. The music world is better off for it: One Man Machine's sound has been labeled "[a] narcotized haze of psychedelic textures, brass band exuberance and unbridled funk-rock fun."
Unfortunately, Pearce's Athens connection is tinged with sadness the day Flagpole catches up with the mercurial performer. "God bless Bill Doss… I loved that man," he says, only a few hours after receiving the news of Doss' passing. "He was always super awesome. I had the pleasure of opening up for The Olivia Tremor Control last year in New Orleans, and I also put on the Elephant 6 Christmas Tour in Lafayette, so I got to hang with him quite a bit… he was so amazing. Such a kind and warm person. He will be missed."
Like what you just read? Support Flagpole by making a donation today. Every dollar you give helps fund our ongoing mission to provide Athens with quality, independent journalism.