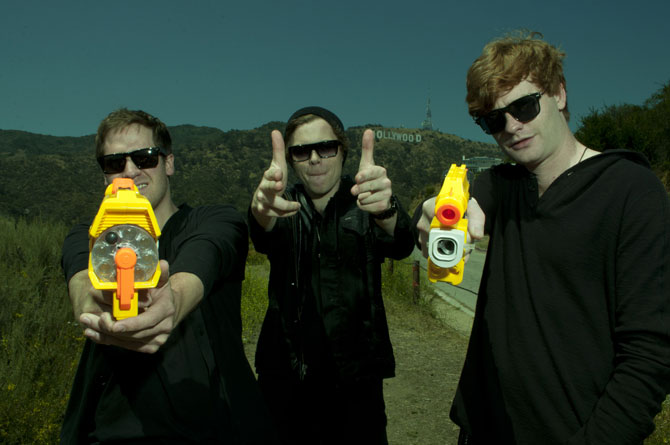 Hailing from an area known for spewing out pretentious, egomaniacal rock-stars-in-their-own-mind and mass-produced cookie-cutter pop acts, Mansions on the Moon is one L.A.-based band that breaks the mold. Despite having shared the stage with such well known hip-hop acts as Wiz Khalifa and Mac Miller, this California chillwave trio is creating a buzz all its own. While its dense, ambient-shoegaze sound is reminiscent of M83 and fellow Angelenos Foster the People, it's also laced with something much more soulful. It's also not something you'd expect from a band that has collaborated with acts such as N.E.R.D. and Diplo, but the genre-crossing is likely the primary reason for the band's early notability. In fact, the group cites a wide range of influences, from hip-hop and R&B to classic rock and Americana, making its sound pleasantly diverse and nearly impossible to pigeonhole.
Mansions on the Moon started making waves shortly after keyboardist Ben Hazlegrove and drummer Lane Shaw (Pnuma Trio) joined singer/songwriter Ted Wendler in 2010. Hazlegrove says the band's success is largely due to "having a mutual respect for each other's tastes and appreciation of the talent each person brings to the group.â€
The band recently returned from its first SXSW whirlwind, and the members are still adjusting to the life of a traveling band. "Leaving home, sleeping in hotel rooms, being in a new town every day—it's something you eventually get used to,†says Hazlegrove, "But, for us, we're getting to do what we love and see the world and make friends all over the place, so there's not much to complain about.â€
After public support from rapper/producer Pharrell Williams, Mansions on the Moon released its well received first EP, Lightyears, earlier this year. Hazelgrove says he's thrilled with the fact that people at their shows know the words to their songs, adding that the band strives to make each live show a unique, high-energy experience. "We know we're a relatively new band,†says Hazlegrove. "And we're putting our whole heart into this.â€
Like what you just read? Support Flagpole by making a donation today. Every dollar you give helps fund our ongoing mission to provide Athens with quality, independent journalism.