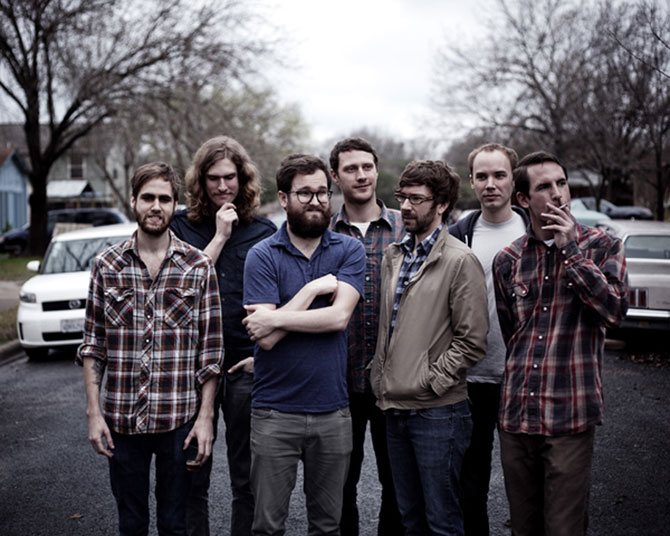 Up-and-coming Austin act The Eastern Sea has received a steady stream of glowing reviews over the past few years; the band's tense, moody indie-rock has been compared favorably to everyone from Holopaw and The Mountain Goats to Death Cab for Cutie and Iron and Wine.

Upon hearing Plague, The Eastern Sea's first full-length record (set for a June 26 release via WhiteLabBlackLab), it's easy to understand what all of the buzz is about. The young band boasts a sort of staggering passion and a level of introspective maturity that isn't usually present in the cookie-cutter indie scene.

"The music I make isn't a puzzle,†says frontman Matthew Hines on the complexity of Plague. "It's just that it won't make any sense to people who haven't really dealt with hard situations.â€

Don't get the wrong idea; the band isn't all sappy balladry and doom and gloom downerism. On the contrary, the seven-member outfit, which includes two drummers, presents an energetic show marked by booming percussion and auditory "scene changes.†The Eastern Sea aims to keep things fresh because, according to Hines, the group isn't setting out to be an ultra-hyped, one-hit-wonder. Instead, it is determined to create something ever-evolving.

"Our music changes naturally, because we're people,†Hines says. "[Bands] strive to come up with a record that Pitchfork will like, but they're not putting their focus in the right place; they're just along for the ride.†Rather than putting their energy into becoming a hit machine, Hines says the members of The Eastern Sea are focused on making lasting art and gaining listeners' respect.

"This is something we're taking on the road with a lot of enthusiasm,†says Hines. "This is the beginning of a really long story.â€
Like what you just read? Support Flagpole by making a donation today. Every dollar you give helps fund our ongoing mission to provide Athens with quality, independent journalism.