The Athens-Clarke Commission could soon resolve the ongoing battle over whether to designate Buena Vista Heights an historic district. To catch you up: Many Buena Vista residents feel that their neighborhood qualifies as historic, while others feel that so much historic integrity has been lost over the past 100-plus years that designation is too late. Besides, many residents do not want to deal with the restrictions that would be put on their property were their neighborhood to be designated historic.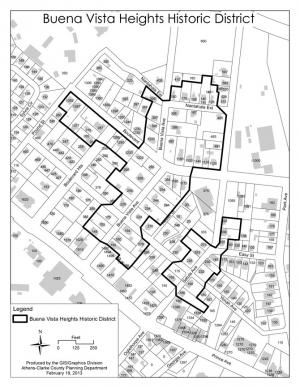 However, ACC Commissioner Kelly Girtz has created a compromise that might make a Buena Vista Heights historic district possible. The newly proposed boundaries include historic stretches of Satula Avenue, Buena Vista Avenue, Boulevard and Nantahala Extension but leave out structures along Easy Street and Park Avenue. Girtz's proposal shrinks the district from nearly 100 lots to 62. Of these 62 lots, 52 are contributing structures, whereas the original proposal of 100 lots had 76 contributing structures—a much larger percentage of non-contributing structures.
Girtz says that the contributing structures left out of the new proposal are mostly postwar construction "that [does] not significantly contribute aesthetically to the neighborhood." While many of the houses left out of the new proposal hit the 50-year mark and therefore are considered historic, they are not significant in terms of the neighborhood's history as one of the first street car suburbs in Athens. In addition to the postwar houses, there were a few other historically significant houses left off for the purpose of creating a cohesive rather than disjointed map.
However, leaving off certain properties is causing controversy for residents who want their neighborhood to be historically designated. The gabled ell cottages left out of the newly defined Buena Vista Heights map are older than mid-20th century—the age stated by Athens-Clarke County—and significantly contribute to the continuity and history of the Buena Vista neighborhood, according to Boulevard resident Melissa Link, who unearthed early 20th-century maps showing those homes.
The gabled ell cottage is a classic Southern vernacular style found throughout the region; however, these particular houses are smaller in scale than other gabled ell houses found in Athens. They are also situated on long, narrow lots that accommodated garden kitchens and livestock areas for the mill workers who lived in them. Their proximity to the greenspace and waterway located between Hiawassee Avenue and Park Avenue further supports the belief that these houses were intended for rural agrarian families transitioning to intown living in order to work at the Southern Manufacturing Company's cotton mill.
Those opposed to the newest version of the Buena Vista Heights map also argue that, by omitting the properties located along Park Avenue and Easy Street, the continuity of the Boulevard and Buena Vista neighborhoods would be destroyed. Those districts were laid out in the 1890s by the Athens Park & Improvement Co. as a single streetcar suburb (Athens' first). Though the neighborhoods are now considered separate, originally, they were one neighborhood. Pro-historic district residents are concerned that if these properties are not included in the historic district, they will be torn down and replaced by larger, out-of-scale developments, further disjointing Boulevard and Buena Vista.
The latest version of the proposed Buena Vista Heights historic district "has generated much more support from concerned property owners than the larger, earlier version," Girtz says. He recognizes that not everyone is happy with the new version of the map, but as with anything that comes to a vote, not everyone is going to be pleased. While some residents who originally supported the historic district are disappointed to see the gabled ell cottages on Park Avenue and Easy Street left off the map, as they are part of what makes the district historic, they are glad to see progress being made after nearly four years of petitioning for the district.
The owners of the cottages in question were some of the most strongly opposed to the historic district. They are now rental houses that the owners felt did not have enough historic integrity to qualify for designation.
To me, the question boils down to who is right about the age of the Park Avenue and Easy Street cottages. Are they mid-20th century, as the owners and Athens-Clarke planners believe, or are they original 1890s homes built for the mill? If they are mid-20th century, then they should be left out, but if they are in fact original to the neighborhood, then they are an integral part of what makes Buena Vista Heights historic.
Like what you just read? Support Flagpole by making a donation today. Every dollar you give helps fund our ongoing mission to provide Athens with quality, independent journalism.