The Athens-Clarke Heritage Foundation hosted its 45th Annual Preservation Awards at the historic Morton Theatre on Monday, June 2.
Three revolving memorial awards are given for outstanding achievement in preservation. This year, it was the Albert Dobbs Sams Award, which was awarded to Jim Carter for excellence in decorative arts and house museums. Carter was instrumental in developing the Ware-Lyndon House into a house museum, was a patron of the Church Waddell Brumby House museum (aka the Welcome Center) and was also instrumental in bringing the T.R.R. Cobb House back to Athens from Atlanta.
Larry Dendy, author, and Erin New, designer, of Through the Arch, won the award for Outstanding Publication or Program. Through the Arch, a work comprising nearly four decades of research, tells the history of the University of Georgia through architecture. Also, winning Outstanding Publication or Program were the Lyndon House Arts Center and the Athens Clarke County Leisure Services for "Ware-Lyndon House Album", a book full of Athenians' and family members' memories of the house.
All of Hendrick Avenue won the award for Outstanding New Construction; located off Pulaski Street, Hendrick Avenue was a neglected street dead-ending behind the Leathers Building. Recently, three new houses, all designed by neighborhood architect Lori Bork Newcomer, were added to the street, bringing vitality and new life to the street and assisting in developing the neighborhood.
There were eight winners for Outstanding Rehabilitation. The Marsh Sewell House on W. Cloverhurst was rehabilitated and added on to by owners Carrie and Eric Sewell. When the Sewells decided they wanted an addition to the back of their home, they discovered that large portions of the house were not built on a foundation, but were built directly on the ground. It was an extensive undertaking to lay the foundation under the house, reuse historic bricks, restore windows and woodwork while still adding an addition to the house.
Also winning Outstanding Rehabilitation was Lewis Earnest of 609 Cobb Street. Earnest hired landscape architect Melissa Tufts, architect David Matheny and interior designer Casey Jo Hanson to create a new wraparound porch, a swimming pool and rehab the interior.
Chatt's Island also won for Outstanding Rehabilitation. Originally owned by the Michaels family (of the Michaels Building downtown) and designed by architect Neil Reed and landscape architect Hubert Owens, the house has a prestigious pedigree. While the house itself underwent extensive rehabilitation, the garage had to be completely rebuilt by Matheny, and the landscaping had to be completely redone by landscape architect David Hale.
In the Reese Historic District, a derelict house on West Hancock Avenue was rehabilitated by architect Faisal Anwar and City Block Holdings 1 The 100-year-old house was saved from demolition by neglect by Anwar; it required a new foundation, partial new siding, extensive masonry work and much, much more.
Chris Peterson won two awards for Outstanding Rehabilition for his work on Barber Street and Milledge Avenue houses. Covering two extremes, the house on Barber Street suffered from serious water damage and had a collapsed roof, while the house in Milledge suffered from extensive fire damage. Both houses have been superbly rehabilitated and are no longer eyesores to their neighborhoods.
Also on Milledge, Timothy and Anna Dondero and Andrew Pearson won Outstanding Rehabilitation for the rehabilitation of the house beside Dondero's Kitchen. Their task was to incorporate a restaurant into a historic house while maintaining the historic integrity of the house and meeting health codes for restaurants. After removing loads of aluminum siding, faux wood panels and a dropped ceiling while adding a porch, the house is back to it's former glory.
Then there are the two guys who just wanted to open a bar in Normaltown: Old Pal's Daniel Ray and Matt McFarron. Upon removing a canvas awning, they discovered a beautiful transom, which led to recreating the ceiling line to better see the transom, which led to reveling the original brick walls and redoing the floors, and before they knew it, they were well into a rehabilitation project. However, once they began they decided it was best to "let the original bones of the building speak" and see where their project took them.
From two guys who didn't know the exact parameters of their project to two guys who did, Adam Beauchamp and David Stein also won Outstanding Rehabilitation for their work on their new brewery Creature Comforts. By removing the dropped ceiling and partition walls, they opened up the space and exposed some fantastic features of the building such as a beautiful barrel vaulted ceiling and truss system. Oneta Woodworks used some of the original wood from the building to create custom tables and woodwork in the restrooms.
The award for Outstanding Restoration is awarded for extreme and painstaking detail beyond the parameters of rehabilitation. The Thomas Church Courtyard in the UGA Center of Continuing Education was restored to its original integrity by Scott Simpson and the UGA Office of Architects. Planned by landscape architect Thomas Church as a courtyard for the mid-century modern building, it stands an the sole example of a public work in the South created by Church. By demolishing an extension of the café and reinstating Church's plans the garden has been painstakingly restored to it's original design.
There were two awards given for Stewardship in Preservation, meaning long term care of a historic property. Dexter A. Hunter and Gary Duck won for their care and preservation of the J.G. Beacham Water Treatment Plant off Barber Street, a 1936 building.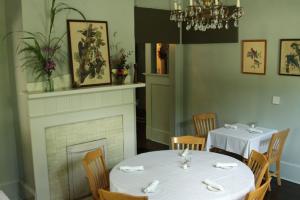 Also winning was Brenda Blanton for her work on the Erwin Downes Blanton House on Hill Street. Originally two separate structures joined together years ago, Blanton has been maintaining preserving the building since 1997.
The President's Award went to Hugh Acheson for his work on creating a restaurant out of the Hawthorne House on Milledge Avenue. Originally a historic home built in the 1920s by local architect Fred Orr, the house has recently become the new home of Five & Ten.
And finally, the award for Outstanding Achievement went to Lucy Rowland, Jerry NeSmith, Ron Thomas, Nat Kuykendall and Marily Wolf-Ragatz for their help is preserving historic Beech Haven, a 1910 historic Arts and Crafts home and bridge located off Atlanta Highway near the Middle Oconee River.
Like what you just read? Support Flagpole by making a donation today. Every dollar you give helps fund our ongoing mission to provide Athens with quality, independent journalism.