Runners and joggers are a common sight in Athens, even more so as the AthHalf half marathon approaches. I've noticed lots of group runs and obviously-not-casual joggers breezing past the hungover masses on Sunday mornings, each archetype as ubiquitous as the other in this booze-loving, fitness-focused town. Once I was out running this spring—just 5K, nothing like the 13.1-mile commitment that is the half marathon—and another runner high-fived me as we passed. It was almost like I'd felt the sun on my face for the first time, and I found out later that my fellow runner was indeed training for this year's AthHalf.
It was tempting to kick myself for being intimidated by such a distance and the endurance it takes to complete a 13-mile run, and AthFest Educates has heard my (well, our) pleas. This year, AthFest Educates is holding its first ever AthHalf 5K, a direct response to the aforementioned sentiment, according to Jill Helme, AthFest Educates' executive director. The much shorter 3.2-mile 5K run will allow even more people to participate, from casual runners to people under 12 years of age who want to participate, since children are barred from the half marathon.
"Some people want to participate but have no interest in training for a 13-mile run," Helme says. "It's a really big-time physical commitment."
Online registration at athhalf.com closes Oct. 18, but runners can also register in person at the Health and Fitness Expo at the Classic Center pavilion from noon–6 p.m. Saturday, Oct. 21. Entry is $90 for the half marathon and $30 for the 5K, with a $5 discount for those who sign up for both.
The 5K is scheduled for 3:30 p.m. Saturday, Oct. 21, with the half marathon slated for Sunday, starting at 7:30 a.m. at the intersection of Hancock Avenue and Jackson Street.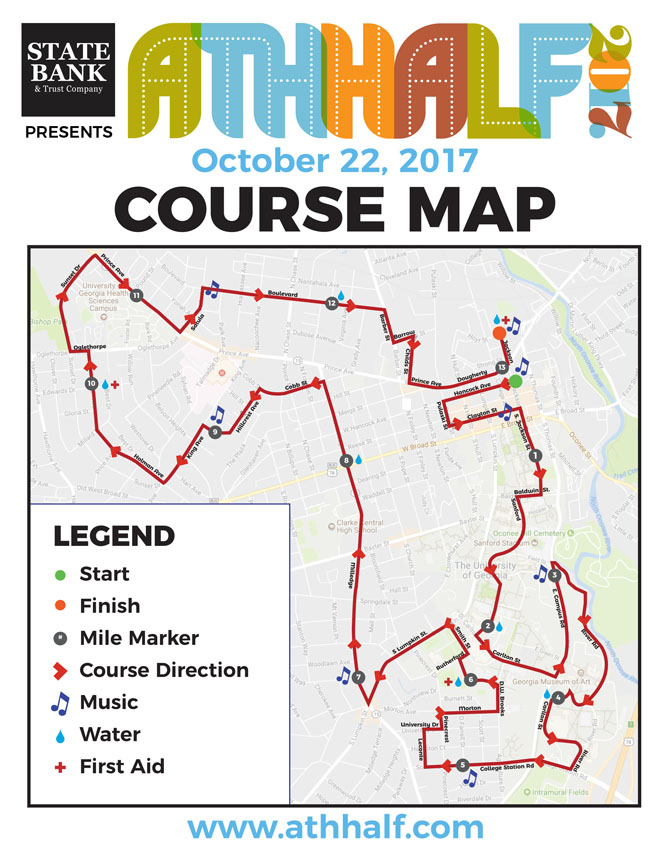 The race still starts downtown, but everything else about the course has changed. (Here's a larger version of this year's map.) After years of ending the foot race on the UGA campus (usually at the Tate Center or Sanford Stadium), construction has forced a complete change of the half marathon's route. What was once a fairly narrow course that twisted and turned through historic neighborhoods before going into either boring straightaways or brutal hills now looks to be less twisty and as circular as possible. The twists and sharp turns that showed up around Mile 10 of the past route (either energizing or exhausting at the end of such a run) are seen between miles two and seven on this year's course, which should be interesting for participants returning for another go at it. Helme seems very glad to have gotten rid of the old stretch along Riverbend Parkway, which is actually the aforementioned boring straightaway. Designers consulted some of Athens' most avid local runners to help design the new course, and they're sorry, but the brutal hills could not be helped.
"Athens is hilly, period," Helme says, chuckling. "Designing a course like this can be made difficult by the hills. Gotta hit hills, period." She apologizes for one or two hills that are "no joke" in this year's new course, a detail that her husband, who runs every year and has been practicing on the new course, won't let her forget. Don't worry, there will also be downhill runs and flat-as-possible portions to balance the course and keep it interesting for veteran runners and newbies alike.
The new course promises to be more scenic than the past one, Helme says, taking the runners through more residential and historic areas of town. AthFest Educates promises beautiful autumn views and stretches that traverse the Boulevard and Cobbham neighborhoods, as well as a jaunt past beautiful antebellum homes on Milledge Avenue that now house Greek organizations.
Spectators often line up along the route and cheer on the thousands of runners. People have been known to dress up in costumes or build arches for the marathon to run through, and provide drinking water (even though there are hydration stations at every even mile) and sometimes spritzes from the water hose to beat the heat. Local bands and DJs dot the course, such as Grassland and this year's finish-line band, The Funk Brotherhood. Those who live near or along the route should also be aware of temporary street closures Sunday morning.
The music and local focus make AthHalf unique among foot races, some of which are corporate entities that move from city to city. "We are Athens," Helme says. AthFest Educates is a local nonprofit, a homegrown organization dedicated to funding music and arts education in public schools. AthFest Educates also puts on the yearly summer music and arts festival of the same name, and the organization has issued over a quarter-million dollars in grants to the Athens community over the years.
"This race highlights the community of Athens," Helme says. "It's very much about a celebration of our city."
Like what you just read? Support Flagpole by making a donation today. Every dollar you give helps fund our ongoing mission to provide Athens with quality, independent journalism.