The mayor-appointed committee charged with revising Athens' bicycle master plan held its second meeting Aug. 29, but Athens cyclists aren't likely to see any changes to bike routes until, at the minimum, a year from now.
Since 2001, only 11 out of 16 routes in the plan have been completed, says Tyler Dewey, a committee member and executive director of BikeAthens. And while those 15 years have passed, bicycle and pedestrian standards and demands have changed, making it necessary to update the BMP. The new master plan is county-wide, Dewey says, instead of only stretching in a 3-mile radius from the UGA Arch, and will provide better access for pedestrians.
When the original BMP was created, "the only thing was simple bike lanes, but now it's a lot easier to look at other examples across the state and the country," he says. For example, Atlanta has added protected bike lanes with barriers between bike and car lanes, and Roswell has added bike boxes on road lanes for added visibility of cyclists. Some of these changes have already been enacted in Athens' problematic "hot spots," such as the green-painted bike boxes around the Tate Center on UGA's campus.
Despite those few changes, there is still a long way to go. "In many ways, we are still working on ironing out the details," Dewey says. After the first two convenings of the new BMP committee, "we're working on, 'What's our procedure?' and 'What's our scope?" says Tony Eubanks, committee member and representative from Complete Streets Athens, a group that grew out of efforts to make Prince Avenue more pedestrian-friendly. "The whole planning process will be a year long or longer."
That length of time is necessary to lay out both short-term and long-term plans to be completed over the next 20 years, says Ken Sherman, the committee chairman, who represents a nonprofit devoted to building the Firefly Trail along an abandoned railroad between Winterville and Union Point 40 miles south. "We will be looking at how we can tie together Firefly Trail, the [North Oconee River] Greenway, as well as designated bike and pedestrian areas to create a coherent and unified system. The way the areas are designed now [doesn't] necessarily create a viable system," Sherman says. "We are looking at a big project—this is not something that can happen overnight."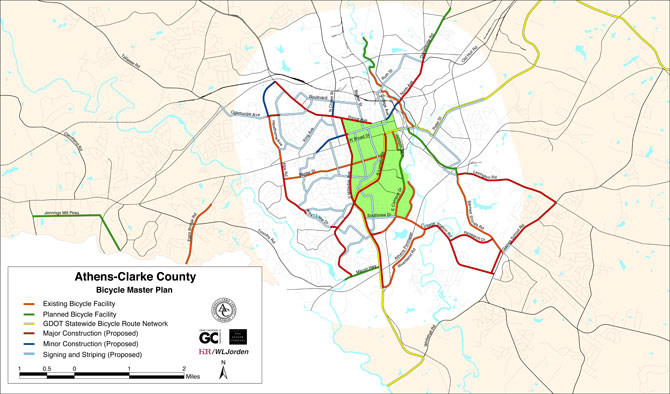 (Click here to view a PDF of this map)
Together the committee and the county will create a draft of the scope of the project—one that Dewey says will answer to bicycle, pedestrian and transit transportation needs, as well as revisit previously constructed bicycle corridors to make sure they are still appropriate for cyclists and drivers.
Once the draft is finalized, the next step will be to hire a consultant with "specific skills and knowledge in bike and pedestrian transportation, not someone with just general engineering knowledge," Sherman says. Hiring a consultant should happen within the next two to three months, Dewey says, "and then the fun work begins"—the long-term design and construction of an expanded BMP.
"We are in a state of flux," Dewey says, because proposed routes that have been on the BMP since 2001 but have yet to be updated, such as Prince Avenue, are now slated to undergo major construction. On the 2001 BMP, if the county went out and measured from curb to curb and did not find extra space for a bicycle lane, "they didn't envision widening lanes," Dewey says. Now, where major construction has been proposed, one may be able to expect roads to be widened so bicycle lanes can be added, such as on Prince Avenue. However, no plans are close to being finalized yet, and there "may be ways to reconfigure [lanes] without changing curb lines, while also bringing down costs," says Dewey.
On the other hand, areas proposed to have minor construction could undergo less lane widening, but more repaving and adding signage and striping, such as on Alps Road or Westlake Drive. On Milledge Avenue, too, minor construction may involve repaving, resigning and restriping lanes.
Projects labeled "Planned Bicycle Facility" are ones that will be implemented by other agencies, such as the ACC Leisure Services Department in the case of the Greenway, because they are not necessarily street projects, Dewey says.
The committee will continue to use data from UGA's Traffic Safety Research and Evaluation Group, as BIkeAthens does, to determine those problematic areas and what kind of construction needs to be done. Yet Dewey says there are "not many concrete hot spots, and they are certainly not outside of high-traffic areas."
The committee expects to continue including community feedback throughout the drafting process. "One of the great opportunities is to expand feedback, to hear back from the community," Dewey says. "We are hearing about people wanting to walk and bike more if they have the safe space to do so. But someone who is comfortable riding on the road is going to have different concerns than someone who only rides on occasion."
As public interest and approval increases, "certainly some things can start to happen," Sherman says. "We hope to have a lot more to share down the line."
The public is invited to attend the next meeting on Thursday, Sept. 22 at 6 p.m. It will be held at the Planning Department Auditorium at 120 W. Dougherty St.
Like what you just read? Support Flagpole by making a donation today. Every dollar you give helps fund our ongoing mission to provide Athens with quality, independent journalism.