A line is being drawn in Athens, and you'd better make sure you're on the right side.
It's the type of line that's making and breaking gigs, starting snide conversations and prompting people to talk about others behind their backs. It's the type of division that makes people eager to vent but hesitant to go on the record. It causes the type of second-guessing that makes people walk out on interviews or yell at reporters on the sidewalk for asking questions.
Where do you stand on Urban Outfitters coming to downtown Athens?
The pro-UO crowd says the store brings more foot traffic downtown, creates jobs for 50 Athenians and offers partnerships with financial backing in a way that most local businesses can't foot. The anti-UO crowd says the chain is yet another sign that non-local conglomerates are invading downtown, boosting rent prices and taking business from locals.
Then the trash talk starts.
The pro-UO crowd says the anti-UO crowd believes in the status quo of Athens, does little to improve the town and hypocritically voices in-vogue critiques about Urban Outfitters while shopping at Target, wearing Nike shoes and talking on a Verizon smartphone. The anti-UO crowd says the pro-UO crowd has sold out, isn't being transparent about money matters and partners with questionable corporations that steal designs and employ Bangladeshis for $2 per day to create fast fashion bought by young twentysomethings.
Both make good points, but how long can they keep up the division?
The Big Bash
Urban Outfitters opened its doors on College Avenue on Aug. 13, and the grumbling roared into a crescendo at the company's grand opening party at Creature Comforts two weeks later. Promoted by the Slingshot Festival, the party boasted a partnership with the brewery, Nuçi's Space, two food trucks and more than a dozen local businesses and artists. Portland, OR buzz band Unknown Mortal Orchestra and local group Mothers took the stage in the parking lot, strumming to pulsating stage lights and the glow of a full moon.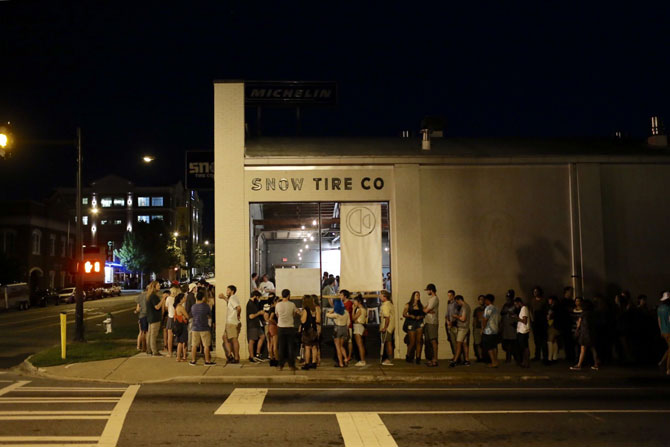 Photo Credit: Joshua L. Jones
A line wrapped around the front of Creature Comforts and down Pulaski Street, passing the back door of The Rook & Pawn. Based on garb alone, it was hard to tell who was a student and who was a townie, who was in support and who was against. Among the crowd of 1,200 attendees, people carefully chatted about their opinions to ensure they were in the right group before opening up.
In all, more than 800 people over 21 and nearly 400 people under 21 trekked to one parking lot on a Thursday night to see the all-ages show. In addition, 300 people bought the co-branded Creature Comforts and Urban Outfitters glass for $5 to mark the occasion, netting Nuçi's Space $1,500 in one night.
As the show ended, some headed to the Georgia Theatre for an after-party show with DJ crew Booty Boyz. About 200 people crammed onto the rooftop while 50 more lined up outside, prompting a one-in-one-out cascade for the rest of the evening. Others spilled into venues on Washington Street, making it an unusually profitable Thursday night for places like Flicker Theatre & Bar, where patrons found themselves lined up several layers deep for a drink as if transported back to AthFest.
Call it a success, or horrifying, depending on where you stand.
Rage and Apathy
The argument comes down to what happens next for local business owners, yet they often get the least say in the equation. Quietly, in trusted groups, shop owners are expressing their thoughts about higher rents, the corporatization of Athens and better foot traffic. But expect few of them to discuss how they feel in printed words that last—unless it's in a Facebook post.
For the most part, on-the-record comments are brief and uncontroversial. Take Jane Scott, who runs Native America Gallery a few doors down from the Urban Outfitters location. "Not much to comment," she says. "I think it will draw younger shoppers that do not typically come downtown, which is great."
Most owners say they don't see the chain as a threat, noting that though the shop carries records, books, gift items and clothes, it doesn't compete with the ambience and customer service of a local small business. Compared with Avid Bookshop, Urban Outfitters may carry a few of the same books but hardly the variety. Plus, Avid knows how to play well with others. If a book isn't in stock, they call Jackson Street Books, the University of Georgia bookstore or even Barnes & Noble to find a copy.
"I'm a business owner, and I want to be respectful of other businesses," says Avid owner Janet Geddis. "We hope our service and customer-centric feeling sticks with our readers."
Geddis says she has heard the division among business owners rumbling around town. Some are pleased by the potential of more business; others are upset about the chain. "I've been surprised about the response," she says. "Then you see the Facebook comments, where it all spirals out of control."
The same arguments about developing Athens' economy and the city's identity and limits came up when a Walmart was slated for the downtown area, though that conversation was more one-sided. Would a well-known grocery and homewares chain provide more sales tax for the county or simply shift spending away from existing businesses? Similarly, does the one-stop shop of Urban Outfitters pull more dollars out of pockets for hipster clothes, records and Polaroid film, or simply steal profit from the artisan-driven secondhand shops around town?
"Are we going to go out and hold signs and protest? No. They're here," says Russell Edwards, who organized against Walmart and now owns Agora Vintage with his wife, Airee. "Do I think they're providing anything to the downtown? No, I don't."
Edwards recalls Urban Outfitters' move to Asheville, NC, which spawned a buy-local campaign called Love Asheville that sold discount cards featuring local businesses and donated proceeds to the local school district. Meanwhile, the store's opening in Athens has entranced members of the "townie elite," he says.
"Time and time again, our visiting shoppers comment on how much they love our downtown local businesses and how it's something they can't experience anywhere else," he says. "Having unique local businesses is what distinguishes our downtown from so many other places."
Athens' Changing Identity
Urban Outfitters isn't the first corporate store to land in the downtown strip, so what gives this time? Some say that it's a retail store rather than another chain restaurant, so it's in competition with more locally owned businesses. Plus, the bohemian fast-fashion trend steps on the toes of the carefully curated style of hipster high society. Others say the opening comes at the peak of pressure mounting over new student apartments and retail spaces changing the downtown skyline.
"Profits spent locally are re-invested locally, versus profits spent at a chain that are sent to the home office," says Mike Turner, owner of HHBTM Records, who declined to speak on behalf of his day job as manager at Wuxtry Records. "As I've gone on tours and seen cities I used to love, I can't recognize them anymore."
The corporatization of towns is occurring nationally and globally, he adds. When Turner first visited Athens in the '90s, the only corporation he noticed was Gap, in the same spot where Urban Outfitters sits today. By the mid-2000s, Gap migrated to Georgia Square Mall (it now sits at Epps Bridge Centre in Oconee County). Then Starbucks came to College Square, followed by other chain food places. First the downtown shops moved to the mall, and now the mall is moving back downtown.
"If the rent goes up and locally owned stores can't afford it anymore, where are they going to go?" Turner says. "Downtown will turn into Anytown, USA."
New downtown developments are full of high-rent apartments and retail spaces that feature shops like Waffle House. Some Athenians are lamenting their disappearing dive bars and hole-in-the-wall coffee shops. But not everything lasts forever. "Nobody can predict the future," Turner says. "The real question is: How long will they last?"
In another light, the divisive debate about one store represents Athens' changing identity and the need for a unifying vision.
"Athens has complained about a lack of infrastructure and economic opportunities, but hasn't made many overtures to change those things," says Kai Riedl, director of the Slingshot Festival. "Some towns have found a way to harmonize local and national business in interesting ways and bring new possibilities to people in town."
Name the cities we envy: Asheville; Greenville, SC; Chattanooga, TN; Austin, TX. What do they have in common? A willingness to experiment, Riedl says. "People's identities here get caught up in how the town represents them," he says. "No one is innovating. We're addicted to the status quo."
Innovation requires harmony between differently sized companies to make operations economically viable, Riedl says. As locals pair up with larger companies to boost their reach and do business, he calls them a new breed of entrepreneurs.
"There's a rift between the old and the new in Athens," he says. "There's no vision for what Athens really wants to become."
Like what you just read? Support Flagpole by making a donation today. Every dollar you give helps fund our ongoing mission to provide Athens with quality, independent journalism.