As you're walking or driving downtown next month, stop by the College Avenue parking deck to see "Art Decko," Athens' latest art display in the newly founded Vertical Gallery. The stairwell, decked out in a bright shade of blue, will house nine large-scale, 4-by-8-foot panels by local artists. The pieces, currently on display at Creature Comforts Brewing Co. through the end of April, will be particularly striking to see from the street at night when the deck lights are ablaze.
"Athens has this tremendous art community, and this is a way to show it off to residents and visitors," says Linda Ford of the Athens Downtown Development Authority. The ADDA worked with the Athens Area Art Council, Athens Cultural Affairs Commission and Lyndon House Arts Center to bring the nine panels to the deck this spring. (Full disclosure: Flagpole arts editor and AAAC board member Jessica Smith was a lead organizer of "Art Decko.")
The new collection will replace the first "Art Decko" installment organized by the AAAC over a decade ago, which featured artwork by local elementary, middle and high-school students at each level of the stairwell. As the artwork aged, the council decided to revamp the space with a fresh coat of paint and commission designs by local professional artists selected from 100 entries.
"This is what makes life in town so fulfilling. You can be inspired by parking decks, fire hydrants and bus shelters," says Didi Dunphy, Lyndon House program supervisor. "These things could fall by the wayside, but our local artists give them a memorable and unique appearance."
This weekend, the murals will appear publicly for the first time, and Creature Comforts will host a special showcase and artist market on Sunday afternoon from 1–6 p.m. for people to see them up close before installation in the deck. The free, family-friendly party will feature live performances by Elf Power, Forbidden Waves and Jeremy Kiran Fernandes, and the Holy Crepe food truck will be on site.
"That's the parking deck I use every time I come to Athens. It's like the center of my Athens experience," says Ashley Anderson, an Atlanta-based artist. Anderson created a panel, seen on this week's Flagpole cover, focused on Neutral Milk Hotel's album In the Aeroplane Over the Sea, which turns 20 this year. (Read more on p. 11.) A Christmas tree sits at its core, with musical instruments, picture frames, candles and snow surrounding it. Ribbons and strings of pearls drop from the tree in the shape of a ribcage, mimicking the surreal, body-related imagery of the album. Depictions of the record's first five songs surround the tree on the left, and images of its last five songs appear on the left.
"How we think about the world is shaped by the images we run into on a daily basis," Anderson says. "If you see art that is unusual but also pleasing, it does you more favors than seeing images that aren't unusual and somewhat boring."
Along with Anderson, eight local artists will have pieces along the deck stairwell: Fernandes, Ruth Allen, Hannah Betzel, Jared Brown, Dorian Edwards, Will Eskridge, Jacob Wenzka and Jeanne Whatley. Their work was supported through local efforts to boost public murals and as part of Athens' master art plan beginning to take effect across town.
"Our community is only as good as all the people who are able to contribute. If you care about your community, visual arts and making your infrastructure look nicer, it makes our spaces more exciting to enjoy," says Marc Beechuk, chairman of the ACAC and an arborist in the planning department.
The nine panels, although entirely different in concept and color, meld together in an interesting way to tell a story about Athens. Whatley's piece, "Long They Wait," is part of a series she paints from a bird's perspective looking down on people on the street. In this new work, more than 100 faces in different colors and shapes peer up at the viewer, almost in a state of hope and anticipation. "Hope keeps people going, no matter who you are or what your background is," Whatley says. "It's universal, and a part of being human."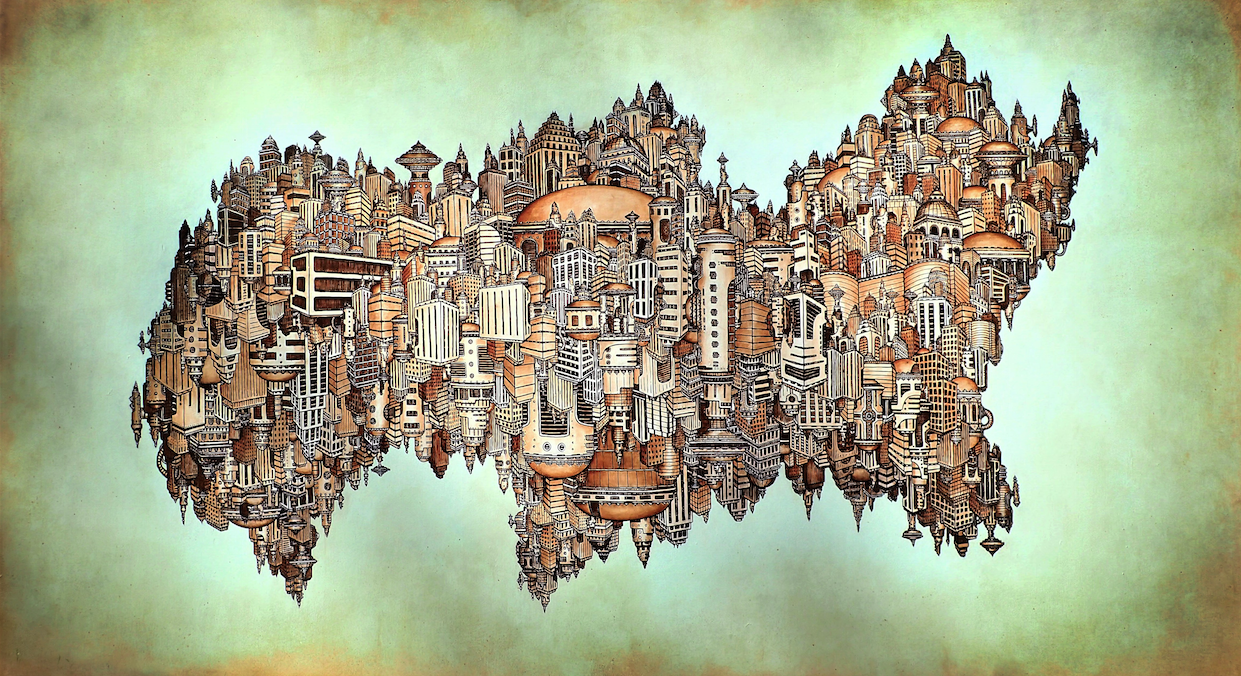 With a similar universal sentiment, Eskridge's piece depicts a commentary on modern technology and nature. Against a blue backdrop of sky, a deer, coyote and whale float upward in beams of light, as if being lifted from the ground by three UFO-like pyramids. Instead of a comical remark on alien abduction, Eskridge means for the piece to resemble Noah's Ark, saving intelligent animals from a chaotic, technology-driven world created by humans. "If other life forms showed up on Earth, they might not see humans as a threat or as intelligent as we believe we are," Eskridge says with a laugh. "Instead, they might see animals as the intelligent ones and want to save them."
As the murals move into the deck in May, the artists hope the pieces inspire others as much as they were inspired during the creative process. Betzel, for instance, saw the original "Art Decko" project when she moved to town a decade ago and still remembers how it spurred her to think about art during a time when she took a break from painting. She had a similar feeling while painting a mural at the Atlanta Beltline, when a resident walked by and stopped to thank her for making the city more beautiful. "It's neat for this to come full circle for me and know that others will come to town and see our pieces," she says. "Even if it impacts one person, it could do something huge for our community."
Like what you just read? Support Flagpole by making a donation today. Every dollar you give helps fund our ongoing mission to provide Athens with quality, independent journalism.