The most prominent problem facing Athens' efforts for affordable housing is not overcrowded or substandard housing, but rather the cost.
Many Athens residents spend 40–60 percent of their income on housing, when the recommended amount is 30 percent, says Bruce Lonnee, a senior planner in the Athens-Clarke County Planning Department. The high cost of housing is the result of the large student population artificially inflating housing prices, says Spencer Frye, executive director of Athens Area Habitat for Humanity and a state representative.
"The units that the community needs the most are the ones that are built for students," Frye says.
The number of students in Athens—more than 30,000—not only raises the cost of housing, but also changes the type available, because developers focus on building student housing, complete with computer labs, study areas and pools—amenities that mostly only appeal to students, Lonnee says. Those apartments often rent for $800 or more per bedroom—far out of reach of most working families. This limits the amount of options available to families, but officials hope they will have more options as students are drawn to new developments downtown. It's an open question, though, whether older student-oriented apartments will become affordable for families or fall into disrepair. ACC is studying that issue, along with other workforce housing needs, and a report is expected in about six months.
Students used to rent houses in neighborhoods more frequently, but after neighbors complained that it was harming the community, the ACC Commission changed the zoning codes to allow higher density apartments within the Loop.
"As developers continued to build higher density student-oriented complexes with amenities that drew students to their apartment complexes, the rental market in the neighborhoods dried up, and those rental properties were sold and became owner occupied," Lonnee says. That doesn't mean developers aren't building student rentals in neighborhoods anymore, though; while it's less common than it was a decade ago, many intown residents say they've recently been approached about selling to investors.
Even though the zoning change led to rental houses being put up for sale, that does not mean they're affordable. When it comes to affordable housing, students are not the biggest problem, according to Frye; the lack of well-paying jobs is. The median family income in Athens is $48,985, compared to $56,176 for all of Georgia, according to census data. The median home value, however, is $156,600—higher than the state median of $151,300.
That, along with the large student population, explains why the home ownership rate in Athens is just 44 percent, far below the 65 percent statewide rate. Renters have trouble acquiring wealth, because they're essentially paying someone else's mortgage, rather than building equity themselves, Frye says.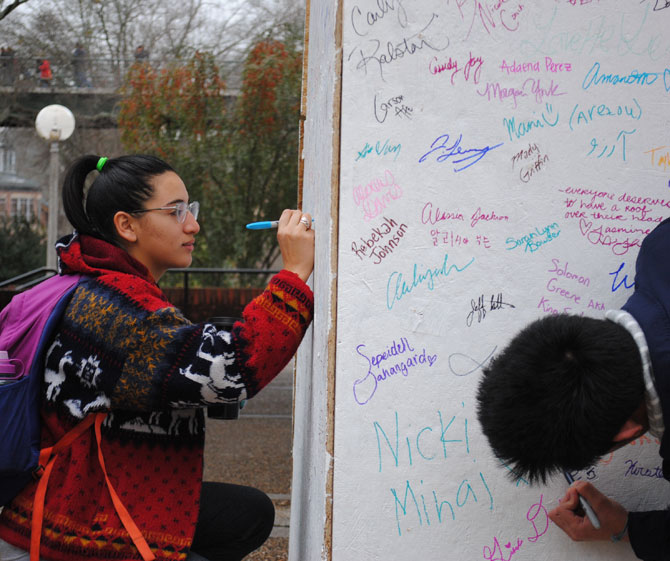 For a national competition, the University of Georgia's chapter of the Public Relations Student Society of America chose to raise awareness about Athens' housing problem as a part of national campaign called Home Matters. The team called upon other students to address the problem by encouraging them to raise awareness and volunteer with Habitat for Humanity or 12 other organizations. To educate students, the team built a model house at the Tate Student Center plaza that was signed by 350 students who support addressing affordable housing problems, says Katie King, a team member. But King says there's not really much students can do about housing costs.
The campaign also focused on quality housing, not just a place to live, since affordable housing can often suffer from poor transportation, lack of access to education and structural problems, King says. "It's also about finding a home, as opposed to just a house," she says. "A lot of times affordable housing, or what we think of as affordable housing, is just not that good."
Habitat for Humanity also raised the foundation and frame for a house outside the UGA Special Collections Libraries earlier this month to publicize the nonprofit donating its international archives to the library. The frame was then moved to a small Habitat subdivision in East Athens.
That East Athens development has become one of Habitat for Humanity's biggest projects. The group also purchased an apartment complex nearby several years ago in one of the city's worst drug-trafficking areas and remodeled it into affordable rentals.
While Habitat uses volunteer labor to keep housing affordable, other organizations use different models. The Athens Housing Authority, a federal agency, rents public housing on a sliding scale based on income and builds houses to sell to moderate-income buyers, as well. The Section 8 program gives rent vouchers to people with low incomes. The Athens Land Trust builds and renovates homes that it can sell cheaply to qualified buyers because the sale doesn't include the land under the house.
All these efforts address the problem of affordable housing, but they are dwarfed by the massive efforts to build housing that is affordable only by students.
Like what you just read? Support Flagpole by making a donation today. Every dollar you give helps fund our ongoing mission to provide Athens with quality, independent journalism.