Elizabeth Gaughf pulled up to her new Five Points apartment in January with a full moving truck and met disappointing news—the unit had flooded, and the owners didn't tell her. The place didn't have standing water, but the damage was apparent: wet floorboards, stained trim and a moldy smell.
With a new job starting the next Monday and no other options, what else could she do? Gaughf, a 2010 University of Georgia graduate returning to Athens for a doctoral degree in higher education policy, moved in and carefully unloaded her boxes. The owners said they would take care of it.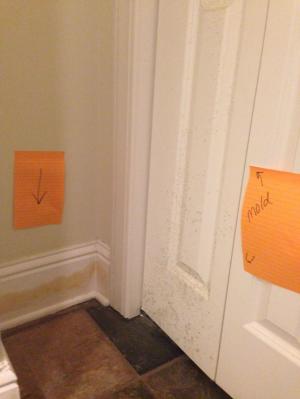 Photo Credit: Elizabeth Gaughf
The thing is, they never did, Gaughf says. The boards began to rot, and mold bloomed on the walls. She cleaned the mold herself and tried to fix small problems. When she asked about larger maintenance concerns, such as a broken dryer, the owners forgot to check out the problem or tried to fix it themselves.
"I didn't feel like I could come to them with my concerns. My feelings were hurt," she says. "I was an ideal tenant who paid rent on time and didn't throw big parties. It causes stress to live in an environment like that."
After months of mold, Gaughf complained one last time. One of the owners was kind and apologized but still didn't send help. Gaughf looked for another place and soon found one, but then she worried about breaking her lease. She began copying her sister, an attorney, on emails to the owners, and they found another tenant to replace her. "Not everyone can afford to have legal counsel to get out of a sticky situation, especially students who are financially independent," she says. "I wish everyone could feel supported and have the same backing I did."
Now she lives in a new apartment on Athens' Eastside. When she first moved in, she found mold in the dishwasher and felt a sense of dread. Was mold following her in Athens? But when Gaughf sent a photo of the mold to the new owner, the Atlanta resident ordered a new dishwasher that day and had it installed within the week. "This new experience is amazing," she says. "It's incredible how your outlook on life changes when you're comfortable at home."
Gaughf is only one of Athens' many tenants who face questions about renting. It can be tough to know how to handle lease agreements, security deposits and maintenance requests on your own. It doesn't help that owners, landlords and property management companies vary widely in their policies and response times.
At one end, the Athens-Clarke County Community Protection Division enforces a minimum housing code across the county. This is meant to ensure that basic amenities—a roof, plumbing and electrical service—are in working order, not dangerous and the premises are generally clean. They don't tend to get involved in specific landlord-tenant disputes, says Administrator John Spagna. But Georgia's online Landlord Tenant Handbook, created by the state Department of Community Affairs, is a great place to learn your rights as a renter, he says. "Many times, we will advise them to seek legal aid, or if they can afford it, an attorney," Spagna says. "The problem is that many of the issues are things like parking disputes or charges for things other than their rent."
Spagna's best advice? Know what you're signing when it comes to rental agreements and other documents. Those can give property owners a ton of leeway. Also, get all communication down in writing, says John Parker, leasing manager for property management company Parker & Associates. "When people go see apartments in January for pre-leasing and ask if certain things can be repaired before move-in, that needs to go in writing," he says. "Six months later, they don't always remember, and I don't always remember."
Pay particular attention to move-in and move-out inspection forms included with the lease agreement. Mark down those scuffs on the floor and take photos of the typical wear and tear that happens during the year, such as dripping sinks. That's what Gaughf did at her mold-filled apartment, and she thinks she'll get back more of her security deposit for the effort.
"I'd rather receive a five-page booklet on the minor details you see as opposed to nothing," Parker says. "When you move out a year or two later, it's harder for all of us to remember what it was like when you moved in."
Think about renting like you're a consumer, Gauphf says. If you were at a restaurant and found a hair in your food, you'd send it back. Similarly, don't hesitate to ask questions about your home. Tenants regularly email and call Parker with maintenance, roommate and rent concerns. He's better able to help with the maintenance problems than the latter, but he tries to be accessible and listen.
"I'd rather tenants ask me any questions, especially for maintenance, rather than assume they know what they're doing and do it themselves," he says. "I've been doing this many years. I know my properties pretty well and how to walk someone through it."
Beyond that, look into renter's insurance, Gauphf says. It runs about $10 per month and could save a headache in the long run. When she attended UGA as an undergraduate, Gauphf knew a friend who lost an iPod and computer when an upstairs apartment flooded into the downstairs bedroom. "Having yourself protected is important, because some places don't require it, especially the bigger apartment complexes," she says. "In my friend's case, nothing was covered."
At the same time, it's up to renters to show they're worth the respect, Gauphf adds. "We must continually work to change this idea that there are terrible renters in town," she says. "There's a constant push and pull in Athens, and we have to work against that stereotype."
Like what you just read? Support Flagpole by making a donation today. Every dollar you give helps fund our ongoing mission to provide Athens with quality, independent journalism.