1997: First AthFest is held with 60 bands on the steps of the courthouse and a dozen venues. Janeane Garofalo covers it for MTV.
1998: The festival grows to include two outdoor stages, an artists' market, an art walk and KidsFest. The Georgia Convention and Visitors Bureau names it "Festival of the Year." NPR's "All Things Considered" features the AthFest CD. Headliners: Randall Bramblett Band, The Corrector, Common People Band.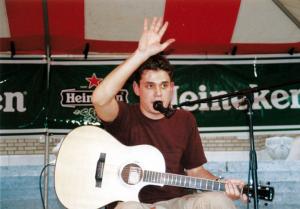 1999: The Flagpole Athens Music Awards opens the festival for the first time. The Eyeball Music Video Showcase begins. An unsigned John Mayer plays a set.
2000: Bad weather leads to several cancelled sets. Headliners: Macha, Jennifer Nettles Band, Randall Bramblett Band.
2001: Memorabilia from Athens music history is displayed in the Morton Theatre, prompting an exhibit on Athens music in the Georgia Music Hall of Fame the next year. Headliners: Japancakes, Randall Bramblett Band, Shawn Mullins.
2002: The festival includes Scene Seen—downtown storefronts showcasing Athens music history—as well as the Athens Welcome Center's music history tour, an art seminar panel, art cars and the Eclectic Electric art show. Headliners: Drive-By Truckers, Jennifer Nettles Band, Japancakes.
2003: Arts Excursion, a tour of art venues, is organized by the Athens Area Arts Council. Headliners: Cracker, Cindy Wilson Band (of the B-52's), Kevn Kinney Band (of Drivin' N Cryin').
2004: AthFest moves from the east end of Washington Street to the west end. Canopy Studios' Aloft in Space, the filmmakers' showcase Sprockets and the Athens Picture Show, a series of screenings, debut, and Wired Electronic Music Festival works with AthFest for the first time. Headliners: Camper Van Beethoven, Rehab, The Jesters (40th anniversary performance).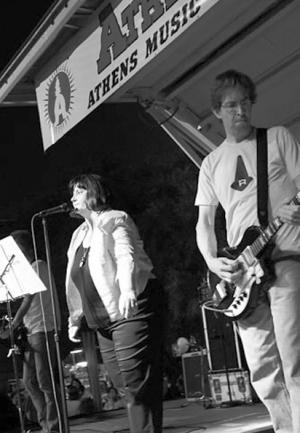 2005: AthFest doubles in size to include a second block of Washington Street. Young local filmmakers are featured in Film Athens' TeenScreen. Headliners: Pylon, The Whigs, Shawn Mullins.
2006: Phosphorescent plays a set before gaining widespread fame. Headliners: Modern Skirts, Now It's Overhead, Drivin' N' Cryin'.
2007: AthFest, now a nonprofit independent from the Athens Downtown Development Authority, makes its first donations to local music and arts education. Headliners: The Whigs, Drive By Truckers, Perpetual Groove.
2008: Headliners: Dark Meat, Modern Skirts, Dubconscious. Modern Skirts embarks on a European tour to open for R.E.M. shortly after the festival, appearing on bills with The National and Vampire Weekend.
2009: Headliners: The Black Lips, Patterson Hood & the Screwtopians, Randall Bramblett Band. The documentary Darius Goes West is screened on a main stage. Later in the year, the first AthHalf half-marathon is run, raising money for AthFest Educates.
2010: AthFest premiers a comedy segment. Headliners: Modern Skirts, Perpetual Groove, Cracker, Bubba Sparxxx, Packway Handle Band, Kinchafoonee Cowboys.
2011: Headliners: Chickasaw Mudd Puppies, Guadalcanal Diary (30th anniversary show), Futurebirds, Centro-matic, Kevn Kinney Band, Col. Bruce Hampton, Nappy Roots.
2012: Reptar plays to a record crowd. Other headliners: Atlas Sound, The Glands, Yacht Rock Revue.
2013: Modern Skirts plays its farewell show. Other headliners: Patterson Hood and the Downtown Mystic Rumblers, Cracker, Ghost Owl.
Sources: Jared Bailey and Jeff Montgomery
Like what you just read? Support Flagpole by making a donation today. Every dollar you give helps fund our ongoing mission to provide Athens with quality, independent journalism.