For 10 years, Agora has inhabited the corner of Clayton and Pulaski streets as a dealer in the old and the artsy.
Now, the store is expanding. Last week, Agora Vintage came to Broad Street just four blocks from Agora Co-Op, as the first store is now called. With a focus on high-end couture, owner Airee Hong also intends to use the new space as a gallery for vintage and antique items.
"To me, those are art items," she says. "The way that you present those items can be in a museum sense. When you go into museums, you see a bunch of historical pieces. When we have vintage and antique pieces in the store, we want to tell a story as well."
Agora Vintage will feature local art on two display walls and integrated with the rest of the store's collection. "The whole intention of this store is to give Athens another area for local artists to sell," Hong says. "To make it kind of like an art gallery/vintage boutique."
Hong hopes that rotating artwork every two weeks will make customers more likely to purchase it.
"That helps the artists out, too, because as an artist, it's difficult when people don't pay months down the road," she says. "And it makes it more special."
Agora Co-Op continues to carry vintage furniture—and vintage everything else—but the new store is more focused. "Some shoppers love being able to dig for their treasures," Hong says. "It's a treasure trove of really cool stuff. But some shoppers don't really know how to shop like that."
Hong hopes the new store's location will draw in more tourists and Agora newbies. "I think Agora's a destination store," she says. "So if you know where it is, you're going there. But I want them to be able to come to the other store, and it'll be the same feeling… but it'll be a different perspective on vintage and art."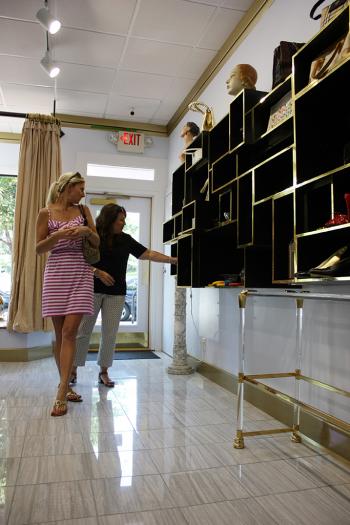 Photo Credit: Kelly Hart
To make room for Agora Vintage, Hong's husband, lawyer Russell Edwards, vacated his office on Broad Street between Taco Stand and what used to be Five Star Day. Local woodworkers erected two dressing rooms at the back of the room and added gold trim to match the new store's shelving and antique brass display cases.
"We've just focused on making it a really pretty space for people to come in and appreciate," Edwards says. "We really look forward to embellishing it with local art."
Edwards, a partner in the new business along with Jason Henry and Hong, now works from home and meets with clients at restaurants downtown. But sacrificing his space was an easy decision.
"We wanted to do this, because we love Athens so much," Hong says. "My husband and I love Athens so much that we are willing to open a new store four blocks from our old store. We want to see Athens grow not only as a community, but as a place for tourists to be."
Hong says the inspiration for the store's black-gold-and-mirrored aesthetic, which complements its "Hollywood regency styling," came from the couple's recent buying trip to Europe.
Agora Vintage is located just down the street from Community and Dynamite Clothing, two of downtown's other vintage stores. In addition to fundraising for local charities and hosting other events, Hong says she is planning to host a fashion show with those two businesses in October.
"I believe we are all here to help each other out," she says. "I don't think of other stores as competition. I think of us all as partners."
In May, the Athens Fashion Collective was featured in a reception at the High Museum of Art, and Community has a label of shirts designed by Athens musicians. As local music, art and fashion converge, downtown business owners aren't surprised.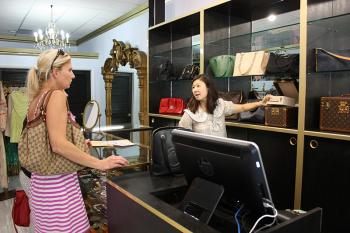 Photo Credit: Kelly Hart
"People that want to buy art, they might also be interested in fashion as well, and the other way around," says Community owner Sanni Baumgaertner. "People that are generally interested [in] aesthetics and visuals—it might appeal to the same customers as well."
Baumgaertner and Dynamite owner Lori Paluck both support Agora's decision to expand.
"I think it's a great idea to mix art with fashion; the more local flavor we can give to Athens, the better for everyone," Paluck says. "Both local art and local fashion are a big deal in Athens. With the university and our artistic town, we are fortunate to have an abundance of both."
Like what you just read? Support Flagpole by making a donation today. Every dollar you give helps fund our ongoing mission to provide Athens with quality, independent journalism.