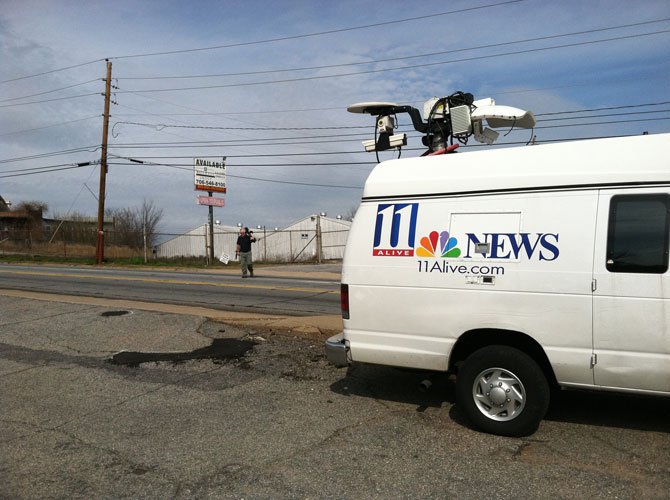 Leveling the Field: Public discussion of the Walmart-anchored development Selig Enterprises has proposed on the Armstrong & Dobbs property was broadened significantly last week after the release of a song by an all-star collection of Athens musicians that was carefully coordinated to draw attention to the project. The legitimately beautiful "After It's Gone," by Patterson Hood and the Downtown 13, appeared on the website www.protectdowntownathens.com last Tuesday evening, and by Wednesday afternoon media outlets across the region and the nation were broadcasting and writing about a last-ditch effort by the people who have made Athens famous to keep its most uniquely valuable civic asset, its iconic downtown, from being subjugated to the hegemonic grip of the world's largest retailer.
If that sounds a little melodramatic, well, it's supposed to. After months of trying to engage with Selig at the local level with no results more tangible than assurances that pedestrian-friendly revisions to one corner of the 65-foot Walmart parking deck were most surely being considered, it was definitely time for those concerned about the development's incompatible design and scale to go big. Hood and the Truckers, and Mike Mills, and Todd and JB from Panic and the rest of them stepped up because it was obvious the loyal opposition was going to get steamrolled without some serious firepower to match Selig's, and they were it. Now that there's more than one heavyweight in the ring, let's hope the developer will make more of its promise to "engage with Athens" than a series of meetings with selected community members designed to make them comfortable with the project as planned and convince them that that's the only way it can possibly be completed.
Because there really are very few of us who don't want to see the A&D property developed, and Selig's project, if the company would agree to compromise on things like connectivity and the scale of the anchor, would be about as close to the ideal use of that land as we could hope for. Between the newly intensified spotlight and the increasing obviousness that the design has some non-trivial hurdles to clear in order to comply with our existing zoning and development standards (a case nicely laid out on the Protect Downtown Athens site and compellingly expanded upon by Kevan Williams in this week's Athens Rising column), it would seem Selig should finally be motivated to stop pretending there's only one way for the project to happen and start talking seriously about ways it might be better integrated with its surroundings.
Chamber of Commerce President Doc Eldridge didn't help that conversation along much with his presentation, in a Feb. 5 Athens Banner-Herald op-ed, of a false dichotomy between "accurate information directly from Selig" and "misinformation" like Russell Edwards' much-maligned "yellow box" and Mike Mills' unfortunate (and immediately retracted) misstatement on an Atlanta radio station that the development would displace Weaver D's, without so much as an allusion to the well-supported arguments of the conspicuously reasonable Protect Downtown Athens group. Eldridge does indeed prefer to get his information directly from Selig: many of his facts and figures he cited were cribbed straight from the company's website. Given that the editorial explicitly functions as the Chamber's endorsement of a project for which no actual plans have been submitted for review, Eldridge's total reliance on Selig's "information" and refusal to acknowledge critiques of the design based on apparent noncompliance with zoning regulations is troubling.
That's been the main problem all along, and the single one all this community activism has been most useful in addressing: the treating of Selig's self-interested perspective as objective, default truth. It's only now, with that formulation finally breaking down, that we can begin to hope for everyone else's interests to be given their proper standing in an honest discussion of how this very desirable but hugely impactful project can best serve us all. So, in that spirit of cooperation, let's echo the laudable sentiment with which Doc closed his editorial: "We may come at it from different directions, but most of us want what is best for this town that we love so much."
Next on the Docket: News last week that a major redevelopment of the Athens Hardware property at downtown's northeastern corner is apparently in the works should serve as a reminder that the underdeveloped parcels at the edges of downtown remain valuable and attractive to investors, even with Athens' finicky, progressive building and design codes. We fully imagine that whoever undertakes that project will expect to be required to follow those codes—and that they will still somehow expect it to be worth their time, effort and money.
Like what you just read? Support Flagpole by making a donation today. Every dollar you give helps fund our ongoing mission to provide Athens with quality, independent journalism.