Ryan Lewis laughs as he recalls a miserable time on the road with his band. "The Agenda, at one point, had this van where the bottom was partially rusted out," he says. "We were in the Northeast, and it was raining, and it was cold. For a week, our stuff never got dry. It was fucking awful. Oh, and it was November, and the van didn't have heat."
One gets the sense the local folks behind the "Load In/Load Out" podcast would be telling tour stories whether or not there were microphones involved. Lewis, co-host Cash Carter and producer Bill Fortenberry created the program after endless hours of talking shop about what they had experienced on the road. The trio records and releases episodes of the podcast weekly at Fortenberry's house not far from downtown Athens.
"The genesis of it is really just being a musician and having these kinds of conversations. Or, being on a tour and hearing some crazy story that you think of later," says Fortenberry.
Released under the banner of Kindercore, the longtime Athens label that plans to soon expand into other facets of the music business, "Load In/Load Out" took years of conceptualizing before any of it was recorded.
After taping a nearly three-hour pilot with Lucas Jensen of Venice is Sinking a few years ago, Carter, Lewis and Fortenberry thought it might be wise to set some limitations for the show. Lewis says that while the trial run with Jensen was too long to release as an episode, it gave the team confidence to move forward.
Since its inaugural episode featuring Vanessa Briscoe Hay and Michael Lachowski of Pylon, the podcast has featured Cindy Wilson of The B-52s, local hip hop artist Blacknerdninja, Brooklyn band Shana Falana and more. Though musicians may be the obvious choice for guests, the hosts hope to include crew members in the future, as well as non-musician touring artists. Carey Means, the voice of Frylock on Adult Swim's "Aqua Teen Hunger Force," tells a few stories of traveling to Comic-Con in this week's episode.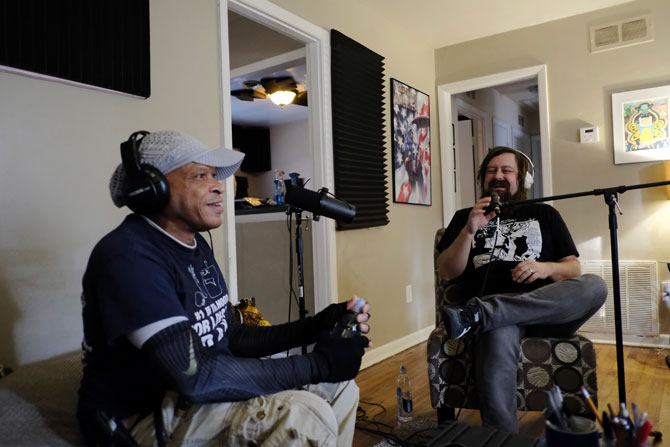 Photo Credit: Sean Dunn
"It doesn't matter who it is," says Carter. "We don't have to like the band. We don't have to like the person. It doesn't matter who you are. When you get on the road, you're going to have some tour stories."
Fortenberry says touring is especially ripe for storytelling because artists from all walks of life can relate. "Someone can be touring in a van or a bus, but it's a slice of life that can be up or down through any socioeconomic level," he says. "Touring is an act where an artistic class of people rub up against the world, and that friction is what's interesting."
While the assumption is that partying is a central facet of touring, the show's stories veer off into a number of different directions. "That isn't what touring is, for the most part," says Carter. "What makes me want to do this is that I think the other stuff is much more interesting."
The show's creators make sense of their hobby through a range of metaphors. Carter likens the experience of listening to artists share stories to data analysis, a process of filing experiences into relatable categories. For him, stories about where to eat on the road are as equally worthy as the death-defying ones, like Monsoon singer and guitarist Sienna Chandler's tale about staying in an abandoned school in New York.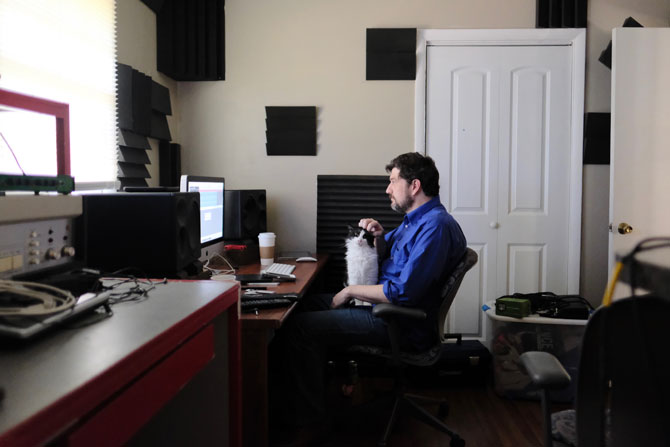 Photo Credit: Sean Dunn
Lewis says the epic nature of life on the road is what fascinates him most. "Touring is like the concept of an adventure in the same way that being in the military is for some people," he says. "[There are] people that hike the Appalachian Trail or climb Everest or go to war. I always thought of touring as the Fellowship of the Ring—a group of people brought together for a common purpose going through wild adversity."
After more than a dozen episodes, the team doesn't foresee the well of stories drying up anytime soon. "There are still stories beyond [what] we will tell in this podcast," says Lewis. "We've even bleeped a couple of people's names out to protect their futures."
Episodes of "Load In/Load Out" are available to stream at kindercore.com.
Like what you just read? Support Flagpole by making a donation today. Every dollar you give helps fund our ongoing mission to provide Athens with quality, independent journalism.