Craig Finn, indie rock elder statesman and frontman of The Hold Steady, and punk powerhouse Titus Andronicus have just kicked off a 26-date tour jaunt spanning 28 days. While audiences are sure to enjoy themselves, the two performers will, too. As it turns out, Finn and Titus Andronicus frontman Patrick Stickles are good friends who are using the trip to bond while also promoting relatively new releases.
Although its title may suggest otherwise, Finn says his Faith in the Future is as much about looking back and reflecting as looking forward. "I've been thinking about the way big events, like 9/11 or the Vietnam War, create these long hangovers for us as a culture," Finn says about the lyrical focus of his new record.
Though much of the press on Faith in the Future has overstated the influence of 9/11 on his songwriting, Finn says there's a reason why the record reflects on moments that are now decades removed. "I tend to look backwards 10 or 15 years when I'm writing songs," he says. "You have distance from things. You can see what's interesting about them."
According to Finn, his solo project began with a very simple principle: "a punk rock way of learning—grabbing your friends and starting a band." Finn says the recording sessions for Faith in the Future, much like his first solo record, Clear Heart Full Eyes, focused on his band feeling the songs out rather than learning them in a regimented, rehearsed way.
Though less raucous than his output with The Hold Steady, Finn's solo work maintains that group's emphasis on storytelling through character-driven narratives, rather than abstract theses about American culture.
"When you open up the New York Times and there's a story about immigration policy, you get about halfway through the article and it might mention a family in Texas that is directly impacted by this policy. To me, that's the most interesting part, because it brings the issue into focus," Finn says.
Having toured with the Drive-By Truckers, Finn is no stranger to the Classic City and its rock roots. Finn says the Truckers inspired him, at least in part, to form The Hold Steady after moving from Minneapolis to New York in the early 2000s. He says being "grossed out by indie music" and its exclusionary culture reinvigorated his faith in anthemic stadium rock.
"Patterson [Hood] was a really big influence on me before I met him. I moved to New York with the idea that I wasn't going to be in a band. And then I saw Drive-By Truckers and thought, 'That looks like too much fun,'" says Finn.
When it comes down to it, Finn concedes that he's interested in rock bands that are shamelessly products of their own environments. "We do this thing that is reflective of the places we're from," he says.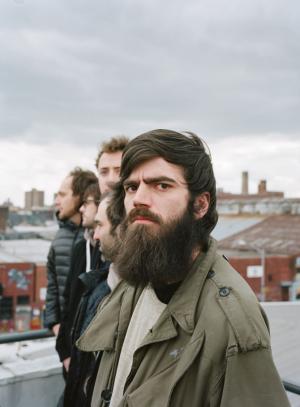 Photo Credit: Matthew Greeley
Forming in Glen Rock, NJ, Titus Andronicus has been fronted by songwriter Stickles since its inception in 2005. Last year, the band released The Most Lamentable Tragedy, a 93-minute behemoth of a record that centers on Stickles' struggle with manic depression. It's a punk rock opera that puts the band's Civil War concept record, The Monitor, in a different context altogether.
"Every record that we've made, and any record that we intend to make, we always strive to have a certain thematic unity and something that would make it more of a cohesive statement and a singular piece of art in the LP format, rather than a collection of bangers," says Stickles. "That's very important to me. I definitely can't resist that urge to massively over-blow something and dial up the bombastic elements."
Although Stickles is thoroughly fixated on the LP as a format for writing and producing his material, he admits that he isn't sure of how fans prefer to listen.
"I don't know. But I've got to assume that they appreciate that format more than the average listener, because we make such a point to go in that direction," Stickles says. "If they weren't into that, they would find some other band to get into. If you don't have the attention span to get into a 93-minute album, your interest in Titus Andronicus might not be that high."
Despite the band's prodigious output, Stickles says there are no immediate plans to record a follow-up. "The next record is a very distant, vague thought right now," he says. Instead, Stickles is focused on getting ready for the tour with Finn, his longtime confidant and mentor.
"[Finn's] been a really good friend to the organization and a good friend of mine," says Stickles. "We used to be neighbors. We'd go out and have dinner or a drink and chew the fat. He's been a very valuable adviser to me, being a slightly older, more seasoned guy in the game. He's been very generous with his knowledge and wisdom."
Like what you just read? Support Flagpole by making a donation today. Every dollar you give helps fund our ongoing mission to provide Athens with quality, independent journalism.