Cover bands are a staple in any music scene, but they are rarely as single-minded or committed as the Athens Cowboy Choir. The group was conceived when Athenian Nicholas Gould's wife, Dottie Alexander, inherited a stock of records from the 1950s and '60s that once belonged to her late father. After falling in love with the Norman Luboff Choir's Songs of the West, Gould consulted with friend Jamey Huggins about replicating Luboff's vocal arrangements in a live setting.
Although the vast majority of the musicians affiliated with the Athens Cowboy Choir have served time in local indie rock bands (among them wildly popular groups like of Montreal and The Glands), many of the group's members also have strong backgrounds in voice that prepared them for their Cowboy Choir service. Gould sang in school choirs until college, and Huggins' father has been a band and choir director at an Atlanta church for decades.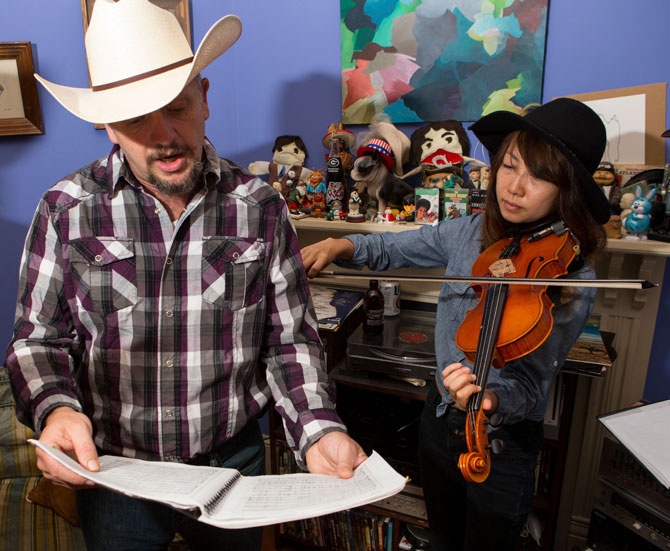 Despite their choral backgrounds, the choir's founders admit that arranging Luboff's material can be arduous. "It takes anywhere between five–10 hours of carefully coordinated rehearsal to be able to sing one song that might be two and a half minutes," says Gould. "It's a lot of work that we put into it to bring it up to the standard that we hold."
The preparation may be difficult, but the group's members find levity in staying as true to the cowboy way as possible. "The way the music is arranged can make it kind of stuffy sometimes, sort of churchy," says Gould. "The character thing offsets that, I think. When I go to a show and the performers are enjoying themselves, that's the show I remember. Also, who doesn't want to dress up like a cowboy?"
Huggins adds that the looking like a real cowboy isn't "just a gag;" in one instance, he says, the group stayed in character after a show and wound up eating beans out of a can while circled around a campfire. "Although there is an element of costumery to it, we try not to make it too ridiculous," he says. "Looking the part is important, because it gets you into character and it's fun to do."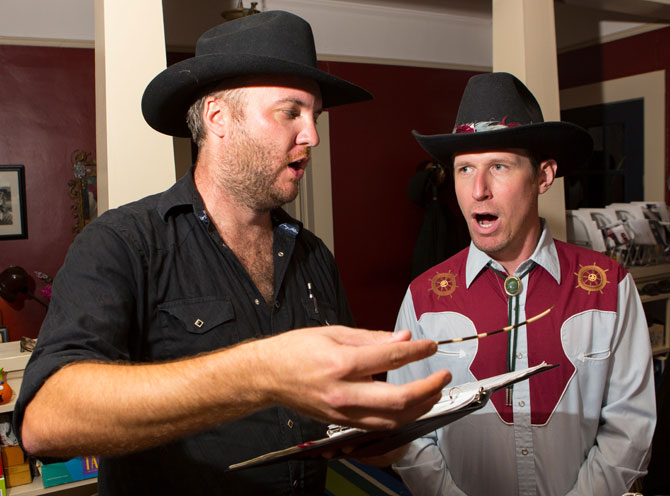 In addition to Gould (who goes by the stage name "Tiny") and Huggins (aka "Lefty"), the group is now an 11-person choir featuring instrumentalists Elijah NeeSmith ("Thumper") on bass and Keiko Ishibashi ("O-Kei-Korale") on fiddle. Matt Yelton ("Baby Gray"), Bryan Poole ("Texard") and Brandon Reynolds ("Witchita") round out the first tenors for the group, while "Lefty," Joe Rowe ("Pokey") and JoJo Glidewell ("Sunshine") serve as second tenors. Davey Wrathgaber ("The Sherrif") and Scott Spillane ("Snowball") hold down the mid-range as the group's baritones. "Tiny," Matt Hudgins ("Deep Beef") and Jay Gulley ("Guide Stone") are the group's basses.
The Cowboy Choir has performed only a handful of shows over the past few years with various lineups, but members of the group say their crowds have been incredibly receptive. "We've gotten a pretty good response from our live show. In a way, there's something about it that appeals [to audiences] because it's so out of left field. And we like that about it," says Gould.
"We think of the songs as classics and not so much of [Luboff] as a songwriter, but as a master of harmony. For us, learning four and five parts for male voices is a challenge," adds Huggins.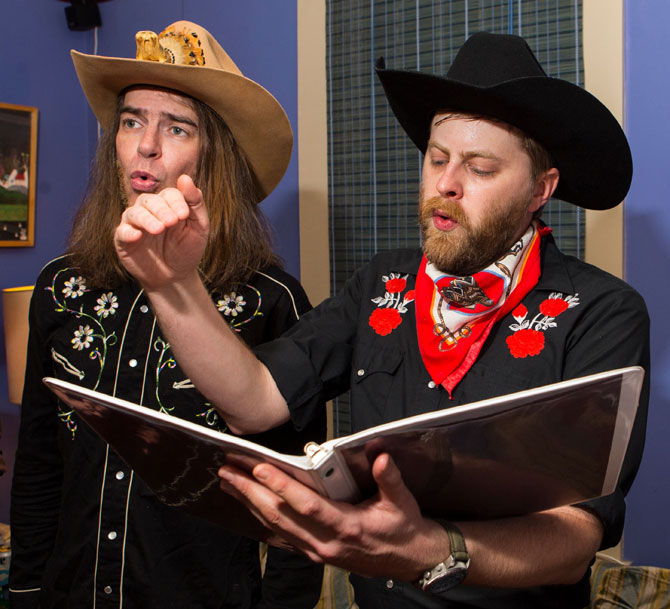 Lest anyone be concerned that the Athens Cowboy Choir, with its majority-male gender makeup, is exclusionary, Gould insists there are no sinister politics involved.
"It's not meant to be a boys club, per se," says Gould. "But the nature of the beast is that it's for men's voices. There's something about men singing together and working for a common goal; there's no ego, really. It becomes this very positive thing. It's just this weird, goofy Athens brotherhood."
Although the Athens Cowboy Choir has been slow in booking shows outside of its hometown, Gould says there are plans to expand by recruiting new members, and the group has been considering applying for nonprofit status because of its focus on historical preservation. "We are in this for the long haul, and we're expanding our membership," he says. "I would like to still be doing this in a decade."
WHO: Athens Cowboy Choir, Dave Marr
WHERE: Little Kings Shuffle Club
WHEN: Wednesday, Nov. 4, 9 p.m.
HOW MUCH: $5
Like what you just read? Support Flagpole by making a donation today. Every dollar you give helps fund our ongoing mission to provide Athens with quality, independent journalism.