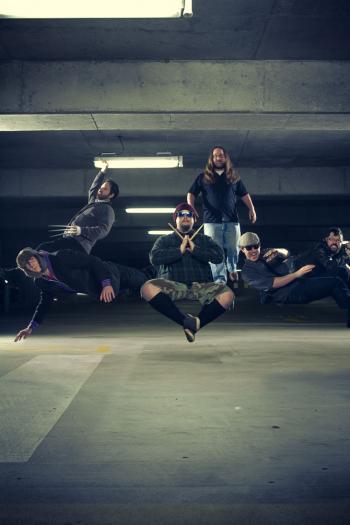 Photo Credit: Exophoto.com
According to frontman Jay Rodgers, Lowdive's debut album, Rude Girl, is a document not just of songs and the studio, but of the formation and lifespan of his band. Initial recording sessions began back in 2010, when Rodgers just wanted some help recording some of his own tunes that didn't fit in with his other musical projects at the time.
"I had some friends help me out with the recordings," he says, "and as I got more and more interested in the recording process and happy with the way the songs were turning out, I got more and more interested in playing live."
The tunes Lowdive—Rodgers, Tonka Green, Dede Giddens, Josh Perkins, Scotty Nicholson and Colin Hatmaker—plays point directly to its mid-1990s forebears, bands like Sublime, Mustard Plug, MU330, Reel Big Fish and the Mighty Mighty Bosstones. Lowdive seems eager to keep that good-times vibe going, playing not ska so much as "ska": essentially, rock music with a frenetic chick-chick guitar on the upbeat, influenced as much by the music's Jamaican origins (a precursor to the more mellow reggae) as its two-toned, skinny-tied British permutations from the '80s, and especially to sunny, frosted-tips-and-sneakers '90s California pop-punk.
Rodgers says he isn't worried about arriving at the party a decade-and-a-half too late; for him, the party never stopped.
"I haven't been too terribly concerned about how ska has trended over the years," he says. "The U.S. has always seemed to find it a bit kitschy, although, to be honest, the genre hasn't taken itself super seriously, either. Other places, like Europe, have taken it more seriously, where it hasn't been so much a fad that's either in or out—it's just a present thing."
Rude Girl (ska fans over the years have referred to themselves as rude girls and boys, though Lowdive's a gents-only band) knows its audience and sports a design heavy with West Coast ska-punk signifiers: vaguely retro leanings, sexualized artwork influenced by vintage tattoos.
"I don't want it to come off as cliché or anything. I think we're a pretty creative band," says Rodgers. "But I guess I've always thought tattooed chicks were cute. I was really into punk rock and stuff when I was in high school and later, and I think stylistically, it just kind of rubbed off on me. And I do try to write songs that have a balance of kitschy and fun and serious."
One of the more surprising things about Lowdive (which, it must be said, should not be confused with a certain influential indie outfit) billing itself as a ska band is the lack of any brass instrumentation. Drawing influence from American soul, R&B and Caribbean mento, ska from its early Jamaican days has usually boasted a good trumpet or trombone line. But many of the British and American ska-influenced bands didn't use 'em, and neither does Lowdive. Instead, it relies on three guitars to pick up the melodic line slack, along with Scotty Nicholson's organ-playing (one of Rude Girl's standout features and the band's secret weapon).
"I knew I wanted a guitar section instead of horns," says Rodgers. "I had been in a conversation-slash-argument with a guy at Little Kings one night—we got in a fight about No Doubt. He said No Doubt wasn't a ska band because it didn't have horns. You don't have to have horns! To an extent, I wanted to prove him wrong… I wanted to show that it's not about the trappings and the instruments and all that; it's about the songwriting and structure."
Like a '70s-style funk band playing in the '90s, Lowdive has adopted a form that's fairly calcified and easy to lock into—the innovators already defined the borders, and all a young band has to do is color within the lines. The show's the thing, though, and Lowdive's live act is a high-energy, crowd-pleaser. The band celebrates the release of Rude Girl this weekend with a show at Green Room.
"We just want to have a good time and get the album out. We're not trying to do anything crazy—just celebrate," says Rodgers. And of course, everyone's invited.
WHO: Lowdive, Shehehe, Buffalo Rodeo
WHERE: Green Room
WHEN: Friday, Feb. 28, 9 p.m.
HOW MUCH: $5
Like what you just read? Support Flagpole by making a donation today. Every dollar you give helps fund our ongoing mission to provide Athens with quality, independent journalism.