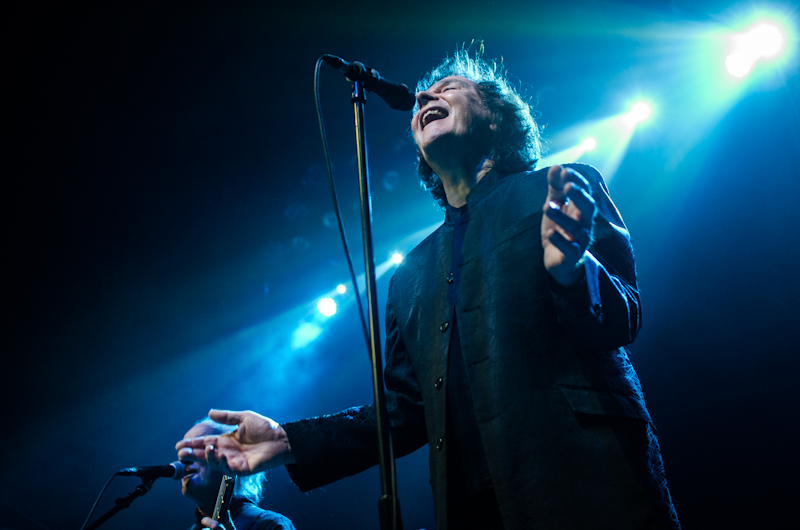 I was a bit worried for the Georgia Theatre when I arrived to the venue Thursday night. It seemed unnaturally empty when I arrived at the beginning of Pat Sansone's solo opening set. Although best known as the multi-instrumentalist of Wilco and for his "side project" with fellow Wilco-er John Stirratt, The Autumn Defense, Sansone's resume is extensive. (I once met Sansone at the Hideout in Chicago and we chatted about his work on Ryan Adams' Heartbreaker before I bought him a beer and left to tell my friends that I just nerded out with a member of Wilco.) In other words, the dude's got cred, and it's no surprise that The Zombies picked him to open their current tour. Sansone made his gratitude very vocal, taking some of his time to thank The Zombies on a few occasions.
Sansone joked that he brought his band with him before turning to his laptop for some programmed accompaniment on a few songs from the new Autumn Defense album, Fifth. Sansone is a crafty songwriter; although the songs weren't full of flash, the arrangements were still captivating. By the time he ended his set with a hushed but inspired performance of "You and Your Sister" from Big Star guitarist Chris Bell's I Am the Cosmos, a crowd quickly filled up the floor.
Right out of the gate (and exactly at the band's scheduled 9:15 p.m. start time), Colin Blunstone's voice was dialed in for "I Love You," a 1965 hit written by the band's bassist, Chris White. I don't know what I was expecting, but Blunstone has some serious pipes. Rod Argent was also wailing on his keys from the get-go, a practice that the crowd would get accustomed to by the end of the evening.
For everyone posted at the front of the stage, the band's set-within-a-set of songs from 1968's Odessey and Oracle was clearly the highlight of the evening (I saw more than a few copies of the album on LP being waved around). Softer numbers like "A Rose for Emily" added dynamism to the mostly rocking set, showcasing the group's impressive ability to harmonize. "Time of the Season" sounded especially crisp, a real treat for both rabid and casual fans of the band.
When the group blasted into "You've Really Got A Hold On Me" (a song popularized by The Miracles), it sunk in that Argent and Blunstone have written and recorded some absolutely canonical songs. As the whole crowd belted out the chorus to "Hold Your Head Up," the band beamed, evidence that they were just as pleased to be there.
The band made no apology for dipping into songs outside of The Zombies' corpus, and why should they? Having been involved with so many hits over the course of their careers, Argent, Blunstone and company chose to showcase their history. It sounded as good last night as it ever has.
Check out a photo gallery from Thursday's show here.
Like what you just read? Support Flagpole by making a donation today. Every dollar you give helps fund our ongoing mission to provide Athens with quality, independent journalism.