An educational tidbit before getting into this month's reviews: Session beer is defined as a low-alcohol variation of a craft style. This means that an India pale ale at 4.7% alcohol is a session beer, but a Bud Light at 4.7% is not a session beer, because IPAs are generally between 6–8% ABV, and American macrobrews are generally kind of lame and omnipresent.
The beauty of the session ale is easy to grasp: You can crack one open at 8 a.m. and keep drinking without passing out before the mid-afternoon kickoff. Sure, you could also just drink Miller/Natty/Bud Lights, but you've already spent many dollars on your red-and-black gear, bourbon and tailgating food, so why not spend two extra bucks for some beer with flavor that you can drink all day?
Alternatively, if you're not a sportsball fan, you should still try some of these session beers. They are fantastic. Now, onto the reviews.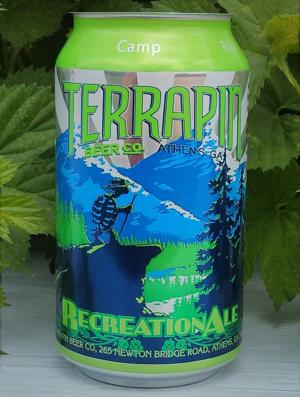 Terrapin's first canned brew is a near perfect session ale: low in alcohol (4.7% ABV) but packed full of flavor. Like many of Terrapin's offerings, RecreationAle (Recreationale? Recreat Ion Ale?) is pretty hoppy but not overly so. I could tell you all about how it's a citrusy amber pale ale with slightly sweet malt and a medium body, but I'll spare you all that, because this isn't RateBeer.com, it's your local alt-weekly rag.
Speaking of RateBeer.com, those guys recommend that you drink RecreationAle out of a lager glass, shaker or tulip. Do not do this. This delicious beer was put in a can so that you can take it with you on all of your delicious outdoor adventures, whether you're mountain biking, rock climbing, kayaking or summoning the spirit of the Great A'Tuin, the giant turtle of Discworld. I'm not judging what you do with this excellent session ale, although A'Tuin might.
A cousin of the Water Turtle Funtime Low-Alcohol Ale Beer is Founder's All Day IPA, another sessionably hoppy ale. Again, you're going to find aromas of citrus and pine, because this is an IPA, and that's what IPAs smell like, unless they're trying to form an experimental IPA band. (This hypothetical IPA band would have Dogfish Head's Aprihop as lead singer, 21st Amendment's Back in Black on lead guitar, Heavy Seas' Riptide on bass and Stone's Coconut IPA on drums. They would be called DiePA and might rock your hops off.)
The All Day IPA was originally released in bottles but switched to cans, because that's a good idea for a beer that wants you to drink it all day. Safety first.
Overall, if you're having trouble deciding between these two, go for the Terrapin—it has better flavor, better price and was brewed in Athens.
Because there are beer styles that are not IPAs, here's a semi-session stout. Anderson Valley's Barney Flats Oatmeal Stout is an unlikely entry in a column about session beers. After all, stouts tend to have a high ABV. However, Barney Flats is only 5.8% ABV, which qualifies it for this column.
This beer is a delicious stout that isn't too hefty and delivers all of the flavors you would expect from a stout: dark, rich malt and subtle hints of chocolate, coffee and, yes, also oatmeal. The oatmeal flavor is kind of strange but also quite tasty. If you're not a hophead and want something dark to match your sense of humor/soul/love of metal, grab an AV Barney Flats.
Another style switch is in order, as our next session brew is Bell's Oarsman Ale, which is a Berliner Weissbier fermented with ale yeast. Clocking in at 4.0% ABV, the Oarsman is the lightest of Good Spirits' session roundup—and the strangest. Unlike the bitterness of an IPA or the dark sweetness of a stout, the Oarsman is distinctly tart, much like a sour beer, but less overwhelming. This beer is great for fall days in the South. Its light crisp flavor is refreshing in our hot and humid weather.
The label is goofy, though—a loner rowing a boat in the same yellow raincoat you wore to your first rainy day of kindergarten. Who is this man? Is he delivering a shipment of Oarsman? If so, why is his boat so small? Wouldn't a standard delivery truck be more efficient? Is he hunting beer smugglers? Then why is his coat so bright? So many questions for our nameless rower.
There you have it: Session beers are a delicious alternative to both high-gravity microbrews and the flavorless BudCoorsMiller Lights of the world. Sure, they cost more money for less drunk, but if you're seeking the most buzz for the least money, go to getxnoty.com and get outta here.
Like what you just read? Support Flagpole by making a donation today. Every dollar you give helps fund our ongoing mission to provide Athens with quality, independent journalism.