There's nothing like a multi-day power (and worse, internet) outage to make Athenians even more appreciative of the joys of getting out of the house. Plus, we need something to do now that "Game of Thrones" is over. Fortunately, it's a great time for a night on the town in the theater scene.
There's a slut-shamed woman who's Scotland's last stake-burned witch. There's a guy who writes thrillers and then learns his protégé has written a perfect one. There's a farm full of animals being manipulated by despotic pigs promising to make the farm great again.
There's also a spider saving the life of her friend the pig; an accuser trying to reinvent herself after the Salem Witch Trials; three old ladies with a fun, new nurse; two teenagers whose mutual crush destroys two families; a one-man, one-box fringe-festival hit; two lesbians, their sperm donor and their three imaginary children; and a musical about a famous morbid family. It's all within the next month.
The Last Witch A single woman in possession of a sharp tongue must be in want of a man to put her in her place. It's 18th Century Scotland, and the woman is an accused witch (Anna Pieri) who relies on sex appeal and her wits to survive at the bottom of the economic ladder. She also uses the fear of neighbors who believe in her demonic powers in order to keep herself and her daughter (Melanie Sheahan) fed. She's a con artist who seems to believe her own con because it works so well on men like Capt. David Ross (Charlie Cromer)… for a time. When threatened to be burned at the stake if she won't deny her witchcraft, will she persist, or will she find that the devil is a man who can't abide an outspoken woman who scares him?
Pieri can be expected to bring a disturbingly strong performance to a powerful character, along with the rest of the impressive cast, led by experienced director Ray Paolino. If you are still pining for (or have recovered from) "The Handmaid's Tale," this show is worth checking out.
The Last Witch, by Rona Munro, is presented by UGA Theatre at the Cellar Theatre on Sept. 22 and Sept. 26–30 at 8 p.m., with 2:30 p.m. Sunday matinees Sept. 24 and Oct. 1. Tickets are $16, $12 for students and available at 706-542-4400 or drama.uga.edu.
Deathtrap Since it's a suspenseful, at-times hilarious thriller whose twists would be ruined by premature reveals, director Bryn Adamson won't say much about the plot. (She hates spoilers.) Town & Gown favorite Don Smith plays Sidney, a frustrated playwright who spends his time spinning murder plots for the stage and collecting antique weapons. He mentors an aspiring playwright (Will Riley) whose own work threatens to surpass anything Sidney ever wrote.
A play intended for an intimate space like Town & Gown, it's in the right place with the right people. Smith and the rest of the cast can be expected to deliver a highly entertaining and unpredictable nail-biter of a show. Just don't research the show online in advance, or someone will spoil it for you.
Deathtrap, by Ira Levin, is presented by Town & Gown Players at the Athens Community Theatre Sept. 29–30 and Oct. 5–7 at 8 p.m., with 2 p.m. Sunday matinees Oct. 1 and Oct. 8. Tickets range from $8–$15 and are available at townandgownplayers.org.
Animal Farm Adapted from the novel written by the guy who put the "Orwell" in "Orwellian," it's the book everyone read in high school and vaguely remembers as a cautionary satire about fascism. Written during World War II, when Stalin, Hitler and Mussolini were busily serving as the poster children for dictatorship, the warning about authoritarianism stands today. It shows what can happen when, following a cult of personality, a group of gullible rubes put power in the wrong hands. From Major (Lauren King) to Snowball (Natasha Perez) and Napoleon (John Terry), the pigs come into power on the farm through stoking fear among the hardworking animals like Boxer (Marlon Burnley) and the apathetic cynics like Benjamin (Justin Hall). The animals overthrow the humans and the pigs are the new bosses on Animal Farm, where all animal lives matter. Some animal lives, however, clearly matter more than others.
With his expertise in masks and puppetry, director T. Anthony Marotta is the human most able to bring farm animals to life in a creative way. This top-notch cast of UGA students is ready to bring this decades-old story into the turbulent zeitgeist of 2017.
Animal Farm, by Ian Wooldridge, adapted from the book by George Orwell, is presented by UGA Theatre at Seney-Stovall Chapel Oct. 4–7 at 8 p.m., with 2:30 p.m. matinees Oct. 7–8. Tickets are $12, $7 for students and available at 706-542-4400 or drama.uga.edu.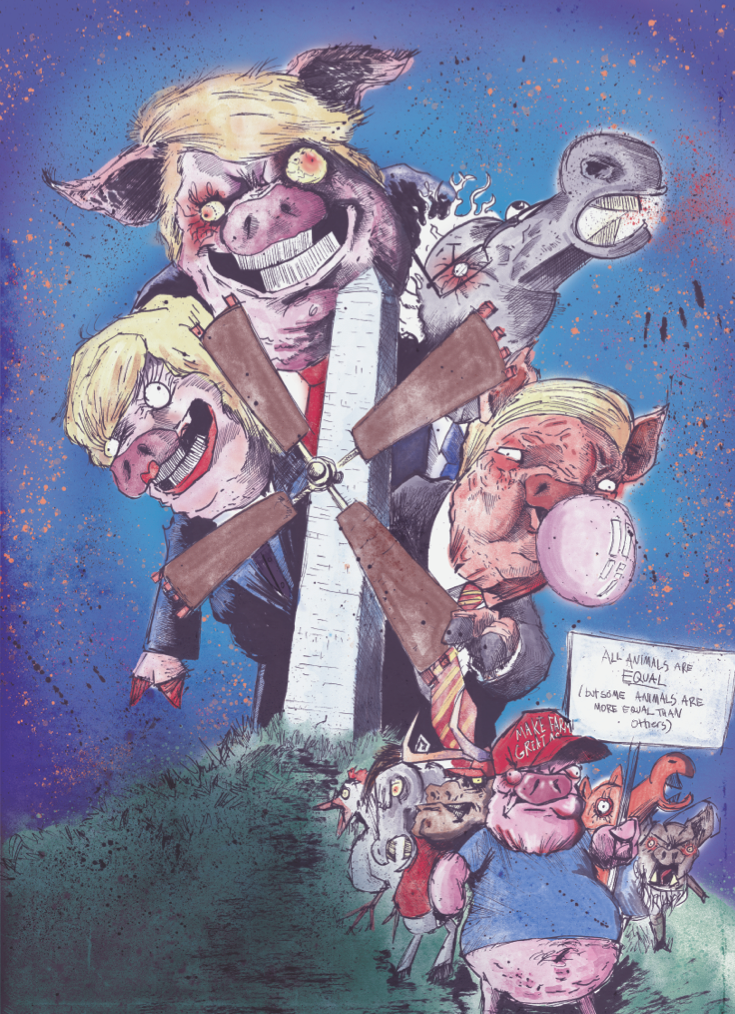 Charlotte's Web If you'd rather visit a much more cheerful farm, this play is from a childhood favorite of anyone who ever thought Wilbur is "some pig" and that his spider friend Charlotte, who literally saves his bacon, is pretty terrific herself. Presented by Brightstone Productions in their new studio at 560 Jerry Smith Dr. in Watkinsville, the shows will be held Sept. 29–30 at 7:30 p.m., with a 2:30 p.m matinee Oct. 1. For information and tickets, visit brightstoneathens.com.
Abigail/1702 Imagine what might have happened to the most famous of the Salem Witch Trials accusers, who could never live down her infamy. Can she run from her own devils and find a second chance all these years later? Aurora Theatre in Lawrenceville will present the play Sept. 21–Oct. 15. For information and tickets, visit auroratheatre.com.
Those Crazy Ladies in the House on the Corner All these three old ladies do is talk to or at each other, all the time, in their care home. They are joined by a new nurse who needs a place to live, and she brings fun times, outings and a secret to liven up their days. But then a relative shows up with intentions to sell the house. Winder-Barrow Community Theatre presents the performance in the Colleen O. Williams Theater in Winder Sept. 22–23 at 7:30 p.m. and Sept. 24 at 3 p.m. For tickets and information, visit winderbarrowtheatre.org.
Romeo and Juliet This classic Shakespeare tragedy is so well known that the title says it all. Rose of Athens promises a "fun, modern twist" to this one-hour tale of teen love gone horribly wrong. On tour through November, they're offering one public performance at the Jittery Joe's Roaster on Saturday, Sept. 30 at 8 p.m. Tickets are $7, and the audience is encouraged to bring lawn chairs and picnics. For more information, visit roseofathens.org or call 706-340-9181.
Black in the Box This one-man show, written and performed by UGA graduate acting student Marlon Burnley, has been a fringe-festival hit in the past year. Burnley, who won the critics' choice award at Orlando Fringe, uses masks, movement and dance to portray the black experience in America. Don't miss this show, which has been called a "brave, boundary-pushing production" by Orlando Weekly and a "disturbing, captivating show" by Indy Fringe Talks. Burnley will perform in UGA's Cellar Theatre Oct. 12–13. Visit facebook.com/BlackInTheBoxShow for more information.
The Addams Family The musical starts with a graveyard reunion of "the living, the dead and the undecided" members of this classic family. Wednesday brings her muggle boyfriend and his parents to meet her folks, asking them to act normal—as if they could. The kids of Athens Little Playhouse should be adorably creepy, kooky, mysterious, spooky and more. The shows will be held Oct. 13–15 and Oct. 20–22. For more information, visit athenslittleplayhouse.net.
And Baby Makes Seven Paula Vogel's dark comedy features two lesbian partners who invite their male friend to be their third for baby-making purposes. But how can they persuade their three very odd, imaginary children to make room for the new baby once the "kids" realize they are getting pushed aside? There's also a Stepford-like singing ensemble of neighbors. The Thalian Blackfriars will perform in the Cellar Theatre Oct. 18–19 at 8 p.m. Tickets are $5 at the door. For information, visit ugathalian.wixsite.com.
Like what you just read? Support Flagpole by making a donation today. Every dollar you give helps fund our ongoing mission to provide Athens with quality, independent journalism.