The Wild Party: Perhaps you've been to a wild party before: dancing on the tables until dawn, drunken ravings in the kitchen, raunchy flirtations and one-night stands, controlled substances scattered on countertops, frenzied music, maybe a fight or two. Reveling in transgressions isn't limited to the young or the creative, but those things in combination can lead to exhilarating, explosive levels of wildness—especially in the world of this musical. This is a wild party. It reeks of toxic friendships, bad habits, unhealthy relationships and jazz-soaked hedonism. You don't invite your parents or children to this party.
This 21st Century musical was created out of a witty 100-year-old poem by Joseph Moncure March that was banned in its time for lewdness: "Some love is fire: some love is rust/ But the fiercest, cleanest love is lust/ And their lust was tremendous. It had the feel/ Of hammers clanging; and stone; and steel…/ A lust so savage, they could have wrenched/ The flesh from bone, and not have blenched."
There's no lack of variety in lovers or musical numbers in this UGA Next Act production that suggests, rather than being deliberately set in, the Roaring '20s. Vaudevillian vamp Queenie (Leah Merritt) hosts a raucous throwdown for a cynical, pleasure-seeking group of entertainers that includes her frenemy Kate (Brie Wolfe), her angry lover (Wyatt Brooks) and a guy (Cam Kreitner) who seems pretty decent in comparison. New York Times critic Ben Brantley wrote that the partygoers at this "nasty wingding… are having roughly as good a time as the denizens of hell in a Hieronymous Bosch painting," but it's the sort of show that college theater students could find to be the best possible time on stage.
These are not good people, but they are compelling, according to director and MFA actor John Galas. "This is not your typical musical," he says, which is precisely what makes it so attractive to college students. Galas got "hooked" on The Wild Party when he was in college himself, saying, "It seemed dark, dangerous and sexy… modern and gritty, yet with moments of light and levity." The show is far from an endorsement of this sort of reckless self-indulgence, but it's not a morality play that warns against bad people who come to bad ends, either. Yes, things at this party "go to hell," Galas says, "but drinking, drugs, etc. [are] not what causes the problem… it's lack of communication."
It's a timely story, because people are so prone to react rather than listen, talk and question the status quo: "Everyone is willing to shout at the other side [or person], rather than take the time to listen." Impulsiveness and obstinacy chased with sex and drugs turns this wild party into something darker. Fortunately, there's also choreography and vocals that rise above the muck.
The Wild Party, by Andrew Lippa, is presented by Next Act at Seney Stovall Chapel Friday, Jan. 24 and Saturday, Jan. 25 at 7 p.m., with a 2:30 p.m. matinee on Jan. 25. Tickets are $12, $8 for students and available at nextactwildparty.bpt.me or at the door. For more information, follow @UGANextAct on social media or visit facebook.com/UGANextAct.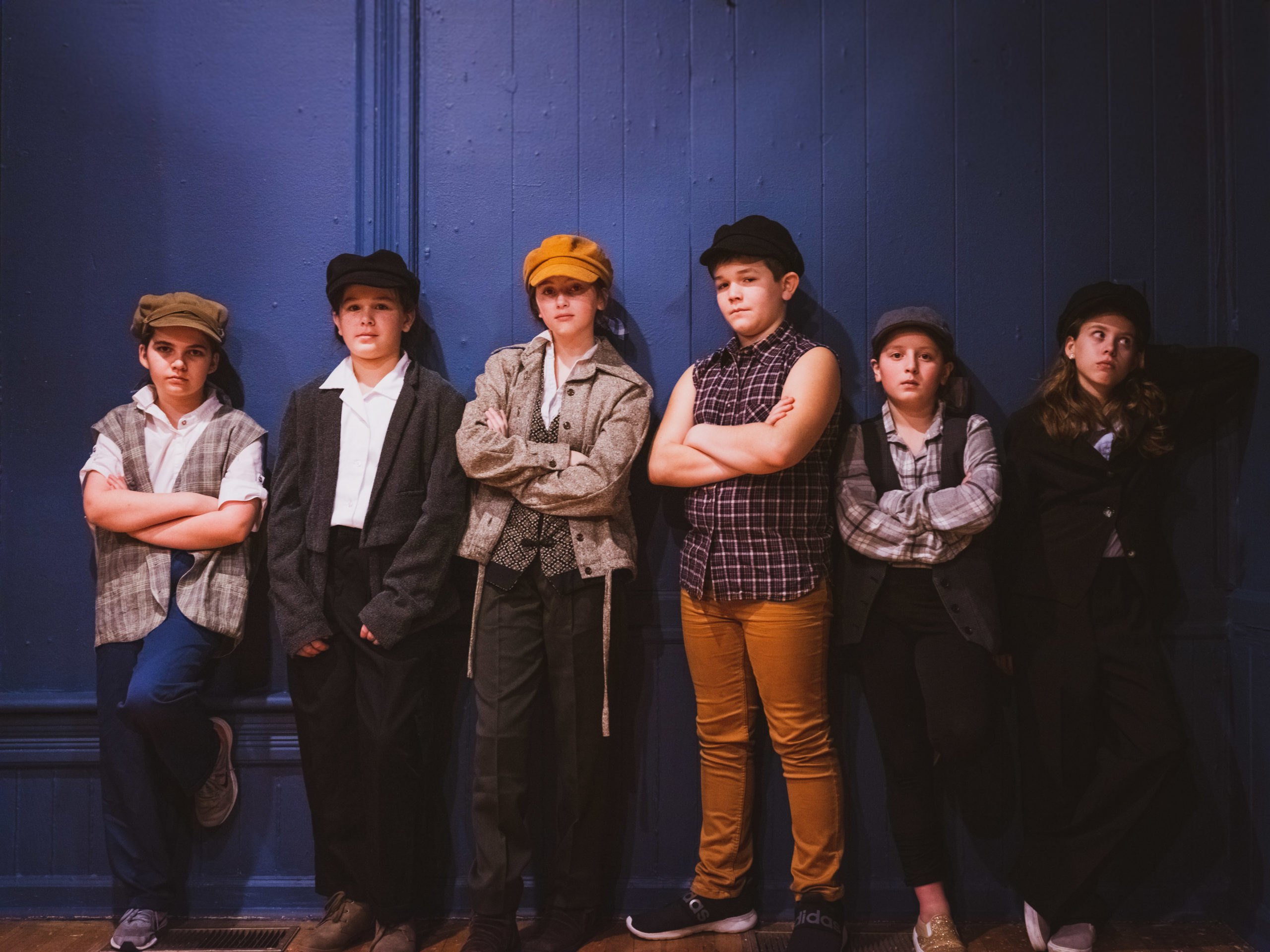 Photo Credit: Daniel Donaldson

Oliver Twist: "What do you do with a boy who asks for more?" is the central question in this production for young actors directed by Paula Gerhardt, a drama and chorus teacher at George Walton Academy. Young Oliver Twist (Dylan Dennis), orphaned and hungry, goes from workhouse to undertaker's assistant to the streets of London, where he meets a young thief called the Artful Dodger (Christina Casey), who invites him to join a band of child pickpockets under the leadership of old Fagin (Makena Helms). Will he find a better life and a true family? Will the gang of thieves, especially the villainous Bill Sykes (Avant Cotter), let him have that chance if he can find it?
This classic novel, famously adapted into the hit musical Oliver!, offers lots of roles for younger actors, but the full story—murder, domestic violence, starvation—may not be the best for younger audiences. Creating a version specifically for the under-18 set can be done, as Walt Disney demonstrated with the 1988 animated musical Oliver & Company, where the characters are mostly cats and dogs. OnStage Walton has created a non-musical version of the tale that's tailor-made for their Young Actors series. "This adaptation is just under an hour," says Gerhardt, "making it a great show to allow young ones to experience this story."
Oliver Twist, a show for young actors adapted by Gerhardt from the novel by Charles Dickens, is presented by OnStage Walton Young Actors at the OnStage Playhouse Thursday, Jan. 23–Saturday, Jan. 25 at 8 p.m., with a 2 p.m. matinee Sunday, Jan. 26. Tickets are $15 and available at onstagewalton.org or Carmichael's Drugs in Monroe.
Like what you just read? Support Flagpole by making a donation today. Every dollar you give helps fund our ongoing mission to provide Athens with quality, independent journalism.