Athens is known as a music town, but situated as we are right on top of rich Georgia clay, there must be writers everywhere. And it's true. Beginning this week, this new column, Poetlandia, will bring you a few poems, a super short story or a little bit of a novel from local writers, both well known and just beginning.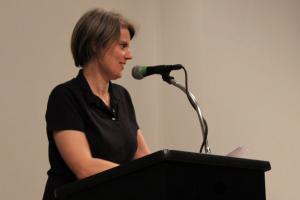 Photo Credit: Gabrielle Fuentes
This week, we have two poems by Magdalena Zurawski from her new book Companion Animal. Zurawski is also the author of The Bruise, an intense and vibrant novel that won the Lambda Award for debut lesbian fiction. A professor of English and creative writing at the University of Georgia, she moved to Athens two years ago.
Zurawski divides her time between writing and convincing UGA undergrads to fall in love with long-dead German philosophers. She loves Athens because of all the interesting writers and places to hear their work, saying, "We have a literary scene that rivals bigger cities." Ever the pragmatist, she notes, "We don't have the traffic, though parking is getting more difficult."
Right now, Zurawski is writing a series of fascinating articles about how we define what is beautiful on the online literary magazine Jacket 2 and blogging about the Women's World Cup for Off the Pitch (minoramerican.tumblr.com). If you see someone in indoor soccer shoes, with a white Maltese at her side, extolling the virtues of poetry and Bruce Springsteen, you'll know it is this wonderful author. Like the dog that accompanies her in life and poetry, Zurawaski's writing is both funny and terribly serious.
[Dog is a way of thinking.]
My language, which likes
to prove I am not
alone, wants
to talk to me again
today. It's
telling me, Don't
forget: you want
to be less like Homer and
not at all like Milton, but
more like your dog. Your
dog, my language
says, knows things are
there, doesn't want
blindness to see
a world, only a nose
to know what's
knocking now, who's on
her way home. There's
no yesterday.
Your dog, if he could
talk, my language tells
me, would, every
day, like a radio,
catch an air wave and
say, 'Today…'
[#Unoccupied]
After everyone stops
smoking the Ovid
it gets ugly to be alive.
The dead refuse us and
instead someone I know turns over
a police car and nothing
happens anymore not even
my face so empty and
too full of other people's
meanings.
I was bored and you
were bored, remember?
We dreamed of
leaving our heads
without a single
noun in them.
Upcoming Events
After an exciting couple of weeks of the New Town Revue, Avid Poetry Series and A Seat in the Shade readings, the literary calendar is a little empty. (The only literary event coming up that we know of is the Word of Mouth Poetry reading at the Globe at 8 p.m. Wednesday, July 1, featuring Cincinnati, OH poet Sam McCormick.) Besides, it's the Women's World Cup—no time for poetry!
Seriously, though, do you host a literary event you'd like us to know about? Please send event information to poetlandia@flagpole.com. In addition, share words with the Athens world by emailing your poems or prose (500 words max) to poetlandia@flagpole.com
Like what you just read? Support Flagpole by making a donation today. Every dollar you give helps fund our ongoing mission to provide Athens with quality, independent journalism.