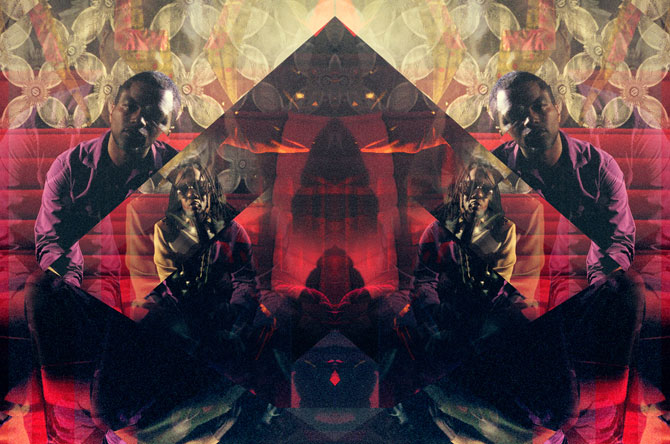 Ishmael "Butterfly†Butler is all about the music. This was clear from the first second of what was literally only a two- or three-minute interview with the notoriously press-shy and unapologetically terse MC who has masterminded not one, but two of the most unique and innovative acts in the last 20 years of hip-hop: the '90s jazz-rap outfit Digable Planets and his current project, the avant-dub-rap duo Shabazz Palaces. Making his way from Chicago to Detroit, he offered a (very) few words about the group's upcoming gig at the 40 Watt.
Having cultivated a somewhat enigmatic mystique about himself over the years, Butler was refreshingly honest and forthright, even about why he is more open to doing interviews now, saying, "When we signed to Sub Pop, they wanted us to start taking some more responsibility for things like that.†It is clear that, were he still an independent contractor, this conversation likely wouldn't be happening.
In regard to his music, which combines complex, highly literate rhyming and heavy, dubstep-tinged production for an uncommonly original and instantly recognizable sound, Butler struggles to identify any major influences, noting only that: "It's hard. [Our music] isn't inspired directly. It's more about a single note, or sound, or seeing other forms of art, and life, and how everything interconnects. It's about seeing things from a different perspective.â€
As for the live show, he ticks off a treasure chest of musical toys, explaining that the group travels with "drums, drum machines, keyboards, all-points processors and all sorts of other stuff†and goes on to share his (subdued) excitement at visiting New Orleans and Baton Rouge as the group will be on tour for the rest of this year, at least.
A man of few words offstage, Butler clearly saves them all for the mic, and when he finally does get to talking next Thursday, you'll understand why.
Like what you just read? Support Flagpole by making a donation today. Every dollar you give helps fund our ongoing mission to provide Athens with quality, independent journalism.