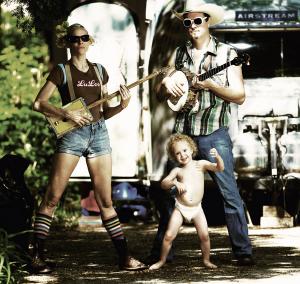 No one can be blamed for mistaking the stage names Lucy Tight and Wayne Waxing for something kinky, or maybe going as far as expecting some Peaches-worthy drama out of them. But all bets are off as soon as the husband-wife duo, AKA Hymn for Her, step out of the 1961 Airstream trailer they live in with their daughter and dog, break out the banjo and cigar-box guitar and rock a backwoods-tinged Morphine cover.
"People come up and say, 'Oh, man, I love that song ("Thursday"),' and we tell them it's a Morphine song. They say they love that band, but they didn't recognize it," Tight says. "We do it very different from Morphine."
The same can be said of their recently released second record, Lucy & Wayne and the Amairican Stream, which includes "Thursday." Tight says it's a huge leap from their folksy debut, The Year of the Golden Pig, and it relies heavily on her instrument, the bluesy cigar-box guitar.
"The first time you hear [the instrument]… you think of old bluesmen like Bo Diddley or Will Kimbrough," she says. "It just lends itself to that. I don't think people would hear us and think blues, but they might say it sounds bluesy," she adds.
The record can sometimes seem all over the place, with delta undercurrents supporting a sort of bluegrass-via-garage-rock sound, but it works, creating an eclectic and heady form of rock and roll that's probably as much fun to hear live as it must be to wail on a three-stringed cigar box with a broom handle fretboard.
"There's this whole movement of cigar-box guitar players out there like Johnny Depp and Keith Richards," Tight says. "It's just really awesome to play. It's a lot of fun."
Like what you just read? Support Flagpole by making a donation today. Every dollar you give helps fund our ongoing mission to provide Athens with quality, independent journalism.