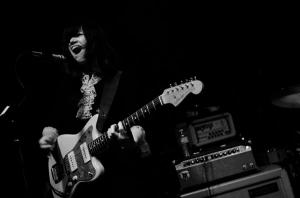 Any Pitchfork-obsessed college kids who think they know indie music should sit down with Atlanta's Shannon Wright. She could tell some stories to get their panties in a major wad. Her first band, Crowsdell, recorded with Pavement's Stephen Malkmus. As a solo artist, she has toured with Sleater-Kinney. And she once swam in the ocean with local legend Dexter Romweber of Flat Duo Jets.
She could probably spend hours imparting some fascinating, envy-inducing tales. But she'd rather let her music speak for her.
"I have the mindset that when I'm playing a show, everybody in the room is involved. When I go see shows and they really move me, those are the best moments in life. Maybe it's only 45 minutes out of your day, but you always remember it," she says. "And if the whole room can experience it together with the people playing music, that's something very special. I don't take it for granted."
Since 1999, Wright has released eight solo records, some with superstar producer Steve Albini, and recorded and toured with "it" French composer Yann Tiersen. Musically, she's been all over the map, but her most recent record, 2010's Secret Blood, finds her returning to her first love: guitar.
"I just backed off of [guitar] for a while because I wanted to try new things, but I love playing guitar," she says. "On the new record, I go back to guitar and play the way I usually play live."
While she has toured Europe extensively, locals haven't witnessed her live show in almost seven years. That's partly because foreign audiences have ultimately been kinder.
"There's a much higher regard for artists, especially if you're slightly different. Here it's like music is for young people," she says. "But rock and roll is American music. It's very exciting."
Like what you just read? Support Flagpole by making a donation today. Every dollar you give helps fund our ongoing mission to provide Athens with quality, independent journalism.