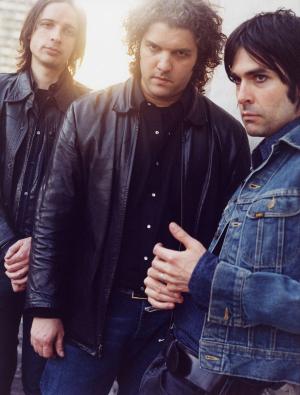 For a good looking, dark-haired punk with the vocal prowess and lyrical ability of a wild animal in heat, Jon Spencer is about as friendly—and somewhat geeky—a conversationalist as it gets.
"With Rufus Thomas, when he came to record with [Jon Spencer Blues Explosion] in Memphis, that was so exciting," he says in a tone of seemingly lingering disbelief. "I think we were all a little scared as well. There was a lot of 'wow' going on. We were in awe of him."
Imagining Spencer or his bandmates, guitarist Judah Bauer and drummer Russell Simins, being afraid of anything is a tough one. For roughly two decades, Jon Spencer Blues Explosion has been perfecting a reputation as a loud, sweaty, sexually charged heat storm of rock and roll, on record and on stage. It's not for the faint of heart.
Just listening to the band is an education in the underbelly of rock, with Spencer's exaggerated bluesman growl covering brash, slutty guitars and rhythms coupled with an intense, flashy showmanship that alternately suggests a worship service and an anonymous dive bar hook-up.
This is not emo or radio punk. This is not classic rock. It has its roots in American rock and roll and blues, but this is ultimately music from another planet.
And that seems to be what Spencer wants. A self-described "music geek," like most true geeks of any persuasion, he is very opinionated and dedicated when it comes to his view of what he's passionate about.
"I think in this country if you look at a lot of mainstream media about rock and roll music, a lot of the artists they want to champion are Patti Smith, Springsteen. There's nothing wrong with these artists. But I think it's as if critics and American people are ashamed of people like Little Richard," he says. "I don't think there's anything wrong with Little Richard. I think there's an incredible art to what he did. What Blues Explosion has been trying to do, or continue to do, is embrace that stuff and uphold it.
"It's been confusing for some people because there's this very crazy side to our music. Some people interpret it as just a big joke. But there's a big difference between having a sense of play and something that's a piss take," he adds. "Our music is funny at times, definitely crazy, very strange. But we work very hard at this, with great deliberation. It's very serious, but also pretty wild stuff."
Even if there are a lot of people who disagree with Spencer's idea of how things should be, there are enough out there who do get it. It's probably safe to say that if you watch TV, you're already familiar with the band. They wrote and recorded the theme song to Anthony Bourdain's "No Reservations" at the request of Bourdain himself. And Volkswagen asked them to re-record the blues standard "Black Betty" for a Beetle commercial that aired during this year's Super Bowl.
It's a decent amount of recognition for a band that's largely been on hiatus since its last record of new material, 2004's Damage. Compilations have been released since then, and they have played shows sporadically, but most of their time has been spent with side projects: Spencer plays with the rockabilly band Heavy Trash; Bauer tours with Cat Power's Dirty Delta Blues Band, and Simins has been working with Paul Simon's son, Harper Simon. Jon Spencer Blues Explosion hasn't mounted a serious U.S. tour in a long time, but after last year's record-reissuing frenzy (all but Plastic Fang and Damage were reissued), the time seemed right to get back out there.
"[After two decades] the spark or synergy or electricity that exists between the three of us that allows us to work as this band is still there. It doesn't seem to have diminished," Spencer says. "We still try to play a crazy rock and roll show, and it's still enjoyable."
In the end, that's what it's really all about, no matter what anyone else thinks.
"I'm not a very religious person, but in a way this provides something like a religious experience for me. I'm sharing something, transporting everyone at the gig," he says. "It's a chance to lose yourself, but it's not solitary. I'm doing this with other musicians—with the other people in the audience. It's a communal and spiritual kind of experience."
WHO: Jon Spencer Blues Explosion, The Ettes
WHERE: 40 Watt Club
WHEN: Saturday, Apr. 30, 9 p.m.
HOW MUCH: $15
Like what you just read? Support Flagpole by making a donation today. Every dollar you give helps fund our ongoing mission to provide Athens with quality, independent journalism.