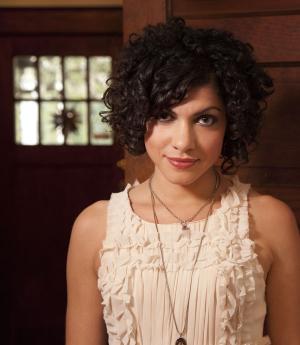 Texan violinist Carrie Rodriguez had many unusual musical adventures at an early age. Her parents made sure of that. But even though her childhood included her artist mother plunging her into '60s rock and her father, songwriter David Rodriguez, having friendships with celebrated folk and country performers like Lucinda Williams, Lyle Lovett and Alejandro Escovedo, it was an encounter at age five with famed classical violinist Itzhak Perlman that sealed her fate.
"I was so mesmerized by him that at one point I stood up and started clapping in the middle of a solo. I thought it was the coolest thing I had ever seen," she says. "From then on I knew I wanted to play the violin for the rest of my life."
The 31-year-old Rodriguez never forgot her roots, though, and from the time she began releasing her own records in 2001 to her eighth and latest release, the covers record Love and Circumstances, she's been shifting her classically trained skills to fit the folk and rock she loves. As an adult, that brought her back to the attention of people like Lucinda Williams and Alejandro Escovedo. Williams included Rodriguez in her Top-10 playlist for The New York Times and invited her on tour, while Escovedo asked her to fill in on his tour when his violinist wasn't available.
"He'd say, 'No, don't give me that country fiddle stuff. I want Bartok!' It took me a few gigs to get comfortable with that," says Rodriguez.
Performing with these musicians has sometimes resulted in her being labeled an Americana act, which used to bother her. She's since learned not to let it box her in.
"Nowadays, I don't care. I'm just going to record music how I want to," she says. "And if that includes trippy guitars, that's fine with me."
Like what you just read? Support Flagpole by making a donation today. Every dollar you give helps fund our ongoing mission to provide Athens with quality, independent journalism.