Sunday, Apr. 7 was a delightful spring day, perfect weather for the 18th annual Classic City Brew Fest, which was held at The Foundry Park Inn downtown. I attended, and I tasted, savored and sipped as I careened around the expansive premises.
My first stop after checking in was the Cask Ale Pavilion. Where last year there had been a mere 17 casks to enjoy, this year there were 21 to plow through, and many of those were considerably high gravity (say, 8% or more). Just sloshing through all this sampling was a daunting enough task, but it was only the beginning.
So I began. Instead of attempting to go by style, I simply went in the order the casks were placed, which was alphabetical. I'll list 'em off and tell a little about each.
Oh… my rating system: 1 is Acceptable But Unremarkable; 2 is Good Beer; 3 is Very Good Beer; and 4 is Extraordinary Beer (this is the old system we used at our tasting group some years ago). I add 5 for Absolutely World Class (There were none of those. I am sparing about giving out that accolade.) and 0 for Why Did They Bother? U would be Unacceptable; T/A means Try Again (meaning there's a flaw in the ointment); and I have one more, but I've forgotten it. It's not here, anyway. Alcohol percentages are given when I could obtain them.
Back Forty Beer Company's Naked Pig Pale Ale (6%), dry hopped with whole-leaf Cascade hops. A good start. This microbrewery, new to Georgia, is located in downtown Gadsden, Alabama. I rated it at 3+.
Blue Tarp Bantam Weight Ale (4.5%), dry hopped with Kent Golding hops. From a new microbrewery in Decatur, this brew is easy to drink, but there's not a lot of character there. Gee, what did I want out of such, anyway? 2++.
Burnt Hickory Big Shanty Graham Cracker Stout (9%), with coffee and vanilla (or "Thrilla in the 'Nilla," as they called it). This new nanobrewery in Kennesaw brought us this original. 3++.
Cherry Street Guava Cream Ale (4.5%), dry hopped with Nelson Sauvin hops. Whew! I was blown away! "This makes me think of Wayne Wombles, the genius brewer at Cigar City Brewing in Tampa," I told the pourer. Really, truly wonderful and totally original. These folks, operating a cooperative brewpub in Cumming, have great cards up their sleeves. 4.
Eagle & Lion Yes Face IPA (4.5%). Touted as a "UK-style golden session ale," this is from the former Griffin brewpub that may well be, as we snore, in the process of relocating to Athens… only time and tide will tell. But they cannot be allowed to die! (This was the first brewpub serving true English-style cask ale in Georgia, folks!) 3+.
Highland Imperial Kashmir IPA (10.1%), dry-hopped with Simcoe hops. Asheville, NC's pioneer microbrewery has long sold its worthy products here. This was a walloping masterpiece. 4+.
JailHouse Saison Reprieve (6%). Described as a "fruity Belgian-style farmhouse ale," this style was almost extinct in Belgium until 10 or so years ago when it was discovered by Americans. JailHouse, a microbrewery in Hampton, makes a fine example, although some folks mention that it's a tad on the sweet side. 3+.
Lazy Magnolia Southern Belle of the Ball (4.4%)—their Southern Pecan Ale aged on pinot noir soaked oak chips with a hint of vanilla bean. Lazy Magnolia, Mississippi's first microbrewery (it's in Kiln, near Gulfport and Biloxi), makes a portfolio of winsome brews, oftener than not using Mississippi-grown ingredients… but not catfish nor kudzu. 3++.
Max Lager's My Cold Scottish Soul (10.5%)—a blend of their St. Mungo Scottish Ale and their Cold Soul Winter Rye Lager aged in a High West Rye barrel. That'd warm you up on a cold Scottish night! Max Lager's is a brewpub on Peachtree Street in downtown Atlanta. 3++.
Vanilla Mazurt Aged in Coconuts (13.4%) was basically a homebrew guest-brewed at Burnt Hickory in Kennesaw by two veteran homebrewers. (It files under "M" rather than "V"!) Amazing. Whew! 4+.
Monday Night Eye Patch IPA (6.2%) with cinnamon and toasted oak. Now occupying new digs on Trabert Avenue in northwest Atlanta, this microbrewery's draughts feature distinctive "necktie" taphandles. Nice. 4.
We're half done. Take a breather if you need it.
Moon River The Bomb Dry Irish Stout (4.6%) with lavender. From Savannah's long-established downtown brewpub, this was another real original. 3++.
O'Dempsey's Your Black Heart Russian Imperial Stout (8.0%) with black cardamom, star anise, cocoa nibs and Northern Brewer hops. O'Dempsey's contract-brews (another brewer makes the products to their specifications, usually under their watch); their products are sold fairly widely in Athens. 3+.
Red Brick Hoplanta IPA (6.7%), double dry-hopped with Calypso and Mosaic hops in the cask. This is Georgia's oldest operating microbrewery, located off DeFoors Ferry Road in northwest Atlanta. 3+.
Red Hare Bitter Hearts Double Black IPA (9%), dry-hopped with Falconer's Flight hops. Red Hare is another new kid; their brewery is off Delk Road in Marietta. They are also the first Georgia microbrewery to can their brews (at least some of them!). 3+.
Stone IPA (6.9%), dry-hopped in the cask. Stone is a widely touted (and deservedly so) microbrewery in brewery-rich San Diego, CA. 3.
Terrapin Mosaic Red Rye Ale (6.6%), single-hopped with complex Mosaic hops. "This stuff is more complex than Charles Ives' music," I thought. Ives hailed from Connecticut; so does Terrapin brewer Spike Buckowski. Connection? Hmmm. Terrapin is a microbrewery in Athens, as most of you surely know by now. 3.
Twain's Black Eye Roasted Rye India Black Ale (5.4%), dry-hopped with Galaxy hops. Twain's Billiards & Tap is a brewpub in Decatur. (Even with Galaxy hops, this is not on draft at The Galaxy Diner, folks.) 3+.
Westbrook Udderly Oatmeal Milk Stout (5.5%). Westbrook is a microbrewery in Mount Pleasant, SC, near Charleston. "A symphony," I wrote. Its gentle movement down my throat is duly noted. 4+.
Wild Heaven White Blackbird (6.0%). This is a French-style Saison with pink peppercorns and fresh lime zest aged on Chardonnay oak. Wild Heaven is building a microbrewery in Avondale Estates, but for now is contract-brewing. 3+.
Finally, we have Wrecking Bar Bourbon Barrel Siberius Maximus Russian-style Imperial Stout (10.7%). This brewpub is in a retooled post-Victorian house in Atlanta's Little Five Points. I chewed on this for awhile. At the time, I forgot to rate it, but in retrospect I remember it as a 3+. Whew again. My favorite of the day was the Westbrook Stout above, but the three winners (we were all asked to vote on one) were: First, Cherry Street Guava Cream Ale; second, Lazy Magnolia Southern Belle of the Ball; and third, Vanilla Mazurt Aged in Coconuts.
Don't leave; there's more. Then I went inside and started trying the drafts and bottles that I hadn't managed to sample before. No ratings here: I had to hurry.
Strawn Brewing, a microbrewery in Fairburn, south of Atlanta, was pouring their Strawn Wheat Ale (which was credible) and Strawn Amber (which I sampled in Atlanta on my last trip).
Thomas Creek, Greenville, SC, microbrewery, brought Castaway Chocolate Orange IPA. It was original and delicious, but not absolutely incredible.
Twain's in Decatur brought River Sunset Amber, Criminal Sin IPA, Black Eye Roasted Rye India Black Ale and Rugged Rye Milk Porter. All were good, but the second and the last were my preferences.
Cherry Street Brewing Co-Op in Cumming brought Dylan's Dubbel, Irish Red Eye Jedi, Name That Hefe and West L. A. Hopaway IPA. The latter was the best, but they all were original and decent. (I need to make a trip up there, folks.)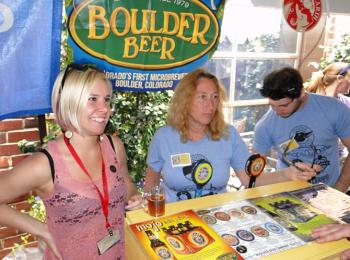 Copper Creek, Athens' brewpub, poured up its Girl Scout Cookie… Milk Stout plus mint. Chalk up another victory-in-a-glass from Matt Buley, their brewer. And don't go looking for it there; it was a one-up thang. They have a Cappucino Stout on, or did last time I visited.
Red Hare from Marietta surprised attendees with Red Hare Chocolate Porter. This is a nice original brew. Will it be the next in a can? Hmmm.
Stift Engelszell Gregorious Trappist was next. A Dark Tripel from the only Trappist brewery in Austria. It's located in Engelhartszell au der Donau A-4090, population 1,041. Gad. By this time, I thought my leg was caught in a bear Trappist.
Monday Night Fu Man Brew was my next taste. This is a Belgian-style Witbier.
Moon River Hey Diddle Diddle Farmhouse Ale loomed up next. These folks also brought Slo-vannah Pale Ale and Wild Wacky Wit. Amazing stuff, especially the first one. I need to go there.
Blue Tarp had Bantam Weight Ale and Hopsided IPA, but I had tasted both before at The Corner Pub in Decatur, so I slogged onward.
Onward to The Wrecking Bar, where I was to sample Ding The English Bitter (on cask), RyeZealand IPA and Son Of A Beach Rauchbier. Again, amazing stuff. I was losing steam, but almost done… and nearly done FOR to boot.
Back Forty from Gadsden supplied us with Freckle Belly I. P. A. (dots theirs) and Kudzu Porter. I think I remember the Porter as being my favorite.
One more stop before the Order To Vacate sounded. Lazy Magnolia Jefferson Stout (which I dearly love) and Indian Summer were both mighty good.
And I was done. I didn't make it to SweetWater's table, nor to Red Brick's, nor to JailHouse's, nor to a great many others… I ran late in arriving, and the old time-devil got me. But I made it through to write this semi-synopsis.
Hopefully my next column won't be about beer, but who nose where the road will take Van Ella and me… Gadsden, anyone?
Like what you just read? Support Flagpole by making a donation today. Every dollar you give helps fund our ongoing mission to provide Athens with quality, independent journalism.