It was a daunting task, it was, but I managed to pull it off. The 17th annual Classic City Brew Fest, that is. I made it all the way through without falling asleep, falling over or falling in love. (The last was the biggest challenge of the day. Sigh.) Let me begin at the beginning.
Sunday, Apr. 15 couldn't have been a lovelier day for such an event. This year, in addition to the indoor areas, there was an entire outdoor (covered, natch) pavilion devoted to cask brews: one-of-a-kind, get-'em-before-they're-gone kinda thangs. I didn't sample the casks in order of their placement, but by style (as much as possible). There were 17. As I said above, it was a daunting task. Let's hope I can read my hurriedly scrawled notes.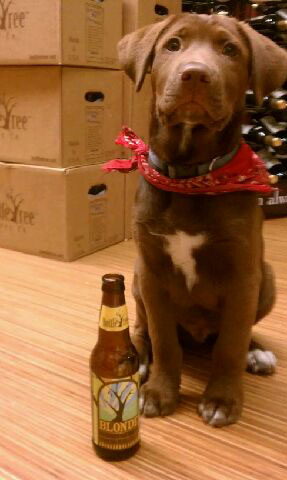 Jailhouse Saison Reprieve (with Kaffir lime leaves) Oooh, so satisfying, such a treat for a blistering day would it be! From those amazing folks in Hampton, GA. The bottled version (sans lime) has a label so wonderful that you almost want to buy it for that alone. One of my top three casks. (You'll just have to add your own lime to the bottled version, dagnabbit.)
Lazy Magnolia Bonnie Blue Bomb Southern Pecan Ale with blueberries, coconut, lemon and cinnamon. Those poor little pecans were almost overshadowed by the added flavors, but somehow it all worked. This Kiln, MS brewery is never short on originality.
Eagle & Lion Brew Pub Brass Monkey Mild Ale Kills by understatement. Ale to listen to Chopin by. This brewpub at 414 East Taylor St. in downtown Griffin, GA, which brews only British-style cask-conditioned ales, is worth the drive, especially for their East Griffin Stout. (I tasted that in Griffin just before Brewfest.)
Twain's Super Starburst Mad Guava Peachy Pale Ale Twain's Billiards & Tap at 211 East Trinity Place in Decatur has a new brewer who is tweaking his way toward the heights. This was like something that Cigar City's Wayne Wambles would create. "It's quite busy in there," I remarked to my sample. (I've gotta get back to Twain's, and soon!)
Red Hare Watership Brown with maple syruple and vanilla. (Hey, if Roger Miller calls it syruple, that's good enough for me! [Rhymes with "purple," of course.]) A nothing-like-Newcastle brew from a new kid in our midst, a packaging micro in Marietta, GA. (Watch for their Long Day Lager in cans soon!)
Wrecking Bar Hoppy Hobbit Session IPA From the brewpub in the amazing old house at 292 Moreland Ave. N.E. in Little Five Points in Atlanta came this "3.8 percent but loaded with malt and hop complexity" brew. Whew! Another of my top three. I applaud makers of really tasty session beers; not every drinker is trying to see how polluted he or she can become! What a joy to have this one. (I could put away six or eight!)
Wrecking Bar Smoked Porter (with Tahitian vanilla beans) Nice enough, yes, but not as original as the above. If they have this on tap when I'm next there, I'll surely hula up to the bar and order one, though. And a return visit is overdue.
Thomas Creek River Falls Red Ale Cask Irish-style Red Ale on toasted oak chips and dry-hopped with Sorachi Ace hops. A distinctive flavor: good, but not mind-numbingly so. From our nearby Greenville, SC micro.
SweetWater Hoppy Brown Porter IPA—a mix of Exodus Porter and Sweet Georgia Brown with Centennial hops. Not bad at all, and a mix I'd like to try with the two on draught. Of course, you know they're in Atlanta, don't you? (I've been needing to visit and take a tour of their newly-expanded 195 Ottley Dr., N/E facility.)
Peak Organic Oak Aged Mocha Stout All the way from Portland, ME rolled this cask just for us. This tasted very much like a tree. Quite nice, it was. And no jokes about splinters; after all, in Maine they package and sell those as toothpicks.
Moon River Swamp Fox IPA Our compatriots in downtown Savannah feted us with a cask of this. It was yumsville. This is frequently on tap at the brewpub, which is located at 21 West Bay St. (I've never been there!)
Max Lager's Imperial Mocha Oatmeal Stout (IMOS) On dark roast coffee and Ghana cocoa nibs. You could almost drink this hot on a cold day. Very high gravity. One of the more original brews from the brewpub at 320 Peachtree St. NW in downtown Atlanta. (I need to return there as well.)
Red Brick Spring Hop IPA A nice hoppy version of the style, this really hit the spot. I've never visited their brewery in Northwest Atlanta (it's at 2323 Defoor Hills Rd.). (Gad! What a way to spend a week! Touring Atlanta breweries and brewpubs. Expense money, anyone?)
Copper Creek Big Richard Double IPA With over one pound of hops in 10 gallons. Holy Waka-Jawaka, Batman! Who needs leg warmers after a coupla pints of this? A brew you can chew! Put a little water in those hops, Matt! This was my very favorite of all 17, without favor shown to anyone. For any of you who are unaware, this is from our local brewpub at 140 East Washington St. (This won't be available, though, when you visit. C'est dommage.)
Heavy Seas/O'Dempsey's Collaboration Peg Leg With manzano peppers, vanilla and chocolate nibs. Argh, matey! This is surely a new take on hot chocolate. Well, it was original, I'll give it that. Quite a few people seemed to like it a lot; I didn't. My guess is that they brewed this in Baltimore.
Highland Gaelic Ale With Warrior dry hops. An on-the-milder-side entry. Nice. A good offering from our friends up in Asheville, NC. We've been blessed to have their brews in Athens for several years now.
Terrapin 10th Anniversary Ale Last, but not least. A spicey Belgian-style ale to commemorate the company's 10 years of spiciness. Weighs in at 9.969 percent. They bottled some of this, so be on the lookout.
The Rest
After this pith-helmet-less safari, I somehow managed to recoup and crowbar my bulky self inside for more, more joyous brews. Read about them in the full version of this story at Flagpole.com. I've only got enough space left here just to mention them.
Twain's Tropicalia IPA was from the Decatur brewpub. Moon River of Savannah brought their Wild Wacky Wit and Apparition Ale. Well done, folks. Blue Point Brewing of Patchogue, NY's flagship Toasted Lager is quite nice. They also brought RastafaRye Ale and Hoptical Illusion… good products, these. Lazy Magnolia Ginger Jacque was superb! They also brought Southern Hospitality IPA, a new offering that is the strongest beer they've made so far. Also along for the ride was Jefferson Stout, a nice session brew made with Mississippi-grown sweet potatoes as an adjunct. Yum!
Southern Tier Brewing of Lakewood, NY graced us with their Farmer's Tan Imperial Pale Lager, which weighs in at 8.6 percent by volume. Cannon Brewpub of Columbus (located downtown at 1041 Broadway) brought their Special Ops IPA and Red Jacket Amber Ale. Both these brews were excellent. O'Dempsey's Your Black Heart Russian Imperial Stout could be its own column, but this keyboard doesn't have Cyrillic letters. It's in the 8 percent range.
Monk's Mead. This Athens-based (!) company's flagship is 12.9 percent. More in the wine department than beerish, mead is actually a honey wine. Bomb Lager appeared with its arty cans. Decent stuff. Highland Thunderstruck Coffee Porter rumbled in from Asheville. This is a worthy addition to their product line, as is their Little Hump Spring Ale.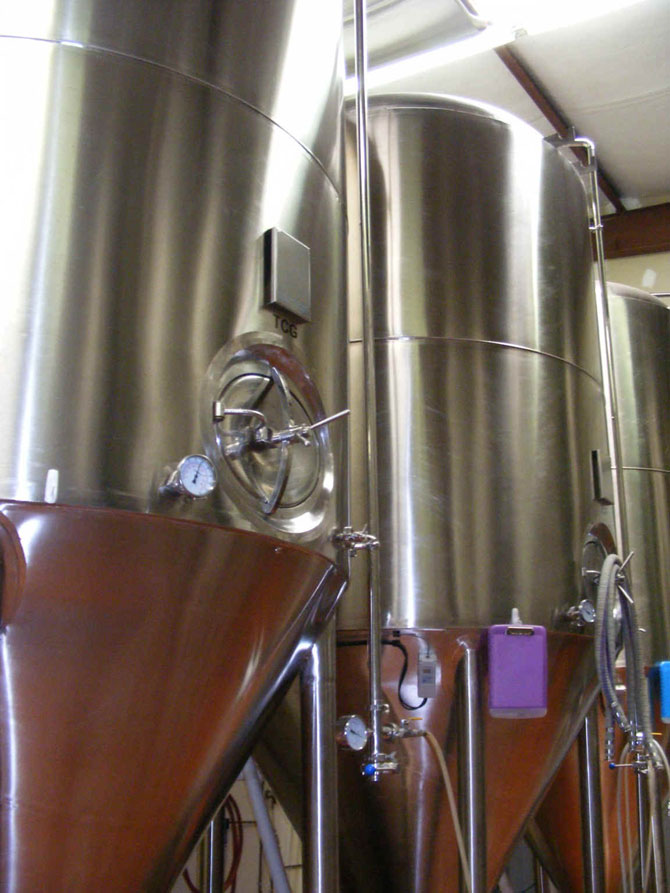 BottleTree Blonde at 6 percent and Irish Red 7.5 percent rolled in from Tryon, NC. Applause! French Broad Anvil Porter, Ryehopper Pale and IPA were all quite enjoyable. Sierra Nevada Kellerweis is a new product. I didn't note what it tasted like, but if their new Torpedo Ale is any comparison, it must be good.
Finally, I slid slowly down to Jailhouse Brewing's table. I tasted Hard Time Barleywine Style Ale, which measures in at 10.5 percent. This is stunning: the high alcohol content is unobtrusive; the brew intensely flavorful. With this last-but-not-least sample, my work was done. I oozed downstairs, wandered into a corner, shook hands with an available chair and took a nap. (30.)
Like what you just read? Support Flagpole by making a donation today. Every dollar you give helps fund our ongoing mission to provide Athens with quality, independent journalism.