Inauguration Day is almost here, and when President-elect Donald Trump takes office, cities around the nation will see marches and movements in opposition to the new administration.
In Athens, organizers from Athens for Everyone, the Bombs Away Collective and other groups are planning what they're billing as the largest protest in the city's history, dubbed the Day of Resistance, starting at 5:30 p.m. Friday, Jan. 20 at Athens City Hall.
In addition, on Martin Luther King Jr. Day earlier this week, a new "community civic engagement" project called 100+ Days of Action to Speak Up and Reach Out kicked off. Hilda Kurtz and Linda Gilbert started the organization as a way to build strength within the community during the first 100 days of the new presidential administration.
The plus sign is important because it means that the actions should extend beyond 100 days; however, during that time, citizens are called to become more civically involved. "It is also a time to care more, and to develop new insights into other people's concerns, as well as skill sets with which to take action. The 100+ Days of Action project offers pathways for doing those things," Kurtz says.
The group will link the work of nonprofits through a community calendar, host weekly Solidarity Sunday "teach-ins" and aid community members in finding real action items they are passionate about. "One of our goals is to connect groups and individuals with others," Gilbert says. "Too often folks are thinking and doing in isolation, not realizing that others in the Athens community are also working on related issues… Strength comes from talking with others and building relationships."
Ashley Na, one of the organizers for the Day of Resistance, says they anticipate the big turnout on the day of the march because—similarly to Kurtz and Gilbert's idea of including everyone—"it's not specific to any one organization or any one theme or cause."
After the surprising election results in November, A4E hosted the What Now? Organize! meeting, which attracted around 500 people. There, the idea for a march in opposition to the incoming administration was born. In the wake of the election, A4E organizers knew they wanted to have a response, board member Jesse Houle says. They chose Inauguration Day because they had time to plan, and it was an opportune day to show that they intend to resist the new administration.
"There's been a lot that we've been working to resist already," Houle says. "People have been deported and imprisoned and oppressed in a whole variety of ways, and there was a very high poverty rate in this town long before Trump was even considered as a candidate. But a lot of those things are going to get even worse, and really what we have now is an opportunity to organize with even more people to continue to resist, even more effectively, those things that we have been working for already."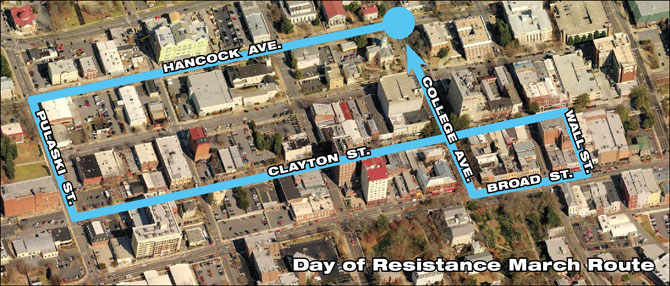 This protest may be a little different than what folks in Athens are used to seeing, Houle and Na say. Art and music will play a role in making the march as theatrical as possible. "Something that's going to be really different is that we're going to have some really powerful artwork," Na says. Though she and Houle won't reveal exactly what that might look like, they mention banners, posters and even puppets. Houle grins and says they will be "augmenting singing with… other things."
An important aspect to Houle and Na is that the speakers come from the communities with which the march is meant to show solidarity. "We want to have speakers from marginalized communities," says Na, who hopes to have speakers on sexual assault and abortion access, as well as representatives from the Muslim, LGBTQ, immigrant and African-American communities.
Houle and Na say the march will serve as an opportunity for people to come together, show solidarity and feel empowered. "Hopefully, that will be the moment when they decide to commit to the resistance, and that's when we will solidify our relationship as a community in moving forward together," says Na, hinting that after the march, they don't intend to quiet down.
Houle doesn't think they will, either. "Whether we're pressuring City Hall or other institutions—UGA, the Board of Regents—to make better decisions or standing together to build better alternatives, I think we're going to see more people participating in that stuff. If things continue as they have or get worse, which we anticipate they might with deportations and [Immigration and Customs Enforcement] raids and things like that, we plan to organize people to take a bolder stand against that."
Houle and Na's hope is to harness the energy of the What Now? Organize! meeting and channel that into a huge display of opposition on the 20th that will leave a lasting impression on those who attend or witness. Having solid action items is an important part of the march, and they'll instruct people on how to donate to the Magnolia Fund (a local group that assists women seeking abortions), train in bystander intervention and even flood the Muslim registry if that were to become a reality. If marching and chanting isn't enough involvement, volunteers are needed for everything from photo and video to handing out flyers.
Like what you just read? Support Flagpole by making a donation today. Every dollar you give helps fund our ongoing mission to provide Athens with quality, independent journalism.