"We offer the Nexplanon implant and IUDs like Mirena, ParaGard and Liletta. All of that is free. There is no income requirement. Until further notice, if folks are getting a long-term contraceptive, it is free," says Bemene Piaro.
Where is this magical place? Well, it changes, because it's a bus.
Piaro is a health educator for the Northeast Georgia Public Health District, a publicly funded network of 18 clinics spanning 10 Georgia counties, and more recently for The Mobile Clinic. Newly purchased, outfitted and opened by the district this summer, The Mobile Clinic is a traveling resource focused on women's health. "I think our goal can be simply stated: increased access in birth control services for communities that do not have it," Piaro says.
The Mobile Clinic was in the making for years before opening this summer, district nurse director and Mobile Clinic nurse practitioner Pam Smith says. In addition to long-term birth control methods, the clinic also offers free full gynecological exams, which include STD testing. Offered on a sliding pay scale are the pill and Depo-Provera, an injected form of birth control that lasts three months. Patients don't need to come in knowing exactly what they're seeking, either. "We offer counseling around birth control—what [patients] are concerned about, what side effects they are or aren't comfortable with, how long-term their goals are—and make referrals if necessary," Piaro says.
Piaro says the consultation is part of her personal practice of encouraging patients' right to determine their own futures. "I don't push patients into a specific type [of birth control]," she says. "A lot of women are pretty clear on what they want. For me, it just involves listening to them and answering their questions, watching out for their concerns and addressing them accordingly. I just give them the information and [feel] OK with whatever they decide."
So, can any person board the bus and walk out later that day with an IUD inserted? "We administer a test to check for infections and pregnancy. There can be no chance the patient is pregnant. But, yes," Piaro says. "Basically, if you're a candidate medically, you can walk up and get it. If they are not yet, they can make a follow-up appointment to come back."
The Mobile Clinic is still mapping its route. Bus "stops" are based on availability and willingness to partner with organizations that have brick-and-mortar locations. This makes for an intrinsically collaborative and community-defined clinic, and in these nascent stages the partnership possibilities are wide open.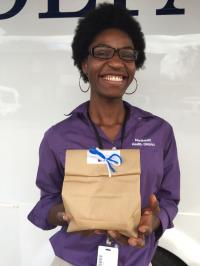 Photo Credit: Prosper Hedges
"We are still in the initial phases and establishing a regular calendar. It's been who has asked us and who I can get cemented in a partnership," says Piaro. "We started in Jackson County at the Commerce Boys and Girls Club. We just signed a memorandum of understanding with Pinewood Estates," an Athens mobile-home neighborhood, "and we're still determining how often and which days we need to come."
In November, the clinic partnered with the Sparrow's Nest, a faith-based community center for homeless people, co-organized by Eastside Community Church and Strong, Beautiful and Godly Girls (organizer Latasha Sheats' counterpart to Life the Griot's Chess and Community for boys). Attendees were served a Thanksgiving supper inside the Sparrow's Nest. Kids played basketball next to The Mobile Clinic. "We mostly ended up doing blood-pressure screenings," says Piaro. "Our focus is women's health, but we are meeting the communities where they're at. Cardiovascular health care is so important in the U.S., so being able to address that felt really good."
Smith's goal is to take the van out a couple of times a week. "It's about getting the word out there to develop those partnerships and a set schedule so that we become a familiar face in [various] communities," she says. "We did a needs assessment and some mapping of certain characteristics like population and income. A couple places we thought would work didn't seem like a good fit, and areas I didn't think would [need our services] did. You really don't know if you have had an impact for three to five years out, and it's a lot of trial and error."
The reasons why reproductive health care can be inaccessible vary and are not always clear. "We're still trying to find partnerships in Elbert and Greene counties," says Piaro. "They're very small and rural, and there's no public transit. Without The Mobile Clinic, [people in those counties may not have] access to free or affordable services. So there, access barriers look like transportation. But in Clarke, there's public transportation, it's walkable, and folks aren't always coming. Geography isn't the issue, and we're not sure what is. So the clinic is a way of coming right to folks, and that looks different in different communities."
Piaro says The Mobile Clinic is surveying patients to determine what brings folks to the clinic, and they "hope to learn to more about why they maybe haven't previously gotten similar services."
The next scheduled event is Jan. 10 from 9 a.m.–3 p.m. at Pinewood Estates, located at 1465 U.S. Hwy. 29 in northeastern Athens. The clinic will be open offering exams and birth control. To get in touch with The Mobile Clinic for health care services or regarding potential partnerships, call or text their hotline at 706-224-0688.
Like what you just read? Support Flagpole by making a donation today. Every dollar you give helps fund our ongoing mission to provide Athens with quality, independent journalism.