After 10 years of development, Athens is now home to a remarkable collaborative and comprehensive resource center for the homeless of northeast Georgia. The Athens Resource Center for Hope (ARCH) offers free laundry and showers, medical and dental care, counseling and peer-led support groups for mental illness and addictive disease, HIV/AIDS testing and case management, housing and more.
The "one-stop shop" is a joint effort among Athens nonprofits and citizens to identify and close resource gaps. A 2015 point-in-time count found 226 local homeless people last year. That statistic does not include folks staying with friends or in motels, and although it's down from the year prior, a winter storm the day before the count may have skewed the numbers.
Partner organizations include Advantage Behavioral Health Systems, AIDS Athens, the Athens Area Homeless Shelter and Athens Nurses Clinic. Located on North Avenue, the ARCH is strategically nestled along a bus line within walking distance of the Department of Labor, Department of Family and Children Services, Howard B. Stroud Elementary School and the Boys & Girls' Club on Fourth Street.
Long Time Coming
"This is something I've always wanted to do," says Patonia Lumpkin, director of the ARCH's daycare. She privately owns Little Angels Daycare on Oglethorpe Avenue and is opening a second facility at the ARCH this July. Little Angels II has one rate for the homeless population—who may be residents at ARCH's 23 transitional housing units or visiting for support during the day—and another rate for other families in Athens.
Before the ARCH, Lumpkin says she couldn't afford to offer childcare for the homeless population. "It was like, 'Yes!' This is my chance to serve those families that I always wanted to serve," she says. "This opportunity to me was golden."
ARCH board president Evan Mills says that child care was one of the most challenging expenses to cover. "We've got a family with three children needing child care right now," he says. "That works out to $480 a week for 52 weeks. That's a very large grant, and just for one family. With the employment a lot of these folks are finding, that would be three-quarters of a paycheck."
The ARCH was built with a $7.9 million contribution from the University of Georgia when UGA took possession of the former Navy Supply Corps School in Normaltown—which was closed and moved to Newport, RI—and converted it into a health sciences campus, a process that began in 2006. Federal law requires that transfer of surplus military property benefit the homeless, and UGA met that requirement by funding the ARCH on North Avenue, closer to other services, rather than set aside part of the Navy School.
But the funding, legally, was reserved for buying the land and building the facility. Each of the partner nonprofits has had to find a way to cover operating costs.
"We receive over $1 million in federal grants," says Olivia Long, executive director of AIDS Athens. While appreciated, federal grants can be restrictive, often requiring their recipients to provide an address—the one thing that homeless folks, by definition, do not have. AIDS Athens receives unrestricted supplemental funding from the annual Boybutante Ball, a spring drag extravaganza held at the 40 Watt Club.
Other partners have received anonymous donations. Shea Post, executive director of the Athens Area Homeless Shelter, says that the ARCH's residential portion received an anonymous $50,000 contribution towards community enrichment through The Community Foundation, an organization that facilitates strategic philanthropy. This will be used to supply the 23-unit complex, which ARCH regulars call the Village, with amenities like picnic tables.
Taking the Tour
A tour of the Village reveals the streamlined and resourceful nature of the ARCH's development. Beds are recycled from the old naval base, and door locks are electronic—no need to call the locksmith when residents transition out to independent housing and new residents move in. Each apartment is fully furnished with a full kitchen, washer and dryer, bedrooms and full bath. The best thing about the Village, though, is that families can stay together. Many shelters split up adults from children of different genders, which is especially heartbreaking for families with a single parent.
Another desperately needed service is dental care, says Paige Cummings, executive director of the Athens Nurses Clinic and an ARCH board member. "Without regular care, the teeth can become impacted," she says. "That's why you see so many people [in the homeless population] whose lips wrap over their teeth."
The Athens Nurses Clinic offers free dentistry (on Fridays) and medical care, and can both prescribe and fill prescriptions, as well as parcel out over-the-counter medication, all within the same building. ANC tag-teams medical care with AIDS Athens, which now has its own clinic for STD testing and other primary-care services. The two clinics share the second floor at the Athens Resource Center, one of the first buildings you see when you approach the ARCH on North Avenue. (It's a bit confusing that there is a building called the ARC within the ARCH; the downstairs is referred to as the Homeless Day Center and the upstairs as the clinics.)
The Homeless Day Center is where a lot of commonly overlooked needs are addressed, like "having an address and a place for folks to get their mail and access to a phone to use as your number on job applications," Mills says.
In the nurses clinic are hygiene kits in reclosable bags that people can take downstairs for a shower. Advantage and the Athens Area Homeless Shelter offer food, showers, clothing, blankets, hygiene kits and more on the first floor. The finished basement has conference rooms for peer support groups and computers for job searches, professional skills development and staying in touch with friends and family.
"There is usually not just one reason why an individual is coming to us," Mills says. "There can be multiple barriers—anything from needing employment to social skills to past trauma, addiction, mental health.
"I'm not saying that we haven't collaborated with these organizations in the past," he says. "[Athens] has a lot of social services, and there's a lot of communication among people trying to work on ways that we share resources." Sharing a building, though, is a game changer, streamlining the process and helping prevent gaps in care with "a walk down the hall."
The organizations coexist with a mixture of collaboration and clearly defined roles. For example, Advantage Behavioral Health Systems, which offers support for mental health, addictive disease and developmental disabilities, manages five of the 23 housing units at the Village, and the Athens Area Homeless Shelter manages the remaining 18. AIDS Athens has relocated its offices entirely to the ARCH, but its long-term and permanent housing for HIV and AIDS patients is scattered throughout the county.
"One of the things we've talked about in the development of this process is how we're all going to get along and share our cultures," says Mills, "and make sure that how we interact with clients is the same."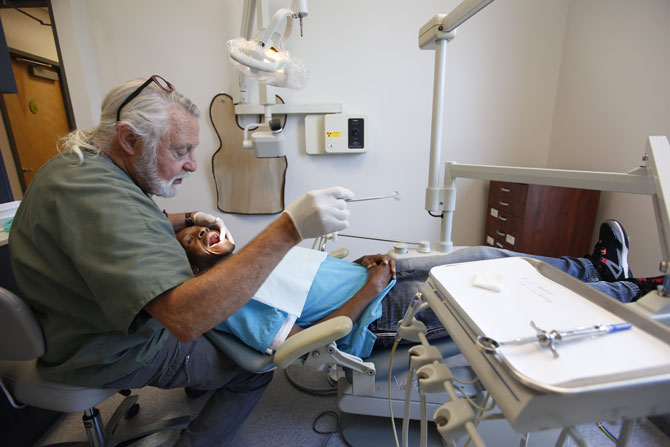 Photo Credit: Joshua L. Jones
There is a collective air of respect at the ARCH, and one representation of this is the member organizations vesting leadership in people with insight. "We have peer recovery groups led by individuals who have lived experience [with addiction]," says Jenna Bagby-Moon, program manager at the Homeless Day Center, "and at the HDC, we have the certified peer specialists that lead groups for individuals with severe and persistent mental illness. There are also opportunities for board members and community members that have experienced homelessness."
One of the things Mills consistently notices about the homeless population is that there is "no feeling of belonging in the community. They don't feel respected, they don't feel listened to, they don't feel seen," he says. "People avert their eyes because they're scared that this person is going to attack them or something. They just want to be talked to and treated like a person. This is an environment that can be their place, a place of belonging."
Like what you just read? Support Flagpole by making a donation today. Every dollar you give helps fund our ongoing mission to provide Athens with quality, independent journalism.