As Avid Bookshop turns 5 this year, its gift to itself and Athens is "an Avid and a half," as owner Janet Geddis puts it.
The expansion of the beloved bookshop on Prince Avenue to a second location next door to Condor Chocolates on Lumpkin Street in Five Points has some loyal customers worried, but Geddis says, "We're growing so fast we had to make a move and expand somehow, and expanding our physical store on Prince wasn't possible."
Avid opened on Prince in 2011, after Geddis had attended conferences and worked with the UGA Small Business Development Center and others in the business for years to learn the ins and outs. Independently owned bookstores are notoriously challenging businesses, but Geddis is a woman who thinks things through, takes her time and does her homework. She and event coordinator Rachel Watkins, who has been with Geddis since before the first Avid opened its doors—and will be leaving her other job at the nonprofit Books for Keeps, which distributes free books to children, to work full-time at Avid in November—are seeing their dreams come to fruition.
"Before Avid was open, we were partnering with Books for Keeps back when it was a one-woman operation and Avid was a one-woman operation," Geddis recalls, "So it's kind of neat to see how two different book-related businesses have really started to thrive, so the impact our customers can have on them has just gotten stronger over the years."
Now, Geddis employs a handful of full- and part-time workers, has a loyal customer base and is successful and sought out in the book biz. The store itself is an active part of the community, with Geddis and her crew hosting poetry readings and book signings, going to school fairs and partnering with other local entrepreneurs.
Opening a second location doesn't mean spreading herself or her business too thin, Geddis says, and she wants to reassure her customers that the Prince location will remain the same and the expansion will simply allow for bigger and better choices for readers. "My current booksellers are going to split their time between the two stores, just to keep continuity for existing customers and then make sure that the Avid way is fully communicated [at the new store]," she says.
She'll also be able to bump several current employees to full-time status—a priority in the expansion—and hire more part-timers for the Five Points store. One of the reasons for the second location is to increase sales per square foot, the standard for determining success in the business, and with that income to support more sustainable jobs for people who want to stay in Athens. "It's hard to stay in Athens and make a living here," Geddis says.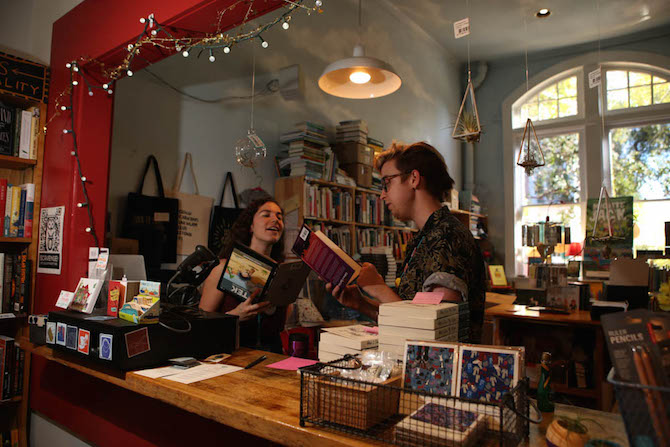 Photo Credit: Henry Taylor
Geddis herself will be spending more time in the stores, too, "but not necessarily in a customer-facing position," splitting her time between the two locations and moving her home office into a custom-built space in the Five Points store.
"I've done a lot of demographic research on the neighborhood, and first and foremost, we want to make sure that each book shop is a neighborhood book shop," Geddis says. "Anyone who's familiar with Athens knows it's a little different [in Five Points] than it is on the Prince Avenue corridor, and both places are wonderful, but it's apparent when you spend time in both spots that the community is a little bit different."
Oneta Woodworks is contracted to build custom shelves that will allow for the typical, carefully curated Avid selections, as well as the types of books Geddis finds the neighborhood wants and the smaller space at Prince Avenue can't handle—large-format, such as cooking, coffee table, art, design and other display-type books that sell better when their covers can show.
The name of the store will mirror that of its older sister. "The formal name will be Avid Bookshop at Five Points, but we're going to sort of let the customers kind of figure out what nickname they come up with and probably just go with that," Geddis says.
Although Geddis won't release details of the surprise just yet, she says the children's section of the new store will be "really remarkable," and that it will appeal "both to kids and adults, just like the book balloon at Avid [on Prince] does."
The biggest issue for Geddis and her customers will be parking. "It's very obvious where you aren't allowed to park, but it's not very obvious where you are allowed to park," she says. And while she recognizes she's the new kid on the block, she wants to educate people on free parking in the area, much of which few people know about. She says research shows that sharing parking instead of designating spots for certain businesses leads to better cohesion in the neighborhood and better sales for all businesses. "I'm hoping that's something we can work on," she says.
As for the neighborhood, she's getting a warm welcome. "We think it's great. We think any time a business, especially a locally owned one, opens up here, it's awesome," says Kevin Florence, owner of ADD Drug, which is situated nearby on Lumpkin and has been open since 1961. "We're very excited to have someone next door that will be more support for local business," says Nick Dale, co-owner of Condor Chocolates.
Aside from planning and executing the expansion of Avid, Geddis was named one of the top 40 on Publishers Weekly's Star Watch list last month. The list recognizes leaders in the publishing industry who are making a strong impact and setting trends in the literary world. The list is heavily dominated by women, and made up of publishers, publicists, editors—anyone in the publishing industry.
Geddis says she is still mystified as to who nominated her. "There are a couple of people who I just thought I knew who it was, and I asked them and they said 'no.' I don't know who did it!" The announcement came on the same day Geddis planned to announce the new expansion of the store, so "everything is coming together at once, and it feels really great."
With Geddis' newfound fame in the book world and success as a small business owner over the last few years, she says she's still trying to get better at accepting compliments gratefully.
"It feels a little strange. I love it, [but] it's also a little bit, I don't know how to describe it," she says. "It feels wonderful, and it makes me feel like all the things I dreamt of achieving before I opened my bookstore are coming true, that it's a beloved place, and people like me and they like my staff, and they either hit it off with all of us or they have a particular bookseller who they really connect with, and that means a lot to me."
Like what you just read? Support Flagpole by making a donation today. Every dollar you give helps fund our ongoing mission to provide Athens with quality, independent journalism.