It's time for things to come full circle at the Athens skate park. The long-awaited and long-promised Phase 2 will complete the original vision for the park, which was only halfway built-out in 2005.
Rick Stanziale, Jason Thrasher and several others were working toward getting a skate park built more than a decade ago when Sam Davidson, a 15-year-old skateboarder at the time, stood in front of the Athens-Clarke County Mayor and Commission during a public comments session and convinced them to set aside $500,000 in sales tax revenue that was earmarked for Southeast Clarke Park off Lexington Road. However, Stanziale says, when supporters of the World of Wonder playground found out, there was some discord about the money, and half of it wound up going to the playground (which is being replaced this year).
The Skate Park of Athens was planned with two phases in mind: the first a flow bowl—similar to an empty swimming pool—and the second a street course. When the money for both was cut down to money for one, Phase 2 was put on hold with promises of construction down the line, but no tangible plans.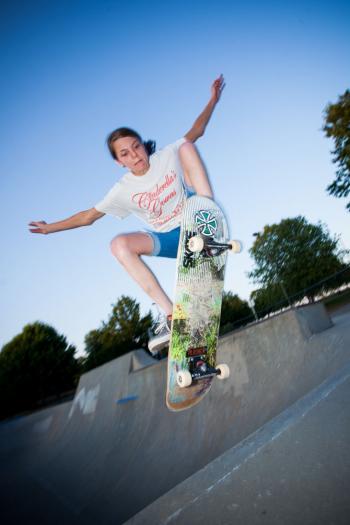 Photo Credit: Jason Thrasher
Still, the SPOA became one of the go-to skate parks in Georgia and the first in the state of its scale and design, Stanziale says. "In the beginning, [the younger generation of skateboarders] didn't know what to do with it, because skateboarding had become a lot of street skating over the years, because there were no skateboard parks," he says. "Now the kids that have been out there for 10 years have been out there since they were this tall, and now they're grown men. And they are just absolutely some of the best skateboarders in the state, if not in the country." Even Tony Hawk, the world's most famous skateboarder, has skated at the SPOA.
"If there weren't a skateboard park, I don't know what would have happened to those kids," Stanziale says. "They weren't going to play basketball. Some kids are not into team sports, organized sports in any way. They still need physical activity, that release. I think it's important for Leisure Services to offer things for alternative recreation."
According to Stanziale, in the '70s a drought in Los Angeles resulted in a lot of empty pools, and a lot of kids discovering they could skateboard in them. A few pictures wound up in a magazine that made its way into the hands of kids, including Stanziale, all over the country. That led to the popularity of skate parks featuring bowls and deep drops, much like a swimming pool.
When the recession hit, a lot of skate parks closed for liability reasons, which put kids back out on the streets, riding on sidewalks, stairs and rails. While the younger generation in Athens has learned to love the bowl skating preferred by older skaters like Stanziale, they still want to skate on street courses, and to do that in the city means getting kicked off campus, ticketed for trespassing or other consequences.
Phase 2 will not only give more space to an often crowded park, but fill in the gap for skaters who like both bowl and street environments. "We'll have rails, stairs, barrels, banks, euro gaps [sort of like a ramp with a chunk missing] and more," says Corwin Weik, who recently took over for Thrasher as the new executive chairman of the skate park. Current plans for Phase 2 involve expanding the existing concrete park and enclosing the pavilion with a little green space left around it.
Weik, Alex Blankenship and Jeff Hannan, other avid skateboarders in town, make up the new SPOA committee. Blankenship is attending the University of Georgia's School of Engineering and is designing the new park.
The new committee is working together to raise the money for Phase 2. Other "half assed" efforts have been made in the past, Stanziale says, but the new committee is dedicated to meeting its goal of a quarter of a million dollars through art auction sales, community yard sales, crowdfunding and grants. A fundraiser planned for next week was canceled, but the group has set up a crowdfunding site. Some money has already been raised and is sitting in an account from art auctions, T-shirt sales and benefit concerts.
"If it takes two years to raise enough money, then fucking solid, if we get what we want," Weik says. He and Blankenship, like many other Athens natives, grew up skating at SPOA. As they stand discussing plans for Phase 2, looking out over the destined plot of grass, a shirtless skater rolls by, wiping his face on his T-shirt and asking what they are talking about. "Hell yeah, it's about time," he says, before disappearing back into the bowl.
Phase 1 was built by Grindline, the Seattle-based skate-park company "for skateboarders, by skateboarders." Although a different contractor will build Phase 2, Weik says he wants it to tie in seamlessly with Phase 1. "I can hit every single wall in this skate park without stepping off my board," he says, and he wants that flow to continue into Phase 2.
In 2011 Ian Brussack, a local 16-year-old boy who grew up skating at the park, passed away. Stanziale chokes up a little when he talks about Brussack, saying, "If there was a reason for having Phase 2, it would be so we can say this is the Ian Brussack park."
Stanziale, Thrasher and other original committee members are happy to let the next generation of skaters take the reins on Phase 2. "I'm just going to get behind [Weik] and support him," Stanziale says. "That's the way it should be. It shouldn't be old people trying to build a skateboard park; it should be the guys using it."
Like what you just read? Support Flagpole by making a donation today. Every dollar you give helps fund our ongoing mission to provide Athens with quality, independent journalism.