On a Tuesday evening in May 2013 at a software developer meet-up at Four Athens, Jordan Burke prepared to present to an audience for the first time since college. Osama Hashmi was the next to present, but he forgot his laptop, so he asked to borrow Burke's. Hashmi presented on a project that would improve communication in an industry he's passionate about—health care. The two got to talking after the event and had lunch the following weekend to plan how they could found Vitamin C together.
Vitamin C is a web application that streamlines communication between patients and health-care providers that is specific to patients' needs.
"My mom has lupus, so it really struck a chord with me, because I've spent my life around doctors and hospitals with my mom," says Burke, the chief technology officer.
Vitamin C's serendipitous start is similar to how many tech companies are born. People share their ideas, and other people take interest in those they think are worth a risk, whether that be joining the team or investing their dollars. Without the space the local tech incubator Four Athens provides, Burke and Hashmi probably would never have met, and Burke wouldn't have had a reason to quit his job of five years at Starbucks and become a full-time developer.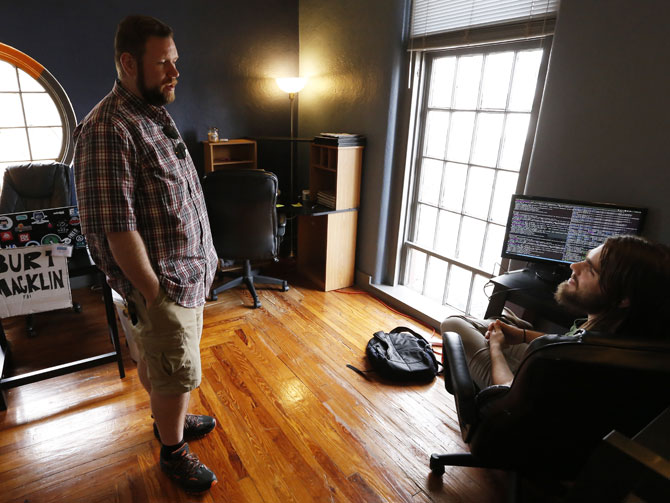 Photo Credit: Joshua L. Jones
Room to Grow
The most important tool Athens needs to grow tech businesses is space to connect and collaborate. Athens prides itself on its rich music culture and the bands it produces. Why is Athens able to produce talented musicians? Bars and music venues attract talented musicians, and in those spaces, they connect and collaborate with other talented people. The same way space is key for musicians, it's important for talented people wanting to work in startups.
Four Athens, the tech incubator Jim Flannery started in 2011, lost its original space earlier this year when the building it previously rented on Dougherty Street was sold to a company that plans to tear it down and build student apartments. Without a central space to hold events and provide offices, Four Athens might have lost its key resource. They found a new location downtown at the corner of Hancock Avenue and Pulaski Street but downsized from 22 office spaces to 10.
The physical location of Four Athens hosts software developer meet-ups, coding classes taught by Burke and pitch camps, along with providing startups subsidized office space as low as $75 for a desk. Partnerships and outreach programs connect talent with potential employers or investors.
For example, on Tuesday, Mar. 24, the semi-annual Talk Tech program returned to the University of Georgia with the new name, Students 2 Startups. The event—a partnership with the UGA computer science department—is "a unique opportunity for UGA students to explore internships and other experiential learning opportunities by networking with the local startup community in a familiar setting," says David Sutherland, a Terry College of Business lecturer, faculty advisor to the MBA Entrepreneurship and Business Innovation Club at UGA and mentor and investor at Four Athens.
Less structured events include happy hours every Wednesday at The World Famous, where anyone is welcome to meet and mingle with a drink of choice in hand. Flannery says all kinds of business relationships have come out of those happy hours.
Don't Let Talent Leave
Known more for its music and arts scene, Athens probably wouldn't come up on a list of cities comparable to Silicon Valley—but maybe one day it could.
People are unlikely to come to Athens to work in the tech sector, because the industry is more established in tons of other cities, Flannery says. "From a company perspective, we don't have a Google or a Facebook or Snapchat, where we can say, 'You can come work for them.' What we do have is this great culture and this great community and really smart people and really awesome research."
Although UGA attracts highly talented people, the problem is keeping them here. For students about to graduate, their biggest concern is usually getting a job. Most move to a large city that has more opportunities.
"Without the jobs, any smart and ambitious person who would want to stay here, shouldn't stay here," Flannery says. "It wouldn't be an intelligent decision to stay here as a 21-year-old not knowing what you're going to do."
Four Athens startups work to create jobs with the hopes that they can tap into the talent and resources available at a large university like UGA. Dave Gunton, an attorney who volunteers his time to help businesses at Four Athens, thinks one competitive advantage UGA has over very tech-centered places like Georgia Tech is its diversity.
"With a place like UGA, Four Athens has students and faculty from computer science, the business school, the forestry program, from family and consumer sciences," he says. "So there's diversity, and I think great things can happen when you get people who think different ways and solve problems different ways and kind of combine forces, so that's what I think a big research university and a university town like this might have going for it over some place that's strictly engineering or computer science."
Local Is Not Always Better
Many Athenians prefer to support small businesses and shop and eat locally. The local restaurants, coffee shops, boutiques and venues give Athens its culture—a culture and quality of life that's attractive—but small businesses alone can't sustain our economy. Flannery refers to this problem as the poverty mentality.
"We have become proud of our poverty mentality in Athens, which is problematic in my mind," he says. Small businesses often cannot employ many people or even pay interns, and they usually don't bring in much money from outside the community.
When a dollar circulates within the community, it depreciates. "If you have a dollar that goes to Walker's and that person goes and spends that same dollar at Cutter's and that bartender goes and spends the dollar at Allgood, all of a sudden, that dollar disappears within the span of a month maybe," Flannery says.
Bringing in fresh dollars is essential to growing the local economy. "If we're bringing a dollar from the outside, it can go to pay those interns or the designer or that musician," Flannery says. "I think we need to figure out a way to break that mold, and I think the way we do that is with startups, because then well-paid jobs are generating revenue from outside."
Just the Start
For companies that have a chance to make it big but now can barely make rent, more collaborative spaces are coming to Athens. Broad 9A is a work-and-play space in the Chase Street Warehouses owned by Josh and Alex Brown, the same pair who started The Broad Collective lifestyle blog. Although not specifically targeted at tech startups, their space could potentially serve other people wanting to start something.
"When you get in an environment and the more open you can make it, the more collaboration happens," Josh Brown says. "You make each other better, because you're constantly talking about different ideas that you have and ways to make each other better."
Broad 9A will have about 16 desk spaces, eight of which are already filled. Prices range from $20 day passes to full-time office space for $200 a month. The grand opening of the 4,000-square-foot space is scheduled for May 1.
Five years ago, there were few to no tech startups in Athens. Now, Four Athens has about 100 members, and they've worked with over 200 startups total. In 2014, its members hired over 100 people, raised over $500,000 in capital and generated over $4.5 million in revenue. They currently have more than 20 job openings.
"This is just the tip of the iceberg," Flannery says.
Like what you just read? Support Flagpole by making a donation today. Every dollar you give helps fund our ongoing mission to provide Athens with quality, independent journalism.