Trying to start a food truck in Athens is like trying to cook in a stranger's kitchen: You don't know where anything is, and cooking a meal takes way longer than necessary.
Streets Café, owned and operated by Ryan Morgan, was one of the first food trucks to attempt to open in Athens. Morgan had worked in restaurants on and off all throughout his life and wasn't quite ready to open an actual restaurant, so he thought a food truck would be a good option, because he could, theoretically, move it to where the people would be. But it wasn't that simple.
Morgan got a good deal on a truck and hoped to have it up and running by the time his son was born. It took him three years finally to get running; his son will turn five this summer. "It didn't cost as much as a restaurant, but it was much more difficult to do," Morgan says.
Finding an affordable commissary location with a commercial kitchen and dump station—both requirements of the health department—proved difficult for Morgan. After searching and trying a location on Broad Street, he finally got set up on the corner of Park Avenue and Boulevard.
Since food trucks are not allowed to park on county-owned property, because they don't fit into a parking space, Morgan had to find private property to serve his popular Korean-inspired tacos, fries and hot dogs with homemade sauces.
For a while, he parked beside Max Canada, but after a tiff with one of the owners, he had to park elsewhere. He's parked at Terrapin Beer Co., but the state Department of Revenue cracked down and told Terrapin that if they were serving food on their property, even though they weren't getting a cut from Streets Café, they couldn't give out beer anymore. So Morgan had to cross that location off his list as well.
You can't be a foodie town without food trucks.

Little Kings Shuffle Club is Morgan's most recent location, but he mainly does private events such as weddings and parties, because he's guaranteed to bring in money that way.
Ted Thompson of Kona Ice, a company with hundreds of franchises around the country that sell shaved ice, has run into similar problems. After he started working on his truck two-and-a-half years ago and launched about one year ago, he has primarily worked at private gigs and sporting events.
Besides not being able to sell on public property, Thompson is limited when selling in neighborhoods where traditional ice cream trucks go.
"I'm also handicapped because, like a traditional ice cream truck, if I were to ride through neighborhoods in Clarke County, I'm told by the health department that I would have to tell them every day when and where I'm going to be, which is basically impossible," he says. "I can't tell them every morning I'm going to be at this neighborhood at this time and this time, because I may get there and there not be anybody there. Or I get there thinking I'd be there for 10 minutes, and I end up being there 45 minutes."
Thompson says traditional ice cream trucks do not have to follow this rule, because they fall under the agriculture department, not the health department, since what they sell is prepackaged.
Thompson has a three-compartment sink and hand-washing station on his truck, as required by the health department, even though he doesn't cook anything or have utensils or kitchen supplies to wash.
"Basically, I had to spend thousands of dollars to set up shop to wash an ice scoop," he says.
The Clarke County Health Department (a division of the state government) requires food trucks to have their own individual dump station in order to keep any contaminants out of the water system. Even though Thompson's only waste coming from his truck would be sugar water, he still had to find a commissary and build his own dump station to meet health department standards. The other Kona Ice operators Thompson knows in other counties in Georgia have not had to put in a dump station.
"I love the business and what I do, but I am considering taking it to a different county," Thompson says. "I'm doing all I can to stay. I don't want to leave."
When he set out to find a plumber to build a dump station up to code, he couldn't find a single plumber in several surrounding counties who had built one. After several weeks, he finally found one willing to attempt it.
When Saphir Grici and his wife, Kate Marsden, of Holy Crepe ran into the hurdle of building a dump station, the couple had already befriended Thompson and asked the health department if they could share a dump station with another food truck. The health department said no. Even though the owners of Holy Crepe still have to build their own, they saved a lot of time by using Thompson's plumber.
Grici and Marsden actually started a Kickstarter campaign to fund their dump station. Their goal is $16,000, and the campaign ends May 7. They're hoping to launch in June.
"To be sincere, our future in Athens depends on the success of this Kickstarter," Grici says. "We did this Kickstarter because we absolutely want to start here, because we believe there is a big potential here."
Grici and Marsden met in Paris when Grici was a banker and Marsden was studying French history for her PhD. The two moved back to Athens, Marsden's hometown, got married and started working on their vision of a crepe truck. They've been working on it for a little over a year and have worked out a partnership with Live Wire and will park there once their commissary and dump station are complete.
The couple has had propositions from places in other cities like Asheville and Atlanta, but they really want to stay in Athens. "We think we can make it," Grici says. "We're optimistic."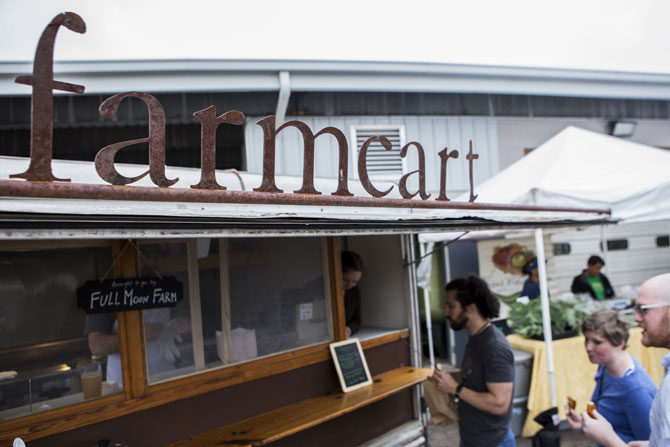 Photo Credit: Joshua L. Jones
Although it can't do anything about health regulations, the Athens-Clarke County Commission's Government Operations Committee is working to simplify local rules regarding where food trucks can park. The committee held meetings on Mar. 19 and Apr. 16 to start discussing what needs to be done to make Athens more food-truck friendly.
Commissioners covered possible public places to open up for food truck owners at certain times, such as the area in front of City Hall where the Athens Farmers Market set up before they moved to Creature Comforts, and potentially some of the parks, like Sandy Creek.
Thompson agrees Sandy Creek would be a great location for food trucks to park.
"It's a big nice place where people go, and the only thing they have as far as vending or refreshments is an old beat-up Coke machine that's about 500 yards away from the beach," he says.
Commissioners discussed concerns of brick-and-mortar restaurants that don't want competition parked nearby, but they agreed that they should be able to find spaces that don't interfere with other businesses. They also expressed appreciation for the benefit of having street food downtown as a good alternative to fast-food chains, especially as more student housing is built and the downtown population grows.
The committee further delved into the topics of temporary permits, shared dump stations and shared bases of operation at an Apr. 16 meeting, hearing from representatives of the health department who explained some of their concerns. The next meeting is scheduled for May 21, during which the GOC could make recommendations to the mayor and commission.
Melissa Link, one of the commissioners on the committee, is pushing for better food truck regulations. "You can't be a foodie town without food trucks," she says.
Link says a friend of hers, a former pastry chef at The National, moved to New Orleans to pursue her dream of opening a food truck—something she didn't think was possible to do in Athens.
"I'm hoping if we can re-look at some of the regulations, maybe she'll move back and have a food truck here," Link says.
Commissioner Mike Hamby is also working to make it easier for food trucks to start in Athens. Hamby organized a food truck festival in 2012.
"Certainly with the food truck festival, what I realized was you had all these food trucks together and all these people together, and while you're waiting in line for your food, you're having an opportunity to meet somebody new and get to know someone," Hamby says. "There's certainly the economic development aspect of it by helping small businesses, but also the community development."
Special events like the Twilight Criterium this Saturday and AthFest in June allow food vendors an opportunity to sell on the streets without permits. Kona Ice, Holy Crepe and Farm Cart—the revived cart that has been at the Athens Farmers Market since it opened this season—will all be at Twilight this year. Morgan hasn't decided yet if he'll park Streets Café at the event this year.
Special events are great for food vendors to gain visibility, but it's still hard to operate a food truck day-to-day. Many people have looked to Atlanta and wondered how food trucks have managed to be successful there while Athens lacks a food truck scene.
Greg Smith, president of the Atlanta Street Food Coalition, has worked with food truck owners throughout the state to help them obtain permits and meet the standards of the health department. He says the main reason it's more difficult to open a food truck in Athens is because health regulations are more strictly enforced, whereas in Atlanta, health department offices have loosened up a bit on some of the requirements and negotiated with food truck owners. But when food trucks first started becoming popular several years ago, they faced resistance in Atlanta and went through the same hurdles food truck owners are experiencing now in Athens.
"When food trucks are popping up all over the country and they're not popping up in Athens, I don't think it's the food trucks [that are the problem]," Thompson says.
Smith emphasizes that the health department is not the bad guy, though.
"The health department is very important to this whole puzzle," he says. "They're doing a job that is really important to our industry. If people think if you go to a food truck, you're going to get food poisoning, we're dead. So we need the health department to certify that we're doing things the right way. We need regular inspections. We need all of these things so the public has trust in what we're doing. We're willing to do things the right way, but we need to be able to operate."
One concept Atlanta has embraced to allow food trucks to succeed is the idea of shared kitchens. PREP in Atlanta is a collaborative space where multiple food vendors can have their commercial kitchens and dump stations in the same space.
"I think that probably what Athens-Clarke County wants to see is a setup like PREP," Smith says. "Athens-Clarke County is probably not that far out of bounds from where the other counties have been at one time, or where they're going in the future."
Like what you just read? Support Flagpole by making a donation today. Every dollar you give helps fund our ongoing mission to provide Athens with quality, independent journalism.