On a cold and rainy Friday afternoon in January, a group of women gather around a coffee table inside a snug and cozy shop. Perched on sofas, a rocker and comfortable chairs, they knit and talk amiably. Music plays softly in the background, competing with the steady drizzle of rain heard through the windows. I walk in, shaking my umbrella and seeking respite from the weather. My eyes widen at the bustle and beauty of Revival Yarns.
The shop opened in April 2013 and is, in the words of co-owner Lindsay Woodson, part of a general trend of renewed interest in an old pastime. "We felt there had been a resurgence in the needle arts with the younger generation," Woodson says. "More people were knitting; more ages were knitting. We try to have hipper patterns and brighter colors on display."
Some of these same words could be applied to the new Bottleworks. Suddenly, it's hipper, more diverse, more colorful and, well, revived.
Athens' first mixed-use development, other than downtown, was begun by Smith Wilson and Pam NeSmith back in 2000. Their plan was to take a historic site, the Athens Coca-Cola Bottling Plant, and modify and add to it to create a home for retail, office and residential spaces.
The history of the site lent patina and charm to the project. That history stretched back to 1900, with a bread bakery in the building across Newton Street from what is now The Grit. Livery stables were later added. By 1928, Walter A. Sams, a pharmacist by trade, had created a modern and efficient new plant there at 297 Prince Avenue for his recently purchased Athens Coca-Cola Bottling Co. franchise.
"Everything smelled like Coke syrup," Alex Sams, Walter Sams' great-grandson, recalls. Alex Sams hung around the office after school while his dad and grandfather worked . On the weekends, he would adventure around the facility with his brother and sister. "I dreamed of driving the trucks," he fondly remembers.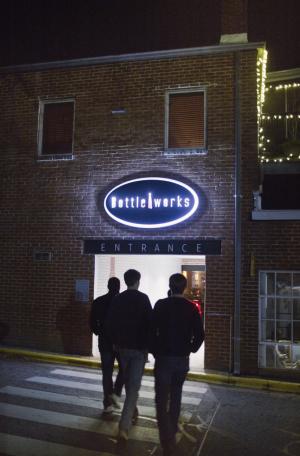 Photo Credit: Joshua L. Jones
The company evolved from bottling plant to warehouse and was sold in 1985. Coca-Cola then moved to Athena Drive. Smith Wilson, an avid historic preservationist, set his eye on the shuttered facility while restoring the nearby Camak House. At the time, the Coke plant had a chain link fence and barbed wire all around it, and it wasn't readily apparent that seven buildings were situated within the compound. But Wilson knew the property would be perfect for creating a revitalized urban neighborhood center. He brought Pam NeSmith in as a co-developer and, with support from Pam's husband Dink, they set to work.
"It was good that I was an educator," Pam NeSmith says. "It was the first mixed-use development in Athens. You had to explain to people what that meant." The idea of people living in condos right next to businesses and offices seemed novel at the time. "It was meant to be a community within a community," she says.
"Smith created the vision, and Carl Martin [and wife and partner Carol John], who developed the Big City Bread space, kind of started the change in the area," NeSmith says. "Then came The Bottleworks. With the Medical College of Georgia coming, Prince Avenue has again become this important part of Athens."
Wilson and NeSmith started selling the residential units and leasing to businesses like All Aboard Travel and Maggie Moo's. As it started to take shape, they won awards for excellence in rehabilitation from The Georgia Trust and excellence in community revitalization from the Athens-Clarke Heritage Foundation. The pair spent two long years endlessly documenting changes made to the buildings, resulting in The Bottleworks being listed on the National Register of Historic Places in 2006.
Sale and Decline
Then, in 2008, Wilson and Nesmith sold the commercial block of The Bottleworks to McChesney Capital Partners, an Atlanta investment group. According to Bill Bushnell, an attorney whose office has been located in The Bottleworks since the beginning and who is still on the board there, "After Smith sold it, it was a downhill ride."
Brian Brodrick of the public relations firm Jackson Spalding shares this sentiment. Jackson Spalding leased office space in The Bottleworks from 2006–2011. "It was great, but it was very much a transitory time for the property… the economy fell," Brodrick says. "The new owners couldn't take care of the property and market it properly."
With the crash, many of the businesses within started vacating. Lights dimmed, and traffic to the space slowed significantly. The Bottleworks may not have been a priority for McChesney, which had larger and more significant properties all over the U.S. The property went into foreclosure in March of 2012.
While a few businesses had held on during McChesney's tenure, notably A Tavola (now closed) and Siri Thai (still open), only 20 percent of the commercial spaces were leased when Parkside Partners, another Atlanta-based group, purchased the property from the bank in late 2012.
Parkside Partners specializes in adaptive reuse. Their large portfolio of properties includes Glassworks, a former glass manufacturing space in Midtown Atlanta that they transformed into loft- style offices, and The Blue Horse, an old paper manufacturing plant in Inman Park that they converted to office condos. So The Bottleworks fit seemed natural.
Parkside took the time to meet with people who had been involved with the project. "Hearing their comments, I was very excited," Pam NeSmith says. "They were saying the kinds of things we wanted for The Bottleworks."
When Parkside consulted with Bushnell, he "advised them not to try to bring Buckhead to The Bottleworks, but to keep it Athens, instead."
Improvements have been made, but they are not over-the-top. E + E Architecture, a local firm whose office is now located in Bottleworks (Parkside dropped the "The"), helped with cosmetic sprucing, including newly done lobbies and bathrooms, improvements to spaces and some remodeling for new tenants.
Parking, free and already convenient with a large lot accessed from Meigs Street, has been improved with better lighting and a more clearly defined entrance into Bottleworks from the back. Parkside, with The Grit's endorsement, also successfully petitioned Athens-Clarke County to reverse the traffic direction on the one-way portion of Newton Street, making access to the parking lot easier from Prince Avenue.
Parkside also took on Sloane Nichols, who has resided in Athens for 11 years and is married to native Athenian Ed Nichols, to manage and lease the property. "They had done a lot of mixed-use with older buildings in Atlanta," she says. "They realized that since they were in Atlanta, they needed someone local, so they hired me. Now we are 97-percent commercial leased."
In fact, Sloane Nichols says, only one retail space remains available. Located between The Olive Basket and Black Petticoat, it could be an office or a retail space. While the space has visibility from Prince Avenue, it is accessed from the back of the building. Cheese shop, anyone?
The Turnaround
The first business to sign a lease under the new ownership was Hendershot's. Nichols approached Seth Hendershot and his partners when she learned they were moving out of the old service station on Oglethorpe Avenue and looking for a new location. Hendershot confesses that he initially had reservations about the success rate of the space, which formerly housed A Tavola. Now, however, he appears to be won over. "Parkside Partners have been very supportive of what we do and, overall, they have been very easy to work with," he says. "It's not often you hear about tenants who are satisfied with their landlords but, in our case, I think we are pretty happy with this relationship."
Business has improved for the venue, which offers coffee, a bar and live music almost nightly—ending by 11 p.m. sharp, in deference to Bottleworks residents.
Patrick Ware, the sound man for the venue, says they are fortunate that the building is a trapezoid. "It's a really nice, natural room," he says. An added plus is that "we can be better hosts to the bands. We have a green room now, where the musicians can chill and get their head space." Even singer-songwriter Jonathan Byrd made a point of commenting from the stage at his first show in the new space that, when he hears that clubs are relocating, he usually is like "oh, shit," but that this has obviously been a great move for the venue.
On a recent Saturday night at the new Hendershot's, the space was lively and full. Little Country Giants, a local Americana act, were on stage playing a mix of folk and country. To the left of the stage, a mixture of assorted thrift store lamps, burnt orange '70s swiveling recliners and a couple of well worn sofas had a group of 40- and 50-somethings chatting and catching up. The die-hard fans were close to the stage, attentive and enjoying the music, and some college kids mingled at the bar.
But Hendershot's was just the beginning of the turnaround for Bottleworks. Other local businesses have followed.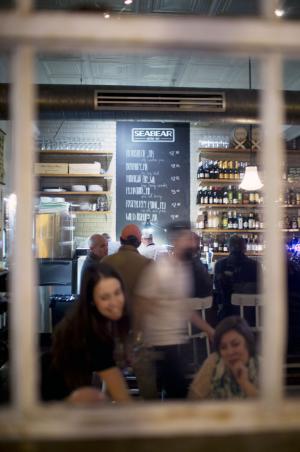 Viva! Argentine Cuisine shares a patio space with Hendershot's. The restaurant started life on the Eastside and now inhabits the space vacated by Quizno's in the downturn. "I liked the Eastside—it was a great launching pad for us," explains co-owner Gaby Lindsey. However, business has tripled for Viva! since relocating to Bottleworks in November 2013, she says.
Across the way, Seabear Oyster Bar beckons with an inviting exterior and sparkly strung lights. It has also opened on a positive note. The bar has a simple menu dominated by shellfish, cocktails and beer and draws a crowd on a typical night.
Patrick Stubbers, a founder of the Four Coursemen, is co-owner and head chef. Peter Dale and Chris Luken from The National are also co-owners. Dale has good things to say about the location. "Parkside has put together a nice mix of tenants who all complement each other, especially on the food and beverage side," he says. "I really like being part of the revitalization of the building, and being part of a thriving Prince Avenue corridor."
Other businesses that are new to Bottleworks include the Olive Basket, which features aisles of olive oils and white and dark balsamic vinegars, all beautifully displayed in gleaming Italian "fusi" and ready for tasting; Taziki's Mediterranean Café does a steady business; Suska, an upscale consignment store, recently moved from Five Points; All Body Studio, which offers pilates, barre and mat classes, is the first business ever to occupy the space it is in; womens' clothing stores Lululemon and Black Petticoat; and Escape the Space, where patrons solve puzzles to get out of a locked room.
In my week of exploring Bottleworks, I took a pilates class. I bought a beautifully displayed lace blouse and explored my more feminine side (this didn't work out). I heard some great local music. I parked for free. And I would have had my first manicure ever, but Nails Express was swamped with customers every time I stopped by. I also reacquainted myself with the needle arts and started creating one of the classic testaments of love, the hand-knitted scarf. Hopefully, its recipient will, equally lovingly, wear it without shame. I even ate what may have been the greatest grilled cheese sandwich ever created.
Heck, by the end of the week—sniffing out a lead on a potentially available condo—I even fantasized about living there. Living at Bottleworks "is a great way to get the full Athens experience," says resident Travis Burch.
"But we know too many people," my boyfriend complains, "They'll all keep, you know, stopping by."
Which is exactly what you should do if you have yet to check out the new growth and energy at this very old spot. As they used to say around the bottling plant, it's the real thing.
Like what you just read? Support Flagpole by making a donation today. Every dollar you give helps fund our ongoing mission to provide Athens with quality, independent journalism.