Quincy Hixon stood at the corner of North Jackson and East Broad streets holding a sign that read, "I NEED TICKETS!" He's a ticket scalper and, contrary to popular belief, this activity is not illegal. In fact, it's a welcome service in many communities, according to Hixon.
However, the life of a ticket scalper is not easy. Hixon says that a lot of his colleagues have been in the business for over 20 years, and many ticket scalpers travel all over the entire Southeast to buy and sell tickets—not just for college games, but also pro games, racing and many other events. And some games are better than others.
Hixon, who started his day well before noon, stood outside in downtown Athens' 30-degree weather until a little after kickoff at 7:15 that evening. By the time the game started, he had only sold one ticket.
If it had been a typical game instead of a major rivalry game like Auburn versus Georgia, with the highly anticipated return of running back Todd Gurley (may his ACL rest in peace), Hixon says there would've been more profits to be made. "I probably would've already made $200," he says.
But at games like Georgia–Auburn, it's hard to get stocked up on tickets at a reasonable price. Had the big game not been quite so big, Hixon says he would have made less in profit off each ticket, but sold more in volume. "I maybe make $10 or $20 at most off each sale I make, but I'd be doing a lot of sales," he tells Flagpole.
As it was, the one ticket he sold netted him a total gain of $45—he bought it for $105 and flipped for $150. The cost range, if you were buying from a scalper, of a Georgia–Auburn ticket started from about $150 and went well over $200, depending on the seat location.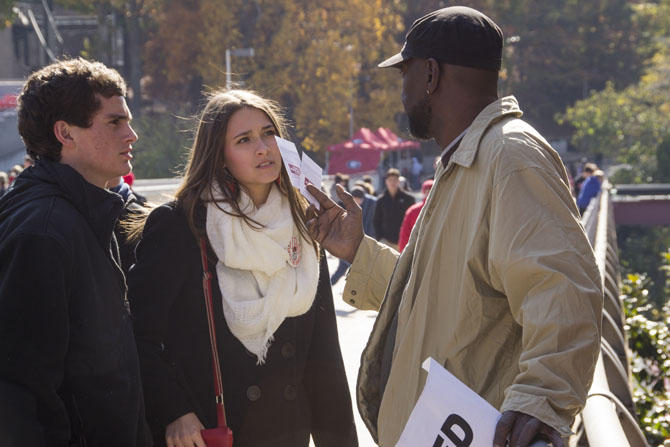 Ticket scalpers are kind of like day traders on a stock market floor. They start off with no supply. They buy low, sell high and try not to get stuck with excess supply before kickoff closes the market.
A commonly held misconception about ticket scalpers is that they must have a sign that says "I need tickets," because it's illegal to sell them or advertise, "I have tickets." That is incorrect. The reason ticket scalpers have their "I need" signs is because they actually do need tickets to sell. If you think about it, having a sign that says "I need tickets" versus "I have tickets" makes more sense, because, as a scalper, you are always in the market of buying tickets so that you have something to sell.
Then there's the question of where to sell those tickets. As far as location goes, Hixon says, "All of [the venues] will welcome you, but at certain ones you have to have a license. You may have to buy the license that day."
Auburn, AL, is one of those places where you have to have a license, but Hixon says making money flipping tickets there is easier than in Athens. He adds that just having a sign is enough to buy and sell tickets—people will come straight up to you without your having to shout, "Tickets!"
According to Georgia law, any "original purchaser who bought the tickets for personal use" can resell tickets "in excess of the face value price, provided that they do so outside of 2,700 feet of a venue that seats 15,000 or more people." Sanford Stadium holds a little over 90,000 people, but most of the ticket scalpers occupy the downtown area adjacent to North Campus, which is roughly 3,600 feet from the stadium.
As to the part of the law that says you have to be the "original purchaser," Jimmy Williamson, University of Georgia's police chief, says, "I have no way of knowing if the person on the streets is not the original owner. So, we assume that they are… If I assume they were not, how would I check?"
Williamson says the biggest issue with ticket scalpers is people who are buying tickets with counterfeit money and people selling counterfeit tickets.
Williamson warns that you should be careful of transactions on the street and tries to educate people in the ways of detecting a fake. If you turn the ticket over, he says, and let the light reflect on the white stock cardboard, you should notice the repetitive Georgia "G" watermark from the top to the bottom of the ticket. "You should proceed like you're going to be taken advantage of," he says.
There are sources for tickets besides buying from someone scalping them downtown on game day. In addition to websites like StubHub, anyone with an @uga.edu email address can gain entry to a group known as "Free and For Sale." It is well known to be a location to go buy and sell tickets online and is likely a safer route. Many student tickets for the most sought-after games are sold and traded on the site. Depending on the Bulldogs' record, tickets can go up or down in value as the season progresses.
Obviously, buying your tickets well before the day of the game is the most economical method. However, as long as it's not a "big game," you'll always have an opportunity to get a seat—maybe even at face value—from a scalper.
Like what you just read? Support Flagpole by making a donation today. Every dollar you give helps fund our ongoing mission to provide Athens with quality, independent journalism.