Before legendary Athens band R.E.M. became a national sensation, you could hear it on WRAS 88.5 FM. Now, time is running out for the Georgia State University student-run radio station. At the end of June, Georgia Public Broadcasting will begin occupying a majority of the station's airtime.
A $150,000 back-room deal, two years in the making, between GSU President Mark Becker and GPB resulted in a "partnership" contract in early May. It appeared to be strategically announced at the end of the school year, just as students were on their way out the door.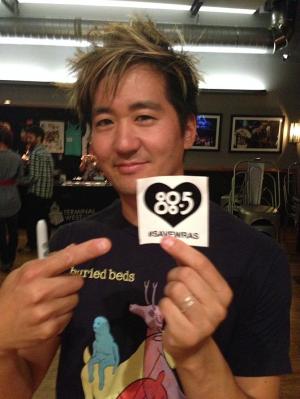 Photo Credit: Rob Skipworth
The "highlight" of the deal involves taking away 14 hours of the students' daytime programming, from 5 a.m.–7 p.m.—Atlanta's morning and evening rush hour, basically the only time anyone listens to the radio—to make way for GPB's news broadcast. And what do students get in exchange for being forced to forfeit their best DJ shifts? According to a GPB press release, the partnership will open the door to students' futures in the form of educational opportunities and internships. Many critics have described this move as a power grab by GPB to move in on the news market of WABE 90.1 FM, Atlanta's sole National Public Radio affiliate. (GPB stations, such as Athens' WUGA 91.7 and 97.9 FM, broadcast NPR programs in addition to local content.)
Within a week of the announcement, the Internet exploded with a #SaveWRAS Twitter hashtag, a SaveWRAS Facebook page—which has since accumulated more likes than GPB's Facebook page—and an online petition to stop the takeover, which has garnered more than 11,500 signatures. The SaveWRAS movement has also called for GSU alumni and GPB members to withdraw any support or donations to the respective institutions. The social media backlash from these hashtag activists sparked a minor media maelstrom, gaining attention from local to national news outlets.
What's at Stake?
The 100,000-watt signal coming from WRAS, which can be heard in Athens, is one of the strongest student radio stations in the U.S. Besides R.E.M., the 43-year legacy of WRAS is also credited with giving rise to many local bands, including Outkast, Deerhunter, Collective Soul, Indigo Girls, The B-52s and others.
WRAS remains one of the last unadulterated college radio stations, where you can be almost guaranteed not to hear the same thing twice. It gives local artists unparalleled opportunities to be heard, which would more than likely be impossible on a mainstream station.
While the college owns the FCC license, it is entirely student-run. The student DJs would be losing their autonomy with the GPB deal, as well as their core listenership and cultural significance.
Akeeme Martin, general manager for UGA's student-run radio station, WUOG 90.5 FM, says the WRAS/GPB decision had a "devastating" impact on his staff. "There were a number of WUOG staffers that were heartbroken," he says. "WRAS influenced students to join WUOG. They grew up listening to that station, and when they came to UGA, they sought out WUOG."
Martin says college radio stations are being bought out by entities like NPR, Clear Channel Communications and other Top 40 stations all over the country. The WRAS/GPB debacle has raised concernes for him, and he wonders: "Is WUOG going to be met with that same fate?"
But Martin is optimistic. He thinks that college radio in general is not dying and that it provides an important avenue for students to be creative. "College radio is a place of growth, a place of creativity," he says.
Will SaveWRAS Succeed?
Days after the announcement and surrounding social media controversy, President Becker was quoted in a story by WABE saying, "It's happening. It's not going to be reversed."
Since then, the original June 2 start date for the GPB programming switch was pushed back to June 29. Also, former WRAS staffers started Album 88 Alumni, a nonprofit organization dedicated to keeping the station in students' hands. The "main goal," according to Zachary Lancaster, the nonprofit's president, is to give "GSU students who work at WRAS the best possible opportunities to learn about radio, music production and broadcasting."
The SaveWRAS movement has raised more than $2,000 in donations from benefit concerts. The proceeds, according the Facebook page, "will benefit the #SaveWRAS movement and will be reinvested in promotional and legal costs by the organization," which has included a plethora of stickers, t-shirts, and other gear.
Current WRAS staffers are sitting on the sidelines, insisting that their listeners are organizing the SaveWRAS movement on their behalf. Josh Martin, the outgoing program director for WRAS, says that while they "love the SaveWRAS movement and all of the support from our listeners, we have absolutely nothing to do with that movement." He adds that the students are "fighting behind the scenes in order to work on a compromise with the administration."
Lancaster says that the students' hands-off approach is because they fear any form of retaliation from GSU's administration for rocking the boat—whether that's a student code of conduct violation, suspension, expulsion or even being locked out of the station. "I can understand why they're being civil … you don't want to disrupt the entire flow of programming," Martin says. "From one college radio station to another, I applaud the way they're handling it."
Negotiating Tactics
Last week, Lancaster and Becker spoke on the phone about a possible compromise. Lancaster says that based on that conversation, Album 88 Alumni are preparing a "presentation" for GSU. Specifically, Lancaster says Becker wants his presentation to explore, "What could be provided by groups other than GPB?" and "Could those groups provide the same educational opportunities?"
Lancaster says he found it "unnerving" that Becker had failed to explore those options prior to making arrangements with GPB, but maintains that, as of now, "GSU can be seen as working in good faith." He's hoping, depending on the outcome of the next meeting, that GSU might possibly delay the GPB start date again to extend negotiations.
SaveWRAS supporters, who have been exploring alternative—and possibly legal—options to fight against the GPB takeover have cited GSU's improperly filed paperwork with the Federal Communications Commission. Up until about 2005, the FCC license holder for WRAS was listed as the University System of Georgia Board of Regents, but in later years' paperwork, they changed the name to GSU. Since the BOR never filed the appropriate paperwork to change the license holder, this has brought questions as to whether or not GSU had the legal authority to enter into a contract with GPB.
Margo Davenport, an attorney with the FCC, says the FCC has "no complaints" in regards to the WRAS/GPB partnership. As a general rule, the FCC usually only takes action "in response to complaints." Davenport says that FCC approval wouldn't be required "if it's just a simple name change," since the BOR owns GSU and all its colleges' subsidiaries. But if the negotiations with Becker fail, Lancaster says they'll consider filing an FCC complaint.
Becker says the administration will "weather" the social media advocacy. "People get upset when there's change," he told WABE.
Correction: Although WRAS is credited with breaking R.E.M., the band was first heard on WUOG.
Like what you just read? Support Flagpole by making a donation today. Every dollar you give helps fund our ongoing mission to provide Athens with quality, independent journalism.