Smells of a campfire coasted through the trees on the crisp fall air. The scent synchronized with electronic dance music that floated down a hidden driveway about 10 miles outside of downtown Athens.
The wooded sanctuary glowed orange. The burners lit up their combustible toys. The anniversary burn was starting.
A little over a year ago, a group of fire-art enthusiasts got together to build an Athens "burner" community. And on the evening of Nov. 2, they held a celebratory burn to denote the Athens Burn Consortium's anniversary. Russell Allen, Ken Daniel and Geary Smith co-founded the group they call ABC a little more than a year ago to bring Athens burners together.
"I knew a lot of different people who had been in the Burning Man community, or people who were doing flow arts that were kind of disconnected," Allen said.
"There [are] so many good people with the flow that live right here, how could we not try to get them all together?" Smith added.
They chose the name to denote the group's collaborative learning and teaching efforts.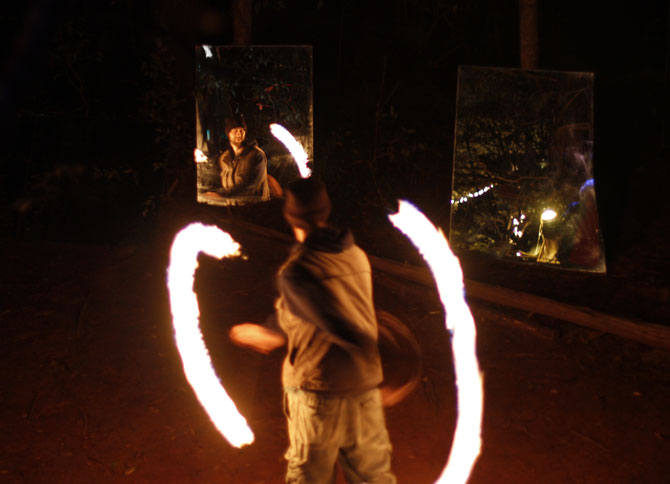 Photo Credit: David Schick
"We called it ABC because we wanted to keep it like the learning curve of teaching each other and progressing the art of each other's personal flow," Smith said. Coming up with the "Athens Burn" part of the name was easy. As for the rest: "I came up with consortium because I've always liked that word," he said. "And it was a perfect explanation of what we were doing, too, because as a musician we would go to consortiums and it was just basically free-form jams… the same sort of thing with poi"—flaming balls burners swing around on chains.
The term "burner" is used to identify people who attend burns and adhere to the 10 principles of Burning Man, an annual event that draws more than 50,000 people to Black Rock Desert in Nevada.
Burning Lessons
"A lot of people think it's just a bunch of hippies out in the woods taking drugs and stuff like that," Smith said. "And I'm sure that may go on, but that's not what the whole thing is about… it's more about the principles of the Burning Man festival."
The 10 principles—radical inclusion, radical self-reliance, radical self-expression, communal effort, civic responsibility, gifting, de-commodification, participation, immediacy and leaving no trace—are the glue that holds this community together. "We wanted to get people together, in Athens, that were burners, that adhered to the principles and enjoyed partying together," Daniel said.
The overwhelming success of Burning Man—and the event's now-limited number of tickets—has spawned other regional burns that occur all over the world. Georgia has two regional burns, one in the fall called "Alchemy" and another in the spring called "Euphoria," both at Cherokee Farms in LaFayette. In between these seasonal events, burners tend to seek out other fire-minded individuals in their area to practice their craft.
A burn's spiritual element is difficult to quantify in words. It is basically a community where artists entertain artists, a community that will exist within a timespan of a few days up to a week and then disappear. People from all walks of life congregate to set up different camps with different themes at a remote site, usually deep in the wilderness, with the idea of adding as much diversity to the community as possible.
"It's important to me, I think more and more as I get older, to find time to be in a creative space, because it helps me in every other aspect of my life, " Smith said. "Being around so many of the other burners just inspires you… it just drives me to want to do better and better."
It's part of the radical inclusion principle. "Anybody who wants to be a part of the community can," Allen said.
Most regional burns operate, like Burning Man, on a gifting economy. No money is exchanged at a burn. You bring everything you need—radical self-reliance—and if there's something that you want, you trade for it. And "leave no trace," or being ecologically aware of your carbon footprint, means taking all of your trash with you.
Besides the 10 principles, the one thing all burns have in common is the ritual burning of an effigy or similar analogue at the end.
Fiery Festivities
All around the cozy cabin in the woods on Nov. 2 was warmth. Flickers of red, yellow and green danced overhead. A traffic light hung from the branches of a tree, which also had a tree house in it. To the left sat a monster truck-size tire, repurposed as a fire pit, between a couch and two recliners. A picnic table sat in the center of the cleared area.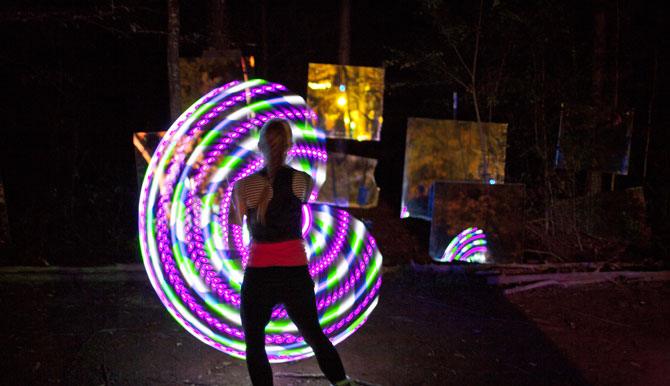 Photo Credit: Joshua Jones
The main performance area, set up for burners to showcase their skills, was equipped with about half a dozen full-sized mirrors propped against the trees at the edge of the tree line. And a metal-barrel bonfire provided an ignition point for the pyro-artists.
Their tools came in many forms: staves, fans, poi and rope darts, based on an Asian-style weapon consisting of a rope (between three and five feet) with an ignitable dart attached to one end. Flames roared around the burners, inches from their faces, their bodies and their very flammable hair as they rhythmically danced with the fire. It was so much to see—almost sensory overload. The surprises came gradually, like tasting a new food for the first time. An aroma, an initial burst of flavor and a welcome aftertaste.
The venue, known as Fatality Farm, sits in a secluded nook in southeastern Athens. "I tell people there's a dead guy buried in the woods," Tyler Glenn, one of the hosts, deadpanned.
Deeper in the woods, Glenn's brother had what he called a "fire installation" set up. Down a pathway from the main performance area, in the middle of the woods, there was a tent with smoke rising out of the top. Inside the tent was equivalent to the heat of a bonfire. How did he achieve this? Flames bloomed like a flower from the ceiling. The tent had a double roof that allowed for exhaust to escape from what was essentially an upside down gas stove. It was a see-it-to-believe-it kind of moment.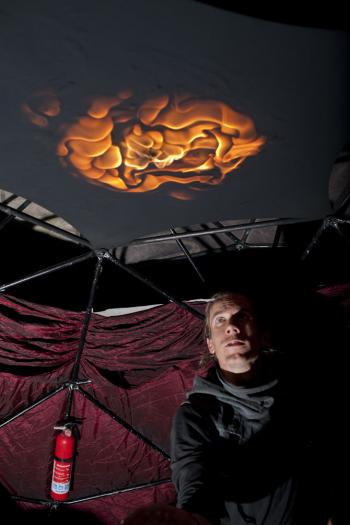 Photo Credit: Joshua Jones
Back at the main circle, Allen set a dragon staff aflame. The staff was connected to five fire points on each side. Two X's lay on each side of the pole with a single point protruding from the middle. When lit, it looked like two six-sided dice rotating on their points.
Allen began waving the staff around like a martial artist, then switched to contact moves. He would hold the staff with his hands above his head, let the staff roll down his arms, neck and back, only to spin or twist to keep the staff flowing fluidly and constantly in motion. The dragon staff whipped around his neck, transferred to his arm and then wrapped around his body like a hula hoop.
Several burners took turns sharing the circle, spinning poi and playing with other fire toys. The mirrors reflected each burner's astonishing spectacle, providing multiple perspectives and, in some cases, even perplexed the performer.
Coming Down
In normal day-to-day life, Russell said, people have to put up "barriers" that don't allow us to fully experience life. "At a burn, you kind of get to let go of those barriers," he said.
While it may seem like all fun and games, many people who've attended even just one burn will tell you that the experience has changed their lives significantly. "People can have trouble adjusting back to the real world after being in such an intense environment that is so different from their nine-to-five," Glenn said.
At Burning Man, a place called the "playa" is where the action happens. And "post-playa depression" is a real risk for those who go to burns. Fatality Farms hosted a come-down event, Depressurization, earlier this month, which is meant to act as a "speed bump" to slow people down and help them readjust from the regional burns, Glenn said.
Around 10 people (out of the 50 or so who attended the anniversary burn) were still there when the sun started to come up. The anniversary burn lasted all night long. The closeness was as strong as Thanksgiving dinner with family. Burners don't believe in handshakes, only hugs. A lot of them are hippies at heart.
Burners are more than just the odd costumes, the crazy hair, the wild philosophies or playing with fire. The hosts prepared food for everyone. The burners sat around the fire and told stories about their personal journeys, catching up on each others' lives since the last burn or last time they met. Newcomers got to know each other in a way they can't during a drunken conversation in a bar. Real connections. They're home.
Like what you just read? Support Flagpole by making a donation today. Every dollar you give helps fund our ongoing mission to provide Athens with quality, independent journalism.