The State Botanical Gardens of Georgia are one of Athens' treasures, and as the leaves turn and the air grows cooler, its South Milledge Avenue grounds offer a heavenly place for visitors to jog or stroll.
Few, however, realize that an equally beautiful predecessor once existed only blocks from the edge of North Campus. From 1833–1856, a lush four-acre botanical garden existed in the residential Hancock Corridor neighborhood directly west of downtown and was home to all manner of exotic trees, herbs and flowers. Some of these plants' descendants still thrive in the area, unremarked by most passersby, and some of the original trees still tower over the town.
Now this largely forgotten piece of Athens history has been commemorated. On Tuesday, Oct. 29, the Athens Historical Society unveiled a marker on Pope Street detailing the garden's history, capping one University of Georgia professor's multi-year effort to have the site honored.
In 1833, Malthus Ward, the first professor of natural history at UGA, founded the garden in a small dell bordered to the south and west by oak and hickory woods. A brilliant horticulturist, Ward soon cultivated the area into an Edenic paradise that featured unusual tree species—cypress, gingko, Chinese umbrella trees and willows, to name a few—as well as a conservatory full of then-oddities such as pineapples and passion flowers. Ward's project carried out President Abraham Baldwin's early proposal that the University of Georgia should contain "a plat of land where agricultural experiments might be made and observations in Botany and Natural History be taken."
Charles Lanman, who visited Athens in the 1840s, was among the many who waxed eloquent about it: "In wandering about this Eden-like spot, you sometimes find yourself on the top of a hill, or on its shady or sunny side, sometimes on a plain, sometimes in an arbor darkened with luxuriant vines and sometimes in a mountain dell by the side of a pile of rocks, whence babble the waters of a cool spring."
Unfortunately, budget woes were just as likely to plague 19th Century universities as they are today's institutions, and Ward soon found his garden on the chopping block when, in response to the financial fallout of the Panic of 1837, university trustees became interested in selling the garden. Ward lost his job in 1842 during cutbacks, but UGA President Alonzo Church managed to keep the garden safe until 1856, when it was finally sold for $1,000. The money was used to erect the iron fence around North Campus and the now-iconic Arch at the entrance.
Hubert McAlexander, a retired English professor, has been interested in the garden for many years, poring over accounts of it in various histories of the university and wondering about its past—where the entrance gates were; what trees might survive from it. A Chinese umbrella tree from the era stands in his yard. A neighbor's house is constructed around what had been Ward's residence across from the garden. "It's just so fascinating," he says.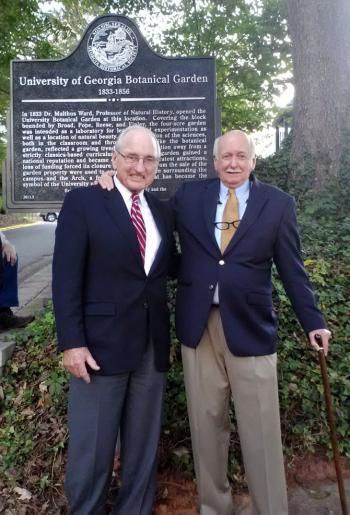 Two years ago, McAlexander hatched the idea of proposing a historical marker when Vince Dooley, best known as UGA's former football coach, made a presentation to McAlexander's book club on his History and Reminiscences of the University of Georgia. To McAlexander's delight, Dooley, who has also published a book on gardening, mentioned the former botanical garden in his talk. None of the other members had ever heard of it. Dooley recruited Michael Dirr, a world-renowned horticulturist who is also a retired UGA professor, to the cause.
"He found a willing partner in me," says Dooley, who holds a master's degree in history and is on the board of trustees for the state historical society. "If [the university] hadn't fallen on hard times, it might have still been one of the great gardens of today."
The precise boundaries of the garden are somewhat of a mystery, in part because no one has been able to locate a deed for the land. But an educated guess holds them to be approximately the area bounded by Broad, Finley, Reese and Pope streets. McAlexander credits the research of Porter Kellum, who wrote a historical note in 1983 for the current botanical garden's newsletter, as invaluable in mapping the original garden's location. Marie Hodgson Koenig reprinted Kellum piece in the Athens Historian in 1997.
Fittingly, in recent years some of this land is being used again for its previous purpose. Neighborhood residents have planted community gardens near Reese and Pope Park, and UGA horticulture students have done experiments along the banks of Tanyard Branch, which, sadly, is highly polluted.
McAlexander hopes that the university will embrace the garden's history and continue to use the land for educational endeavors. "I'm so glad that this is going to be marked," he says. "The main thing we should say that we all feel is, 'At last!'"
Like what you just read? Support Flagpole by making a donation today. Every dollar you give helps fund our ongoing mission to provide Athens with quality, independent journalism.