Driving a car is a big responsibility. So is caring for one—and not everyone thinks it's worth it.
JuiceCar, a new local company started by Mike Jerue, hopes to relieve Athenians of those responsibilities. It's an electric car-sharing service that allows drivers to rent vehicles by the hour, day, week or month.
"I've always thought owning a car can be more of a burden than a benefit," Jerue says. "You need it maybe two hours of the day, but you need to find a place to park it, you have to insure it, you have to put gas in it, you have to maintain it. All of that stuff is for a piece of equipment that you use a couple hours a day."
Car-sharing is a growing trend Jerue has been following. "I looked at other places where it's started to happen—San Francisco and Portland [OR] and Austin, TX, and all that—and I think Athens is the perfect place to do that," he says.
With accommodation-sharing services such as Airbnb and Couchsurfing rising in popularity, Jerue sees a cultural shift taking place—one in which drivers can take part.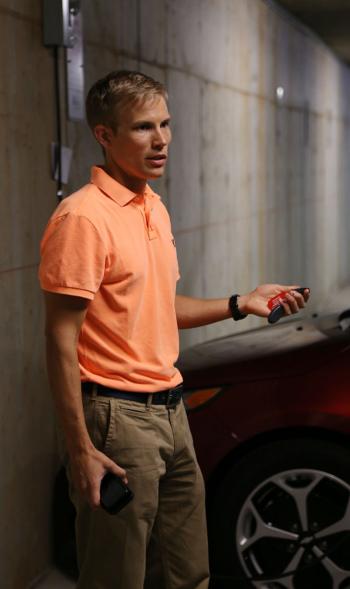 Photo Credit: Taylor Perry
"If we can show people that it's possible to live not necessarily car-free, but at least without owning a car, I think that could really change the way people view cars," he says. "And I think that's happening all throughout the economy. So I think it's a way to get rid of that burden of ownership."
In addition to its car-sharing component, JuiceCar offers public charging stations for anyone with an electric vehicle. Kumquat Mae installed the first one in Watkinsville in late spring, and Hotel Indigo unveiled two more earlier this month. The hotel also houses two cars for rent, a Nissan Leaf and Chevrolet Volt.
"Having these charging stations is just another extension of our green aspect," says general manager Barry Rutherford, referring to Hotel Indigo's status as a LEED-certified gold building. Likewise, Kumquat Mae owner Trae Stewart says her business's charging station goes along with its commitment to the Green Restaurant Association.
That's because electric cars are way better for the environment than petroleum-fueled vehicles. But even if you aren't concerned about things like emissions, Jerue says he can sell you on an electric car. In addition to lessening American dependence on foreign oil, he says, these cars are quiet, easy to accelerate and technologically tricked-out.
"It's a technophile's dream, I think, these cars," Jerue says. "They're perfectly integrated with stuff you can do online."
Drivers of electric cars are spoiled, especially those with smartphones. There are apps for monitoring the cars' battery level, turning on the air conditioning remotely and—perhaps most importantly, given the vehicles' limited ranges—locating the nearest and best charging stations. PlugShare is a popular app that allows drivers to review stations.
There are only four places to charge a car around here: Nissan of Athens, Athens Chevrolet, Hotel Indigo and Kumquat Mae. "If you're driving around in a car and you need to charge, would you rather sit at Nissan or come to a cafe and have lunch?" says Stewart, who estimates her restaurant's charging station costs her 35 cents per charging hour—basically nothing.
"I view it as like free wi-fi," she says.
With the environmental benefits and tech savviness that come with driving an electric car, the only downside Jerue sees is what's called "range anxiety."
"People who drive electric vehicles are worried that they're gonna run out of charge and end up stranded on the side of the road," he says. "But there is a display that shows how many miles you have left, so that's useful."
The U.S. Environmental Protection Agency pegs the Leaf's range at about 70 miles per charge, while the Volt, which has a backup gas engine, can travel about 380 miles.
Although some naysayers might decry electric cars for being powered by dirty coal, Jerue says that concern may fade in the future as solar power and other renewable electricity sources become more accessible. "I won't claim that electric vehicles are gonna stop global warming, but I think they're a step in the right direction," he says.
Like what you just read? Support Flagpole by making a donation today. Every dollar you give helps fund our ongoing mission to provide Athens with quality, independent journalism.