A crowd of nearly 60 protestors, some with shovels in hand, marched Monday from the Tate Center Plaza to the Administrative Building on North Campus as part of the March to Recognize and Redress UGA's history of slavery. The group demanded President Jere Morehead and a representative of the Board of Regents meet with them before the beginning of the fall semester.
However, protestors did not get a welcoming response from administration. Instead, five protestors were warned they would be arrested on the grounds of criminal trespassing, and dozens were refused access to the Administrative Building.
The group's hope is that the university will agree to their three demands laid out in an open letter delivered to Morehead on Apr. 10.
The letter demands the university take responsibility for its role in white supremacy, fund a faculty-proposed Center of Slavery to further research the university's history of slavery and oppression, and provide reparations by granting scholarships to cover full tuition and fees to descendants of enslaved people who worked on UGA's campus and for African-American students who graduate from an Athens public high school, as well as paying all employees a minimum wage of $15 an hour.
Greg Trevor, the university's executive director of media communication, told Flagpole the university has already responded to their demands in an open letter on Apr. 11.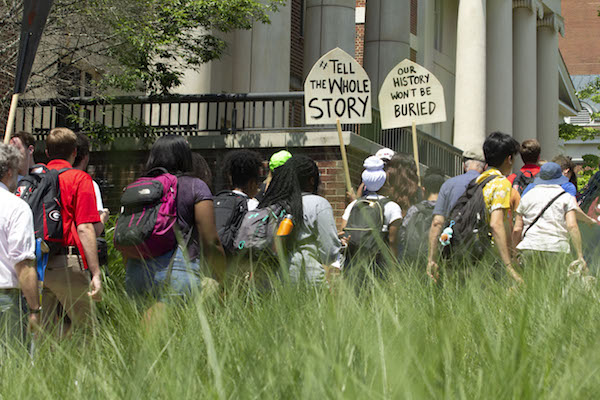 Photo Credit: Savannah Cole
Some protestors carried shovels in their hands, while others held up signs saying "Our history won't be brief," "Face our past to free our future," and "#tellthewholestory" while yelling chants like, "We are not leaving, schedule the meeting!" as they stood on and around the steps of the Administrative Building.
Only six protestors—some of whom are UGA students and employees—at a time were allowed to enter the Administrative Building. Some members of the press were denied access as well, including Flagpole photographer Savannah Cole.
The only communication between protestors and the administration was through UGA Police Chief Dan Silk, who guarded the doors with another officer.
"The problem is that the administrators think it's OK to intimidate students by sending their police officers to speak with them instead of the administrators who run this university," said geography graduate student Rachelle Berry. "They think it's OK to hide from their students."
Hours later, the group had no luck scheduling a meeting or speaking to administrators. Linda "No progress. No response. I'm not confident," said Linda Lloyd, the executive director of the Economic Justice Coalition, waiting patiently in the same chair she'd sat down in three hours earlier. "We're getting the runaround. We're going to be out here as long as it takes."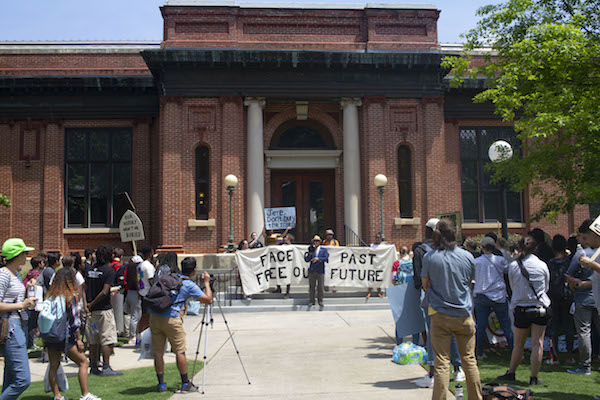 Photo Credit: Savannah Cole
Some protestors waiting outside made calls to Morehead and his assistants, Arthur Tripp Jr. and Sheila Davis. If they received a response, it varied from, "Thanks for calling," to, "He's out of the office."
A secretary in the Office of the President told protestors that President Morehead was out of the country and would not be back to campus until Wednesday. Protestors like Berry said Morehead likely knew the march was planned for today and purposely went out of town.
As the building doors were being locked at 5 p.m., Silk warned the five protestors left—Lloyd, Imani Scott-Blackwell, Joe Lavine, Chris Xavier and Nneenne Onyioha-Clayton, along with a legal observer—that they would be arrested for criminal trespassing if they did not leave.
"Black people fighting for their rights yet again is leaving us at the point to choose whether or not we want to have the militarized arm of the state take us out of the building. That is our option for a meeting," Scott-Blackwell said in a video on the Facebook page for Lavine's documentary, Below Baldwin.
After the warning, Lloyd and Onyioha-Clayton voluntarily left the building. Before leaving, Lloyd told police, "We will be back." As the two left, protestors also chanted, "We'll be back."
Silk told the last three protesters: "You must leave or face arrest. The law is very, very clear about that… It's not the outcome we want." After the third warning, Lavine, Scott-Blackwell and Xavier chose to leave to avoid arrest.
Next, the group is planning on hosting a lunch on the lawn outside the Administrative Building and another rally. The dates of the two events have not been announced at this time.
Like what you just read? Support Flagpole by making a donation today. Every dollar you give helps fund our ongoing mission to provide Athens with quality, independent journalism.