Hopefully all of you – or at least a decent amount of you – made it out to some AthFest activities last week. Maybe you were exposed to some new bands, maybe you saw some old favorites or maybe you just spent too much money on bottled water and funnel cakes. Either way, hope you had a good time. The news continues to roll through here like a tumbleweed, though, so let's get started…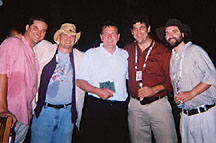 The Peak, the Apex, the Acme: Low Country roots rockers Stewart & Winfield recently nabbed a spot performing at the G8 Summit held on Georgia's coastal Sea Island. The band performed in front of, among others, Italian Prime Minister Silvio Berlusconi British Prime Minister Tony Blair and German Chancellor Gerhard Schroeder. "The Germans danced all night to the music on the beach," says the band, "including Chancellor Schroeder, one of the most genuine, warm-hearted people we have ever met. He is now a huge S&W fan. Southern music and charm went a long way around the world last night." [Chris Hassiotis]
You Can Bank On This: The Food Bank Of Northeast Georgia is by far one of Athens' finest charities. Its "no questions asked" policy allows people that need food to simply come by and get a bag of groceries without an intrusive, demeaning process sapping their dignity. So heed my call when I say y'all should go out and support the third annual Road Kill Café benefit which will be held on Sunday, June 27. The thing goes down at 6 p.m. at the Food Bank's headquarters over at 861 Newton Bridge Rd. Bluegrass band 16 Tons and special guest David Blackmon will perform. While this is happening, the Food Bank says that some of Athens' finest chefs will be preparing a few of their favorite dishes for everyone to consume and get their feed on. Also, a silent auction of "unique items" will be held. I have no idea what these will be, so don't ask me. Tickets are $25 a person and, folks, this is a cause where you can be assured that your money is going to help a very real, very important need here in the Athens community. For more information, to reserve tickets, or to learn about sponsorship opportunities, call (706) 354-8191 or visit www.foodbanknega.org.
Count On It: Count Kellam has kept very busy since his split with Bain Mattox, an association that will be mentioned less and less as time passes. Kellam's website is "almost finished" by his own account. (Note: Count, websites are never, ever finished. We just think they are.) Also, he has finished the debut album for his newest project, simply named Count. MP3s and other hoo-ha should be available on the website soon. On a personal note, not only is Kellam talented as hell, but I have known him for about 18 years now and I can tell you this: the man is golden. If you're unfamiliar with Kellam's music, think Jeff Buckley and expand from there. However, while Kellam is certainly a Buckley fan, he is no mere copyist. See him and his new band for yourself on Friday, June 25 over at Tasty World. Check out www.Countk.com for more information and whatnot.
Word On The Street: Everyone and their brother is swearing by the light of the moon that the Bonnie "Prince" Billy performance a couple of weeks back at the Orange Twin Conservation Community was damn near spiritual [see Live Review in this issue]. Of course, a rainstorm forced the performance to go acoustic but apparently that added significantly to the intimacy of the event. I'm kind of kicking myself for not going (and very possibly missing the only decent Will Oldham performance ever to be hosted in Athens) but I really don't like being outdoors. I have a huge amount of admiration for Orange Twin and more than a few Will Oldham records, but I get cranky and hot sitting still. So, anyway, kudos to all involved in making this show a success.
What's In A Name?: Athens' Drive-By Truckers and their label New West Records have announced that The Dirty South will definitely be the title of the next Truckers album. After debating album titles back and forth for a while, the band has finally settled on this one. In a perfect world, this album would be released with a completely blank cover and the band would be named DBT. Do you have any idea how many copies could be sold to teens in all the malls of the United States? While there is no indication that this title indicates a change in strategy for the Truckers (you know, one of hotel rooms full of Cristal and iced-out teeth) but we can hope. In all seriousness, though, word is that the band has consciously pushed themselves with this record to even out-do the most recent album Decoration Day. And that, friends, is no small feat. Truckers Jason Isbell and Mike Cooley perform solo acoustic sets on July 16 at the 40 Watt, where the full band holds court both nights the final weekend of August. For more information, please see www.drivebytruckers.com or www.newwestrecords.com.
Worth the Hassle? You Decide: As I've said many times before Widespread Panic bassist Dave Schools simply cannot take a break. This is fortunate for fans in that they can see him perform practically all the time. If you wanna go through the headache that is traveling to Atlanta, you can catch his Stockholm Syndrome combo which was formed by Schools and Jackmormons member Jerry Joseph. Fleshing out the band is Eric Mcfadden (Keb Mo', Les Claypool), Danny Duzik (who has worked with Joseph before) and Wally Ingram (Jackson Browne, Sheryl Crow). The band has released an album titled Holy Happy Hour and fans can catch them Tuesday, June 29 at Atlanta's Variety Playhouse. Athens powerhouse The Tom Collins opens. Of course, you could just wait until the Syndrome performs at the 40 Watt on July 24, but patience is for the weak. For more information, go to www.jomoentertainment.com.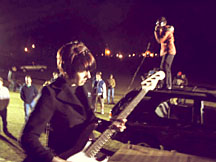 This Night Has Opened My Eyes: Many times – actually most of the time – the most exciting and immediate rock and roll is going to come seemingly from nowhere and slap you across the face. Such is the case with Atlanta/ Athens band SIDS. While the band has been around for approximately a year or so, I've had my first couple of SIDS experiences in the last month or so; as soon as you've had yours you'll understand what I mean. While many bands today attempt to be mere tribute bands to early 1980s New Wave, SIDS goes deeper (a lot deeper) than this. Ignore reports you may have heard about the band being a "No Wave" act. They're not at all. There is tons of melody and catchiness, but it's all wrapped up in a hardcore New Wave shell. (By hardcore New Wave I mean 1976 era-Devo, the earliest Human League singles and even a slight bit of 1979-era L.A. punk a la The Germs and The Weirdos.) The band features charismatic and enigmatic frontman Adam Stroupe (ex-Camaro Crotch) on vocals, Josh Fauver (also of Deerhunter, Action Porn and Electrosleep International) on drums and keyboard composing, Sid Vicious (trust me!) (ex-Sex Pistols) on keyboards and Erin Carmichael on bass. Most recently the band has shocked conservative audiences at Rome's Berry College, played WUOG 90.5 FM local show "Live in The Lobby" and rocked the floor of the Caledonia Lounge. If all goes well, you may see them play the Caledonia again on Wednesday, July 7 along with The Vanishing and Gravy Train. Keep in mind that SIDS is a workout of a show. Not only will you have to endure any number of household items (paper, couch cushions, etc.) being thrown all around in the audience, but you're liable to exhaust yourself from dancing. Be careful out there. For more information, write to the band at deadbabiesnshit@yahoo.com.
And with that I'm off. Keep sending your news in and be sure to reference either me or Threats & Promises in the subject line of all email correspondence. Keep feeling fascination via email at music@flagpole.com, voicemail at 549-2360; or by post at P.O. Box 1027, Athens, GA 30603.
Like what you just read? Support Flagpole by making a donation today. Every dollar you give helps fund our ongoing mission to provide Athens with quality, independent journalism.