Since 1979, Jim Hawkins has owned and operated Studio 1093 at 1093 Boulevard in Athens. After 39 years, he has decided to put the studio up for sale and retire.
Hawkins' music career began as a teenager in Athens. He was in college when he met Phil Walden, Otis Redding's manager. This eventually led to Hawkins developing a relationship with Redding—a relationship that Hawkins had no idea would change the course of his career forever.
Redding loved Hawkins' band, The Embers, and frequently used them as his backing group. In spring 1967, Redding invited The Embers to join him on a short tour. Hawkins and his band couldn't do it, so Redding enlisted The Bar-Kays, who would back him for the remainder of that year. In December, Redding and most of the band died in an airplane crash while on tour.
After Redding's death, Hawkins knew he had to do something to honor the musician and continue his own career. He had talked with Redding about opening a studio, so that's exactly what he did. After he returned home from a stint in the Army, Hawkins opened his first studio: the Otis Redding Memorial Studio in Macon.
"Otis wanted to produce a record with my band, and we had always talked about opening a studio," Hawkins says. "After what happened to him, I spent my time I was enlisted drawing up plans for one."
The studio soon morphed into the legendary Capricorn Records, which went on to house rock icons such as The Allman Brothers Band, The Marshall Tucker Band, Wet Willie and more.
After working 80-plus hours a week at Capricorn, Hawkins needed to take a break and decided to move home to Athens. He began engineering sound for films as well as producing music, and when he saw a little white building for sale in the Boulevard neighborhood in 1979, he knew it had potential to be an amazing recording space.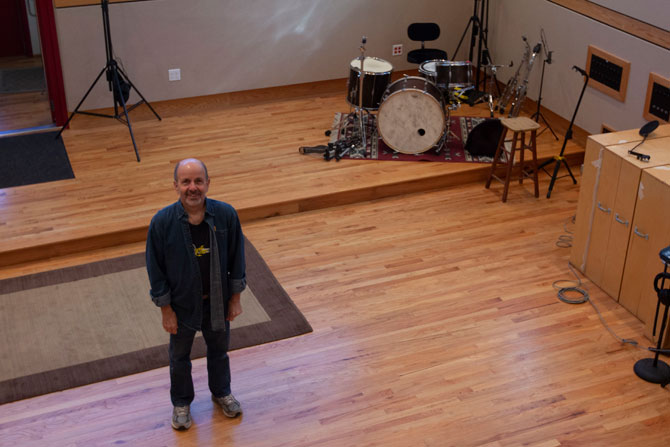 Photo Credit: Savannah Cole
When the studio was finished with its first round of renovations, Hawkins began recording, hosting radio shows, renting out the space for bands to practice and doing everything he could to support the Athens music scene. R.E.M was the first band to rent the studio long-term, and the band kept the space until it could afford a place of its own. In the meantime, Hawkins was still working on films. The space stayed as it was for about 20 years.
"I was out doing film work and bands I liked were renting out my space, and life was good," Hawkins says. "Honestly, I don't know what else I could've asked for at the time."
In the mid-2000s, the film industry took a hit, and Hawkins felt he needed to completely renovate the space to turn it into the roomy, professional-grade studio that it is now. After two-and-a-half years of renovation, Studio 1093 reopened on Apr. 15, 2010.
"The acoustics were always amazing, but I felt like it needed a little more," Hawkins says. "It wasn't properly insulated before, so I made it into a space that could be used year-round."
Since then, Hawkins has worked in the studio daily, recording and mixing music for local bands and giving them a space to record. Despite a recent rise in self-recording, the studio has remained an Athens staple, playing host to both established musicians and those just starting out.
It is because, not in spite, of the studio's success that Hawkins has decided to retire. He says he feels proud of what he's been able to do in his career, and just feels it is his time to pass the space off to someone else. "I always say that if I get hit by a garbage truck on the way home, I've had a great life," Hawkins says.
Studio 1093 is currently on the market, and no details are currently available about any prospective buyers.
Like what you just read? Support Flagpole by making a donation today. Every dollar you give helps fund our ongoing mission to provide Athens with quality, independent journalism.