12:26 p.m.: Republicans have retaken two GOP-leaning state House seats that Democrats won in a 2017 special election.
A final batch of 3,037 mail-in absentee ballots that Athens-Clarke County election officials uploaded at about noon were not enough to save state Reps. Deborah Gonzalez (D-Athens) and Jonathan Wallace (D-Watkinsville). The absentees netted Wallace 302 votes and Gonzalez 227.
In the final tally, Marcus Wiedower defeated Wallace 53 percent to 47 percent, and Houston Gaines beat Gonzalez 54–46.
Both districts are split between Clarke County, which voted about 70 percent Democratic, and Oconee County, which voted about 70 percent Republican. In contrast to 2017, this year turnout in Oconee County, at 75 percent, dwarfed Clarke County's 61 percent turnout.
Gonzalez was also hurt by a significant undervote among Athens Democrats—perhaps the result of Mayor Nancy Denson supporting Gaines and and/or Gaines' substantial fundraising edge. She won just 62 percent of the vote in Clarke County.
ACC election official Cora Wright told Flagpole that there were some problems counting overseas ballots. At one point they realized the numbers were off, and they had to start over.
"We just want to make sure we get it right," she said.
Meanwhile, Brian Kemp's lead over Stacey Abrams in the governor's race shrank slightly overnight, with Abrams now needing the gap to narrow by another 15,000 votes to force a runoff. It seems unlikely with just a few pockets of absentee and provisional ballots left to count, but Abrams has yet to concede.
3:37 a.m.: Republican Brian Kemp appears to be the winner in Georgia's gubernatorial race.
Kemp has a lead of 87,000 votes over Democrat Stacey Abrams with 99 percent of precincts reporting.
The Athens native emerged on stage at his election-night party at the Classic Center to speak at about 2:40 a.m. He didn't definitively declare victory, but he said he's confident he won.
"There are votes left to count, but we have a very strong lead. We are waiting on the final results, but I am confident that victory is near," Kemp said.
Stacey Abrams gave a speech earlier this morning stating the race was too close to call. Legal action is likely in this close race that's been marked by Democrats' accusations that Kemp is using his position as secretary of state to supress the Democratic vote and tilt the election he oversaw in his favor.
Kemp was considered an underdog in the GOP primary, but surged to victory in a runoff against Lt. Gov. Casey Cagle on the strength of an endorsement from President Donald Trump and revelations that Cagle had let education policies he didn't believe in through the state Senate for political gain. At the end of his speech, Kemp thanked his supporters.
"Thank you for believing in our campaign when no one else would," he said. "We had so many people pray for us along the way."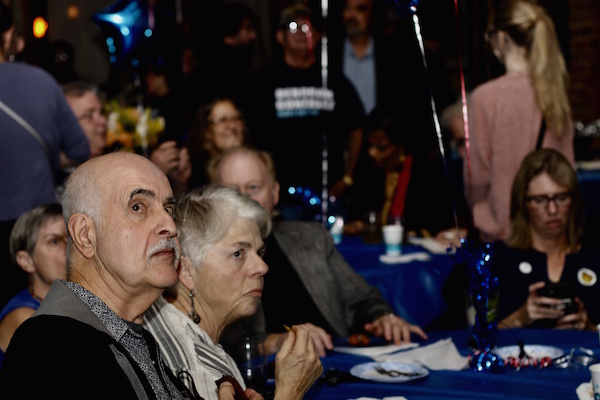 Photo Credit: Jessie Goodson
3:07 a.m.: In the disputed House District 119 race, incumbent Jonathan Wallace says there are enough mail-in ballots still unreported to make up his 1,700-vote deficit to challenger Marcus Wiedower, who has already declared victory. Wallace won 76 percent of the in-person early votes in Clarke County.
Wallace said he heard that the Athens-Clarke County Board of Elections has stopped counting votes for tonight. Attempts to reach election officials have been unsuccessful, but local results have not been updated for four hours.
2:25 a.m.: It appears that House District 117 challenger Houston Gaines and District 119 incumbent Jonathan Wallace are correct—the Georgia Secretary of State's website is showing that no mail-in absentee ballots have been reported from Clarke County. In addition, one Clarke County precinct in District 117 remains only partially reported. It is unknown how many mail-in ballots were cast by Athens voters in those districts. Could they be enough to sway those races?
Calls to the ACC Board of Elections and the facility where poll workers count votes went unanswered.
Although Brian Kemp leads Stacey Abrams by approximately 100,000 votes with 98 percent of precincts reporting, and Republicans are privately insisting that Abrams has no path to victory, no news organization has called the race, and it appears that Kemp will not declare victory, nor will Abrams concede tonight. Non-local reporters have booked hotel rooms in Athens in anticipation of an announcement from Kemp in the morning.
1:15 a.m.: Republican challenger Marcus Wiedower has claimed victory over Democratic incumbent Jonathan Wallace in the state House District 119 race, although Wallace has not yet conceded.
Wiedower apparently ousted Wallace—who won the vacant seat in a special election last year—with 53 percent of the vote and all precincts reporting, according to the Georgia Secretary of State's website. But Wallace told Flagpole he believes some absentee votes in Clarke County may not be counted yet.
Wiedower, with his family and campaign staffers, announced the victory at around midnight to a crowd of around 60 supporters.
"I didn't know what this night would be like. I often told people it would be more of relief than excitement. I'm glad to tell you that I was wrong. I am excited as all get out," Wiedower said in his victory speech.
"I'm really excited. Really happy for the team. We all worked very hard. Just looking forward to coming down there [to Atlanta] and working hard for our community," Wiedower told Flagpole after giving his victory speech.
Wiedower said he's looking forward to "representing the people, being a voice for them, being a hard worker. I'm going to go down there, roll my sleeves up and work hard."
The first thing he wants to do in office is "earn respect on both sides of the aisle," he said.
Meanwhile, challenger Houston Gaines appears to have defeated Rep. Deborah Gonzalez (D-Athens) in a rematch of their 2017 race. Gaines leads Gonzalez 55 percent to 45 percent with one precinct in Clarke County still only partially reported. Gonzalez has not conceded, though, and Gaines declined to declare victory until all the votes are counted.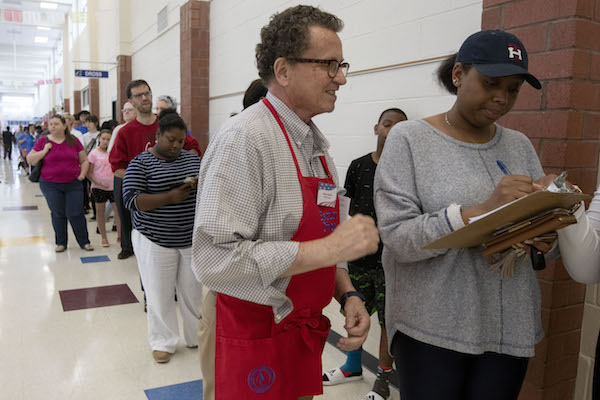 Photo Credit: Savannah Cole
11:24 p.m.: While we wait on the last batch of Clarke County votes to tell us who won the state House district 117 and 119 races, there are a few local races we can call.
U.S. Reps. Jody Hice (R-Greensboro) and Doug Collins (R-Gainesville) will retain their seats, as expected. Hice leads Democrat Tabitha Johnson Green 62 percent to 38 percent, while Collins has a 60-point lead over his Democratic challenger, Josh McCall.
"Super exciting what's happening here in Georgia. I think everything is looking extremely positive. I could not be more excited," Hice told Flagpole. "There's still precincts yet to come in, but the way things are trending, the way it's looking is extremely positive."
No surprise, either, that state Sens. Bill Cowsert (R-Athens) and Frank Ginn (R-Danielsville) will return to Atlanta. Cowsert leads Marisue Hilliard 59–41, and Ginn has a 68–32 lead over Dawn Johnson. Both represent deep-red districts with the exception of Clarke County, and in raw numbers, there aren't nearly enough votes left to be counted to make up those deficits.
"I feel pretty good," Cowsert said. "You just never know. It's such an incredibly turbulent time. It's not really possible to get a good read on it. But I feel good. We've run a strong campaign, and we feel like voters are turning out left and right."
Referring to Hilliard, Cowsert said, "I think she put up a good campaign. I've loved getting to know her, but I haven't been able to see her advertising, for a lack of a better word."
10:19 p.m.: Local Georgia House seats are neck-and-neck tonight.
Houston Gaines is challenging incumbent Rep. Deborah Gonzalez for the District 117 seat, while Marcus Wiedower is challenging Rep. Jonathan Wallace for House District 119. Both are rematches of a 2017 special election.
So far, Gaines (64 percent) and Wiedower (63 percent) have the upper hand, but with all of the votes counted in heavily conservative Oconee County and many still out in heavily Democratic Clarke County, Gonzalez and Wallace can still catch up.
Gonzalez seems confident she'll win re-election.
"We're expecting a victory. We're expecting a blue wave. People have been so motivated, so excited. We just want it to continue," Gonzalez said.
Gaines said he had hope last year, when he lost by 6 points, and has hope this year. He said he's learned that "you never know how elections will go."
"It's going to be really close. We feel good. There's no doubt about it that it's a competitive district with enormous turnout across the district..early voting and today. So we know it's going to be a competitive race. I think we've done what we've had to do. Ultimately, voters have that say," Gaines said.
Wallace said he is "cautiously optimistic" that he'll win.
"I'm feeling really good. I'm just so proud of all the work that everybody has put in. It's sort of overwhelming. It's really overwhelming," Wallace said.
"I think Wiedower has a chance… That's why we run these races. So people can express their priorities and policy concerns," Wallace added. "What I am confident about is the work we have done to connect people in this community. The individual connections people have made through working on this campaign, knocking on doors, meeting new people… I'm just so incredibly proud."
Said Wiedower, "I'm confident we put it all on the table. We've worked very, very hard. We've had some really great support. We're happy with where we are with that. It's just been awesome."
9:38 p.m.: We have our first smattering of almost 6,000 votes (out of 74,000 registered voters) in Clarke County, where Stacey Abrams is winning 69 percent of the vote over native son Brian Kemp—slightly ahead of the pace set by past Democrats at the top of the ticket. Kemp leads statewide 55–45, which is to be expected, considering that rural, conservative areas tend to report results faster than left-leaning cities, where there are more votes to count.
Reps. Jonathan Wallace (D-Athens) and Deborah Gonzalez (D-Athens) are both right around 69 percent in Clarke County, too, which means it will come down to whether Athens residents turn out in higher numbers than their counterparts in Oconee County, where the vote is all in 20,780 ballots have been counted. Gonzalez's opponent, Houston Gaines, won 70 percent of the vote there, and Marcus Wiedower, Wallace's challenger, won 71 percent. Gonzalez also represents slivers of Barrow and Jackson counties, where Gaines is winning 81 and 76 percent of the vote, respectively.
8:20 p.m.: The first results from the Athens area are in, and state Sen. Bill Cowsert (R-Athens) has a 71 percent to 29 percent lead over Marisue Hilliard, with five precincts, all in Oconee County, reporting.
Republicans Houston Gaines and Marcus Wiedower lead state Reps. Deborah Gonzalez (D-Athens) and Jonathan Wallace (D-Watkinsville) 70 percent to 30 percent.
While Clarke County is not reporting yet, so far Republicans in Oconee County are exceeding the 62 percent of the vote they received in the 2017 special election.
It's too early to make any predictions about statewide races, but it's interesting to note that moderate former congressman John Barrow of Athens is outpacing the rest of the Democratic ticket by 1 or 2 points. Even if Stacey Abrams doesn't win, if she makes it close at the top of the ticket, perhaps Barrow sneaks over the finish line.
7:54 p.m.: News intern Ashlyn Webb is reporting from state Rep. Deborah Gonzalez's election-night party at Little Kings, where Gonzalez and supporters are footloose and fancy-free.
@DG4GA, family, friends and supporters getting the watch party started at Little Kings Shuffle Club. Gonzalez said she feels confident she'll win District 117 again. @FlagpoleMag pic.twitter.com/iP0gC9bUvs

— Ashlyn Webb (@ashlyntwebb) November 7, 2018
5:56 p.m.: Some Georgia voters have been facing long lines and technical errors. Luckily, in most of Clarke County, lines have been short, and voting has been simple.
Rhoda Goolsby said she just walked in and out at Fire Station 7 on Barnett Shoals Road. But it was a different story at Gaines Elementary School, where lines were anywhere from an estimated 40 minutes to two hours.
Some people walked up to the polls, sighed and said they'd come back in hour or so. However, the lines didn't get much shorter as the afternoon went on. Most people stuck it out and waited to cast their ballot.
"I wanted my voice to make a difference. Trust me, I'm hungry. I just wanted to get out of line and get something to eat, but I knew I needed to vote," said Delores Bolton, who waited in line for over an hour.
Today was the first time Stephanie Pappas cast a ballot. Pappas said she wanted to do her part, even if it meant spending an hour waiting to vote. She said this election was one she has paid attention to and was determined to vote in.
"I grew up in a very conservative household, and I have very different views from my family. Today, I voted blue down the ballot," Pappas said.
Handicapped voters and seniors were able to skip the long line.
Athens has historically been blue, and most voters said they voted for Democrats up and down the ballot.
"I voted for Stacey Abrams, mainly because her views on education and jobs, plus her temperament," Goolsby said.
Renee Bess said she hopes Georgia votes in the country's first black female governor tonight. Bess said voting was especially important to her because she is a woman, and she's black.
"It was just 1920 that women got their right to vote. And then, blacks couldn't vote either. That's why we have to vote, and why it's even more important," Bess said.
A couple voters told Flagpole they voted red, even though Clarke County is deep blue.
"I tend to vote conservative. I voted Republican for governor… because [Kemp] puts a big emphasis on agriculture. I'm in the [UGA] College of Agriculture. I have a big problem with people who want to take workers away from agriculture instead of putting more money and infrastructure into it, since it's the largest industry in Georgia," said Blayne Thomasson. "I also agree with Kemp's view of immigration. I like immigration, but not illegal immigration."
Regardless of party affiliation, all the voters Flagpole spoke with said this election was crucial because the gubernatorial election is neck-and-neck.
"I just felt like this is a very important election, it's very close. I feel like everyone needed to vote, no matter what party," Thomasson said.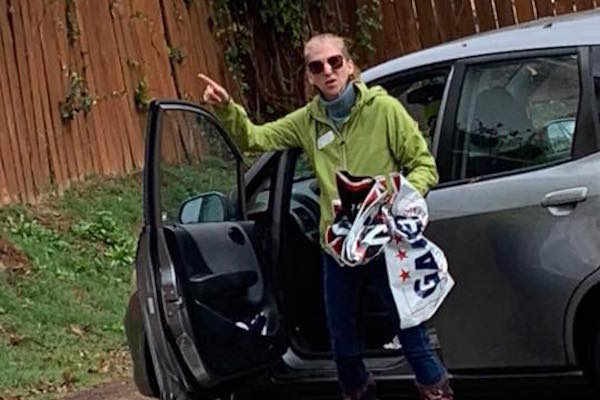 Photo Credit: Devon Spiva
3:49 p.m.: Death and taxes aren't the only things that are certain in life: There's also the certainty that political partisans will try to manufacture outrage about the placement and/or destruction of their preferred candidates' yard signs and/or their opponents'.
The biannual Sign Wars are manifesting themselves today in social media scuttlebutt about Athens-Clarke County Commissioner Melissa Link tearing down one of Republican state House candidate Houston Gaines' banners on Milledge Avenue.
Melissa Link is a sitting County Commissioner in Athens – ripping up Republican campaign signs on Election Day in front of a house on Milledge Ave. We are better than this, and we deserve leaders who are better than this. Vote Houston Gaines. pic.twitter.com/0SubyXIQgn

— Caitlin O'Dea (@CaitElizabeth5) November 6, 2018
O'Dea is Gaines' campaign manager.
Link admitted to tearing down the banner in a Facebook post, but said she did so because it was illegally placed.
"It is illegal to place political signs in the public right-of-way—along roadsides, medians, & in the strip of grass between the sidewalk & road," she wrote. "If you see these, please call ACC code Enforcement at 706-613-3790 or feel free to rip them up yourself for proper disposal because they are considered litter. Republican campaigns are infamous for lining roadsides near polling places with signs in the wee hours of the morning. This is illegal but not unexpected, they know they can't win without cheating."
In addition, local Republican activist Joan Rhoden reported that Athens-Clarke County removed Brian Kemp yard signs from a location near the Oglethorpe Avenue fire station—such signs are prohibited within 150 feet of polling places—while leaving Democratic signs in place.
On the other side of the aisle, Meredith Patterson, who volunteered as a poll watcher for the good-government group Common Cause and the Athens Economic Justice Coalition, called to say that officials told her to leave the Winterville train depot for telling a voter who had been removed from the rolls that she could request a provisional ballot, giving her three days to resolve the situation.
"The story is not that I was thrown out," Patterson said. "The story is that they're not telling people their rights."
The Democratic Party of Georgia's voter protection hotline is 1-888-730-5816.
Flagpole has asked ACC Director of Elections and Voter Registration Charlotte Sosebee for comment, and will update this post if and when we hear anything.
Meanwhile, Republican gubernatorial candidate Brian Kemp voted in Winterville this afternoon. In keeping with his campaign's "big truck" motif, here's a picture of his ride. No, seriously.
Photo Credit: Colton Moore
Democrat Stacey Abrams voted early on Oct. 22, and is spending the day rallying supporters in Buena Vista, Columbus, Fairburn, Atlanta and Stone Mountain.
Flagpole will be updating this post with new information and results throughout the evening. In addition, News Editor Blake Aued will be providing commentary on WUGA 91.7 and 97.9 FM starting at 8 p.m.
Like what you just read? Support Flagpole by making a donation today. Every dollar you give helps fund our ongoing mission to provide Athens with quality, independent journalism.