For the fourth year in a row, longtime Flagpole music columnist Gordon Lamb has invited a bunch of his favorite musicians to town, booked 'em at a handful of local venues and dubbed the whole shebang Athens Intensified. Moreso than any previous installment, the 2015 lineup lives up to its muscular moniker. From Oct. 7–10, local favorites like Grand Vapids, Eureka California, Vincas and New Wives will share stages with national heavyweights Wavves, Toro y Moi, Twin Peaks, The Love Language and others.
Full fest passes are available for $50 and can be purchased at athensintensified.com. A modified pass that includes admission to everything except the Toro y Moi and Wavves shows can be had for $25, and advance tickets are available for all individual concerts at Wuxtry Records. For the full festival lineup, see The Calendar.
Plan your weekend wisely, as there is much to see and limited time with which to see it all. Thankfully, all the AI venues are within spitting distance of one another, so you can hop around at will. To get your schedule started, here are three Athens Intensified performances not to miss:
Willis Earl Beal
Saturday, Oct. 10 @ Caledonia Lounge
"Won't soul music change/ Now that our souls have turned strange?"
The Silver Jews' David Berman posed this question in his song "We Are Real." The logical follow-up to Berman's kinda-stoned query might be to ask: What would that strange soul music sound like? The music of Willis Earl Beal is as good an answer as any—in particular, the sparse, amorphous songs on Beal's latest record, Noctunes.
Not that Beal himself cares much for the "soul" label, or any label, for that matter. "In America, people call my type of voice a 'soul' voice," he says, "and correct me if I'm wrong, but a soul is something that everybody's supposed to have." Beal isn't just being clever; he's trying to get at something more trenchant.
"So why is it," he continues, "that people say it's blues or soul just because my voice sounds the way it sounds? I think that African American people have certain intonations in their voice that identify what they are even without you seeing them, and so people attribute that to soul and blues because of Negro spirituals and shit like that. But I don't make Negro spirituals. I just make spirituals."
The perceived element of racism compounds what, for Beal, is perhaps even more galling: being classified, which is to say, being constrained. His thoughts on blues music reflect this, as well.
"I hate the fucking blues so much, because on the one hand, blues is the originator of American popular music," he says. "I respect those cats. But do you think they were actually sitting around talking about, 'Hey, we're making blues music?' Hell no, they weren't, they were just making music. They were just singing what they wanted to sing, and then white people got ahold [of] it, and then they categorized it, put it in a box."
Beal wants no part of such a process. "If I'm a blues singer, it's only because I sing without influences from other people. I just sing the way I want to sing."
Despite this claim, in talking about his early career, Beal casts some light on the music that informs his own. "I used to sing songs a cappella on the side of the street," he recalls. "I would sing other people's songs—people like Beck, Biggie, the Stooges, Van Morrison, Bob Dylan songs, Tom Waits, Cat Power." It's an eclectic mix, with an emphasis on solo musicians, many of whom—Beck, Dylan, Waits—are known for their stylistic reinvention.
If Beal's thinking contains a seeming contradiction, it's an understandable one. Despite his fierce individualism, he's also conscious of working within a larger pop tradition. If anything, he doesn't want others to decide what tradition he's drawing from. In this sense, his insistence on freedom has both aesthetic and political grounds.
Throughout his career, Beal has been duly praised for the quality of his voice and its emotional impact; less attention has been paid to its versatility. If Noctunes draws comparisons to David Bowie's Low, those comparisons should mention how Beal, like Bowie, is able to adapt his voice to suit a number of different occasions.
On "Start Over," Beal sounds plaintive, his voice close to breaking, to great effect. Earlier, on "Like a Box," his voice has a cool, controlled quality that matches the song's glitchy electronic clip. Beal isn't just a vessel for raw emotion; he's far more calculating.
Over a simple beat and a bare synth on "12 Midnight," Beal sings, "The banquet's over, the night is done/ The lights are dim, we're the only ones." His voice is husky with weariness but resonates with a faint promise. In contrast to the restlessness of earlier tracks, "12 Midnight" ends the record on a gentle, conciliatory note. Where "Lust" finds the singer in stasis—"I've been sitting here and have been since 3:11 in the morning"—"12 Midnight" has him on the move. "The night, it beckons, so let's just run," Beal sings, an image of freedom, however modest.
The title of Noctunes reflects its mix of styles, a portmanteau of the lofty-sounding "nocturne"—a form of classical composition, usually for piano, associated with Frédéric Chopin and Romanticism and thematically related to nighttime—and the more casual "tunes." The record's dozen songs are serious, piano-driven compositions with a distinct nighttime atmosphere, but they are also, intrinsically, pop songs—spare, sultry and strange. [Marshall Yarbrough]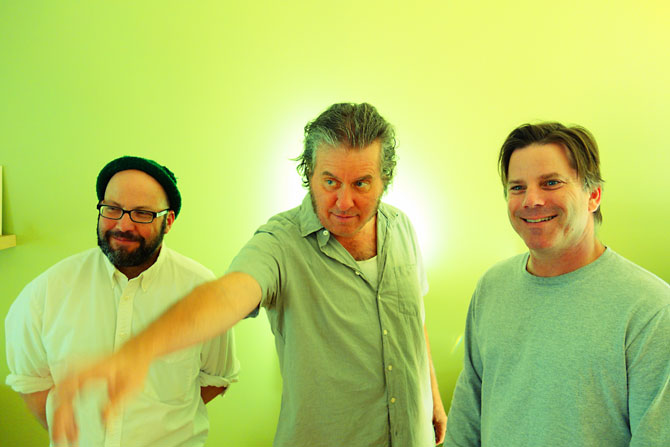 Photo Credit: Henning Ohlenbusch
Polaris
Saturday, Oct. 10 @ 40 Watt Club
Polaris' debut gig would be a dream for any band. In 2012, the jangle-rock trio played its first show in Los Angeles for roughly 2,000 fans, who screamed nearly every word from an album almost two decades old. It wasn't a bad live start for a group that never aspired to do anything more than soundtrack a short-lived kids show.
"How did these people know these songs that were only played under people talking?" Polaris' lead songwriter, Mark Mulcahy, marvels. "There was a loud din of screams when we would start any song."
Any fan of early-'90s Nickelodeon has most likely heard Polaris, whether they realize it or not. The band's infectious single, "Hey Sandy," served as the theme song for "The Adventures of Pete & Pete," a critically beloved TV series about the surreal adventures of two brothers.
Will McRobb, the show's co-creator, was a fan of Mulcahy's earlier band, Miracle Legion, and contacted him to compose the theme song, which eventually led to a full album. The 12 songs on Polaris' only record, Music from The Adventures of Pete & Pete, revel in the kind of wistful, power-pop glee shared by the best of early-'90s college rock. Mulcahy's well-crafted melodies sound effortless, achieving the kind of accessibility that remains relevant well after adolescence.
Even outside of the show's kid-friendly realm, his songwriting relies on a playful balancing act between heavy subject matter and carefree hooks. On the Miracle Legion track "Snacks and Candy," Mulcahy sings about the death of Yusef Hawkins, a 16-year-old boy murdered in Brooklyn in 1989. The song has the same propulsive upbeat feel of "Hey Sandy," and Mulcahy uses the innocent imagery of playgrounds and firecrackers to tell a grim story.
After "Pete & Pete," Polaris' career remained dormant until McRobb invited the band to perform for a reunion blowout in 2012. After another two-year break, the massively popular Comic-Con convention tapped the band for a show, which ended up sparking a string of reunion dates and a Record Store Day reissue of Polaris' debut.
Even though Mulcahy has since become a father, released a slew of solo records and co-written a few musicals, he doesn't find it difficult to reconnect with the old material.
"[Polaris' music] still feels good, because for me, they're special, unique songs, and I wrote them to someone else's specifications," he says. "I can separate myself into who I am by myself and who I am when I'm with Polaris."
Though the show's creators never dictated the lyrics, they provided general parameters for Polaris' sound, a subtle influence Mulcahy still draws on for the band's aesthetic. In October 2014, Polaris released its first material since 1999, a cassette single featuring the tracks "Great Big Happy Green Moonface" and "Baby Tae Kwon Do." Mulcahy worried about testing new songs on a fan base that never expected more music, and ran the material by McRobb to ensure it matched the feel of "Pete & Pete."
"When you say, 'Here's a new Polaris song,' you're definitely treading on some thin ice," he says. "It's kind of tough, because with this particular crowd of people, you're really taking a risk playing something that isn't one of those 12 songs."
Yet enthusiastic crowds and generous ticket sales give hope for Polaris' staying power. Fears linger in Mulcahy's mind over whether fans will continue to care about a house band from a defunct children's show, but his enthusiasm is palpable. "Whatever kind of dope I am," he says, "I like doing this, and everything that comes with it." [Paul DeMerritt]
Vockah Redu
Thursday, Oct. 8 @ Caledonia Lounge
Vockah Redu was born JaVocca Davis, a name his mother says came to her in the voice of her creator. Vockah lovingly shrugs off the story with some care for its mystery: "I laughed and said, 'Mama, that's deep.'"
The commanding, Adonis-chiseled vessel that is Vockah Redu hosts a gentle and playful soul with an energized, open perspective on life. That perspective has enabled his rise as one of the preeminent voices in the current generation of New Orleans bounce artists. Vockah was raised in the city's Magnolia Projects, which helped give rise to bounce itself, as well as artists like Birdman, Juvenile, Jay Electronica and Soulja Slim. The corners and courtyard of the Central City community served as important meeting places for Mardi Gras Indians, brass bands and even hip hop concerts.
"Magnolia was more like a city in and of itself: a community, a family," says Vockah, who developed an early interest in performance and production thanks in part to his relationship with female bounce icon Magnolia Shorty [born Renetta Lowe], whose life was tragically cut short in a double murder in front of her apartment in December 2010.
"Me and Renetta Lowe were childhood brother and sister," he says. "She is a legend, and the first to ever hand me over the mic. Along with doing her hair sometimes, we always had time to clown. I so miss her. Home too soon."
Vockah's life has been punctuated by risky choices. When he was a young man, his mother saved enough to send him to ballet classes. This opened the door not only to an expressive life in dance, which carried him through college at Grambling State University, but also to criticism from his peers. "Being the first and only guy to lead an all-girl dance team was enough to keep me with this Teflon skin I'm in today," he says.
While Vockah's career has been aligned with the post-Katrina rise of queer-culture bounce, he sees no need to embed a defined sexuality in his persona. Likewise, he's quick to point out that bounce is much older than the so-called "sissy bounce" with which contemporary culture is infatuated. "There's no such thing as sissy bounce. Who came up with that?" he remarks coyly.
Yet to experience bounce is to lie awash in a river of shameless sexuality. To engage is to be liberated by one's own desires and acknowledge their interminable and communal existence. To participate—winding and shaking one's ass in seemingly submissive postures—is to embrace the paradoxical power and self-love generated by this physical exhibition. It is a joyous albeit vulgar expression of freedom, prone to turning entire rooms of people into sweaty, inverted animals.
But Vockah Redu is his own thing. Live, his three-man dance "Cru" anoints the stage in a cloud of incense before rolling through a series of costume changes (think Prince or Grace Jones) and interjectory theatrics during a musical medley spanning several genres. Audiences liken the experience to a high-energy church in its life-affirming transcendence.
Spring 2016 will see Vockah release his first true album, Pop Rock Neo Vock: Southernboiimusiq. The record was self-produced in collaboration with a handful of notables, including the elusive Sir Mix-A-Lot.
At Athens Intensified, the crowd can expect a preview of the album, as well as Vockah's new line of underwear. ("Just got a sewing machine," he says, "so undies will be at the merch table.") When asked how the audience might keep up with his corporeal commands, he suggests eating clean, drinking lots of water and, above all, no stress. [Will Cash]
Check out Music Editor Gabe Vodicka's picks for Athens Intensified action here.
Like what you just read? Support Flagpole by making a donation today. Every dollar you give helps fund our ongoing mission to provide Athens with quality, independent journalism.